Chief of Academic Support
Cheryl Logan, Ed.D.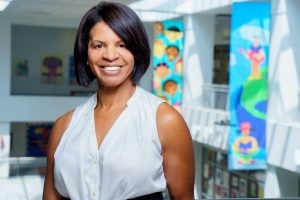 With an unwavering commitment to providing every​ student with the best academic program and the chance for a better life that comes with it, Dr. Cheryl Logan serves as Chief Academic Supports Officer of The School District of Philadelphia, the eighth largest public school system in the country.
Since joining the District in 2013, Dr. Logan has worked to ensure that teaching and learning reflects high expectations and inspires students to meet high standards and postsecondary expectations.
Under her leadership as Chief Academic Support Officer, the District has more than doubled the number of middle school students' access to Algebra I with a strategy to ensure all students have access to advanced courses in middle schools by 2020; established a 9th grade academy in every comprehensive high school; supported substantial growth in reading achievement among students at every level from 3rd through 7th grade; and opened the first middle college in Pennsylvania. Her overall focus remains on strengthening all elementary and secondary school offerings.
Dr. Logan's professional experience includes serving at every level – teacher, principal, assistant superintendent, and central office administrator. Throughout her tenure as principal, Dr. Logan was honored with several awards for outstanding leadership. Most notable, in 2013, Cheryl Logan received The Washington Post Distinguished Educational Leader Award and in 2016, Dr. Logan was the first ever non-Latino to be honored by the Pennsylvania Association of Latino School Administrators as Hispanic Serving District Administrator of the Year. While Dr. Logan's list of accolades is long, she'll be the first to tell you that her greatest achievement is being mother to her daughter, Cassie.
In addition to her K-12 experience, Dr. Logan has taught graduate level courses in Educational Administration and Human Relations at Towson University. Passionate in her quest to close the achievement gap, Dr. Logan serves on several boards, including City Year of Philadelphia, Junior Achievement of Southeastern Pennsylvania and Office of Student and Community Engagement at the University of Pennsylvania.
Dr. Logan holds a bachelor's degree from the University of Maryland College Park, master's degree in educational administration from Johns Hopkins University and a doctorate in education specializing in education policy from the University of Pennsylvania. Her interests include spending time with family, travel, running, and playing with her two dogs, Lola and Coco. Dr. Logan resides in Philadelphia.