Meet the AN Team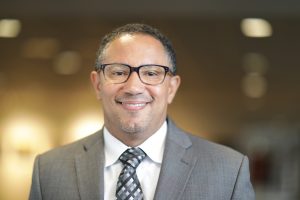 Our Network Leader-Sean Conley
Sean Conley, a committed educator and leader, is a graduate of the University of Pittsburgh and the College of Notre Dame of Maryland. He was appointed in May 2020 as the Assistant Superintendent of the District's Acceleration Network.
During his 22 years as an educator, he has served a diverse set of children and communities in four different school systems and two states. Although he has had many successes throughout his career, he is most proud of being honored by a former student as her most influential K-12 teacher.
In the summer of 2014, Mr. Conley began working as an Assistant Superintendent in the School District of Philadelphia, responsible for the support, development and accountability of 28 schools across West Philadelphia that accounted for approximately 13,000 students. Mr. Conley continued to focus his work on developing school leaders through consistent coaching, mentoring and support, and to reform instruction to increase student achievement in every school. Mr. Conley worked with his school leaders to balance the daily demands of being a school leader with the importance of engaging partners and the school community to create high levels of trust and respect as well as identifying and allocating additional resources that are aligned to continuous improvements for teachers and students.
---
Letter from Our Leader
"I am truly excited to have the opportunity to continue the work started by Dr. Eric Becoats. Five years ago, this network was created to ensure the needs of the students, in some of Philadelphia's most underserved schools, would be fostered through opportunities they deserve regardless of race, gender or zip code. 
Although this school year presented unimaginable challenges as never seen before, every member of the Acceleration Network stayed committed to dramatically improving the educational outcomes for each and every student. Post COVID-19 will continue to present educational challenges that will require our commitment to racial equity to ensure our students reach their fullest potential. To realize this, we must commit to ensuring that students have access to grade level curriculum, standards, and complex texts. This will be achieved by having:
Teachers who are intellectually prepared to deliver high quality instruction  
A school culture where student needs are addressed academically, socially, and emotionally using aligned resources and supports  
Leaders who are committed to creating a culture of learning that allows for each student and every adult to excel with the gifts they have been given by being data driven  
Network support staff that are committed to staying up to date on research and best practices that are relevant to their area of focus 
This work is complex, challenging, and personal. It is also some of the most rewarding work anyone can be asked to do. Any success that is achieved is because of you – our leaders, teachers, and support staff. We have to have an unwavering belief in all of our students as well as a belief that we are able to make a difference. 
I hope everyone enjoys their virtual summer summit experience and I look forward to meeting everyone in person in the very near future."