VISIT OUR VIRTUAL MAIN OFFICE TO GET IMMEDIATE SUPPORT, 8:00am-2:00pm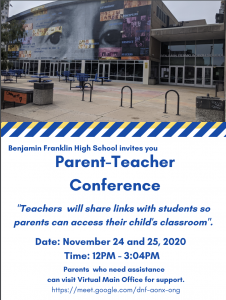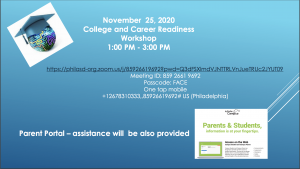 Click HERE to be linked to the College & Career Readiness Workshop.
7th & 8th Graders–interested in coming to Ben Franklin?  Would you like to get email updates? Complete this form
8th Graders Ready to apply for fall 2021?  We are excited for you to join us!
District Students apply through their Parent & Family Portal.
Non-District Students please submit an Online Application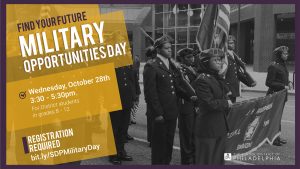 Military Day is coming! On Wednesday, October 28, 2020 from 3:30 PM until 5:30 PM Register For Military Day
CHROMEBOOK UPDATES:
Starting, Monday, October 12th, if you have never picked up a District Chromebook for your child, you can call 215-400-7600 to schedule an appointment to pick up the device at 550 North Broad St (BFHS Campus).
If you already have a Chromebook and it needs to be repaired or replaced, you can visit one of the Parent & Family Tech Support Centers. You can find the 3 addresses at www.philasd.org/chromebooks.
The centers will be open Monday, Tuesday, Thursday and Friday from 9 a.m. to 3 p.m. and on Wednesdays from 9 a.m. to 5 p.m., excluding holidays.
You can also call our Chromebook Support Hotline at 215-400-4444.
Finally, if you still need internet access, you can dial 2-1-1 for the PHLConnectEd Hotline.
Visit our VIRTUAL "MAIN OFFICE" if you need support to login, join Google Meet/Classroom, etc.
CLICK HERE for our VIRTUAL MAIN OFFICE
We can also be reached at 215-400-7600 or bfhs@philasd.org

Join us for Virtual Back to School Night, Wednesday, October 7, 2020 at 5:30pm!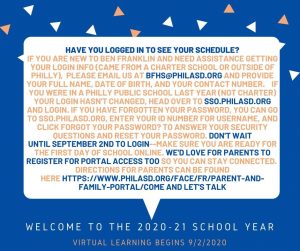 New to the School District of Philadelphia? Coming from a Charter School? Parochial School? Out of State? Click HERE for ENROLLMENT.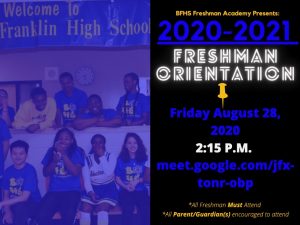 DID YOU MISS NEW STUDENT ORIENTATION??
Please CLICK HERE for our Interactive New Student Orientation!
Meal Distribution Information

Parent & Family Technology Support Hotline
For whom: Parents, students, and families who still need a Chromebook, Chromebook repairs/troubleshooting, and getting set up/connected
Contact Info: 215-400-4444 FamilyTechSupport@philasd.org
General information about Covid-19
For whom: Parents, families, and community members Contact Info: 215-400-5300 COVID19Info@philasd.org
215-400-8480 – Albanian
215-400-8481 – Arabic
215-400-8482 – Chinese
215-400-8483 – French
215-400-8484 – Khmer
215-400-8474 – Portuguese
215-400-8485 – Russian
215-400-8489 – Spanish
215-400-8486 – Vietnamese
PARENT SURVEY
Your voice matters! (and you could win $25!) www.philasd.org/dws
We invite all parents to take the District-Wide Survey to help guide school improvement efforts!
Please follow our Instagram and Twitter for updates @BFHSNews
______________________________________________________________________________________________________