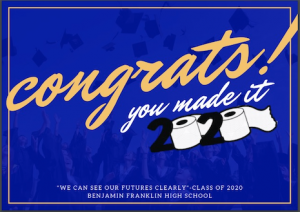 Benjamin Franklin High School – School Improvement Plan
The 2020-21 Title I School Improvement Plans are available now through June 30, 2020
As a Local Education Agency (LEA) within the Commonwealth of Pennsylvania, under the Every Student Succeeds Act (ESSA), The School District of Philadelphia (SDP) supported Benjamin Franklin High School in completing the annual school improvement plan.
As a valued stakeholder, we invite you to review and comment on the 2020-2021 draft version of the plan. The plan will be available for public review and comment now through June 30, 2020. To review the plan and provide feedback, please see the links below.
Benjamin Franklin High School – School Improvement Plan
Parent & Family Technology Support Hotline Beginning April 20th
For whom: Parents, students, and families who still need a Chromebook, Chromebook repairs/troubleshooting, and getting set up/connected
Contact Info: 215-400-4444 FamilyTechSupport@philasd.org
General information about Covid-19
For whom: Parents, families, and community members Contact Info: 215-400-5300 COVID19Info@philasd.org
215-400-8480 – Albanian
215-400-8481 – Arabic
215-400-8482 – Chinese
215-400-8483 – French
215-400-8484 – Khmer
215-400-8474 – Portuguese
215-400-8485 – Russian
215-400-8489 – Spanish
215-400-8486 – Vietnamese
PARENT SURVEY
Your voice matters! (and you could win $25!) www.philasd.org/dws
We invite all parents to take the District-Wide Survey to help guide school improvement efforts!
Please follow our Instagram and Twitter for updates @BFHSNews
______________________________________________________________________________________________________