THE 1ST DAY OF SCHOOL FOR ALL STUDENTS IS WEDNESDAY, SEPTEMBER 2, 2020! School will be all VIRTUAL through the 1st marking period (at least).
Visit our VIRTUAL "MAIN OFFICE" on Wednesday 9/2/2020 if you need support to login, join Google Meet/Classroom, etc.
CLICK HERE for our VIRTUAL MAIN OFFICE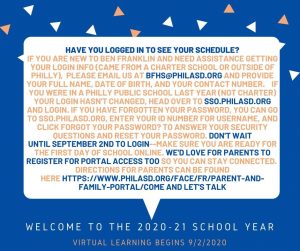 New to the School District of Philadelphia? Coming from a Charter School? Parochial School? Out of State? Click HERE for ENROLLMENT.
In need of a Chromebook for the start of the 2020-2021 school year?
These locations are open 5 days a week, 9am-2pm:
Education Center, Philadelphia School District
440 N. Broad Street, 1st Floor Lobby, Philadelphia, PA 19130
Fitzpatrick Annex Building
(rear of Fitzpatrick Elementary School) 4101 Chalfont Drive, Philadelphia PA 19154
Martin Luther King High School
6100 Stenton Avenue; Philadelphia, PA 19138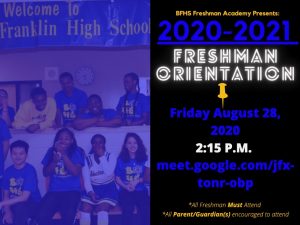 DID YOU MISS NEW STUDENT ORIENTATION??
Please CLICK HERE for our Interactive New Student Orientation!
Meal Distribution Information

Parent & Family Technology Support Hotline Beginning April 20th
For whom: Parents, students, and families who still need a Chromebook, Chromebook repairs/troubleshooting, and getting set up/connected
Contact Info: 215-400-4444 FamilyTechSupport@philasd.org
General information about Covid-19
For whom: Parents, families, and community members Contact Info: 215-400-5300 COVID19Info@philasd.org
215-400-8480 – Albanian
215-400-8481 – Arabic
215-400-8482 – Chinese
215-400-8483 – French
215-400-8484 – Khmer
215-400-8474 – Portuguese
215-400-8485 – Russian
215-400-8489 – Spanish
215-400-8486 – Vietnamese
PARENT SURVEY
Your voice matters! (and you could win $25!) www.philasd.org/dws
We invite all parents to take the District-Wide Survey to help guide school improvement efforts!
Please follow our Instagram and Twitter for updates @BFHSNews
______________________________________________________________________________________________________