Celebrating Thousands of Students Headed to College
Approximately 2,000 students and their families throughout the city of Philadelphia participated in the 3rd Annual #ReachHigherPhilly College Signing Day at the Wells Fargo Center, designed to honor the Senior High School Class of 2017 from local public, charter and parochial schools who are pursuing a post-secondary education.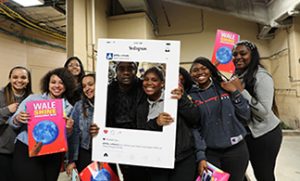 "College is one of the pathways to a successful career, and we are committed to preparing all students for college and career," said Dr. William R. Hite, Superintendent of The School District of Philadelphia. "Through ensuring all students have the opportunity to take the PSAT and SAT, supporting the FAFSA Challenge campaign, and providing access to college-ready curriculum, we are helping our students to achieve their goals."
Attending students were encouraged to wear apparel representing their future colleges and universities.In addition to Dr. Hite, remarks were provided by Don Yu, Director of the Better Make Room Campaign, and Otis Hackney, Chief Education Officer of the City of Philadelphia. Eric Waldo, Executive Director of Michelle Obama's Reach Higher Initiative and Executive Vice President for Education, served as keynote speaker.
Rapper Wale also surprised students with a performance.
College Signing Day is a national event hosted every year by former First Lady Michelle Obama through her Reach Higher Initiative.