SOAR/College Credit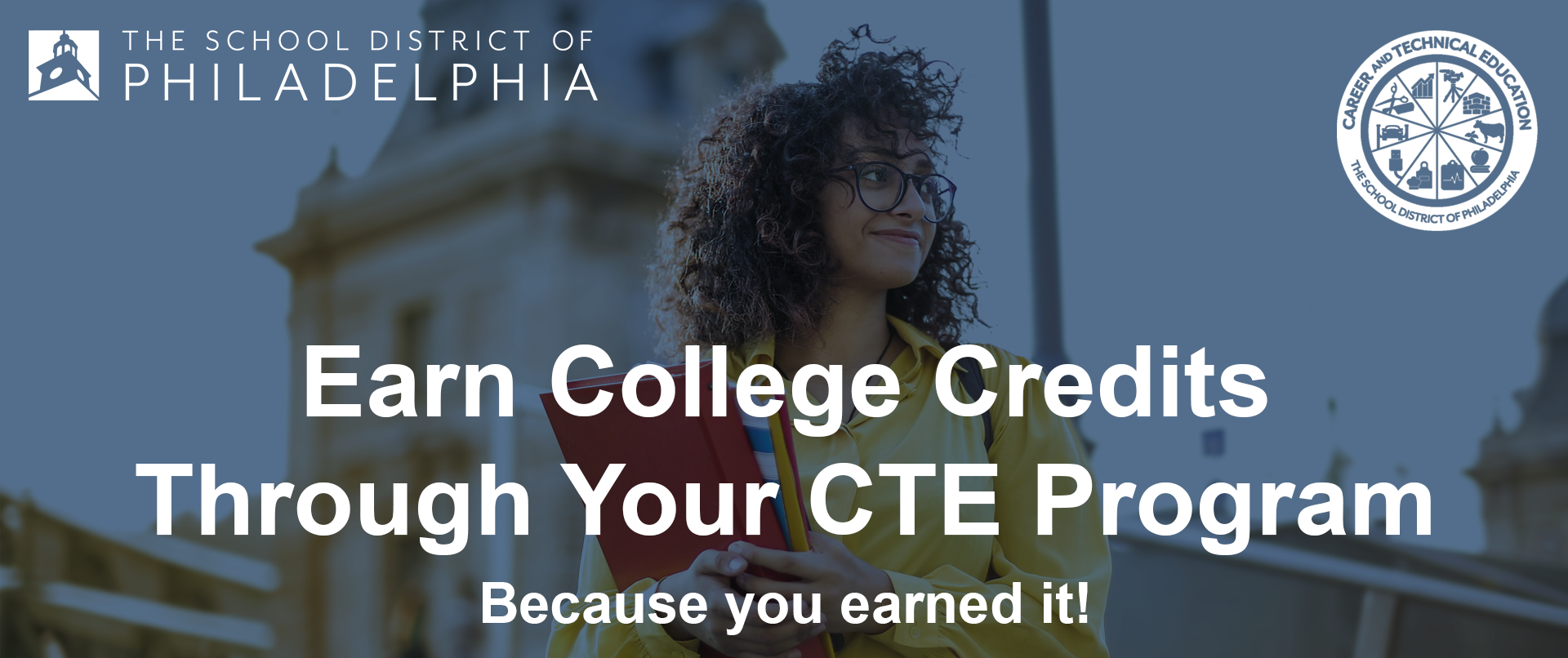 SOAR College Credit Program for CTE Students
Students Occupationally and Academically Ready (SOAR) is a program that allows Career and Technical Education (CTE) students enrolled in a PA-approved Program of Study to receive free college credits upon completion of their CTE program as well as, attaining Advanced or Competent levels in the NOCTI exam.
The mission of SOAR is to prepare students for college and careers in a diverse, high-performing workforce. SOAR is the career and technical Program of Study (POS) educational plan that articulates the secondary career and technical programs to postsecondary degree or diploma or certificate programs. SOAR programs lead students into a career pathway that align the secondary courses to a postsecondary program to complete a degree or certificate.
SOAR is built on POS which incorporate secondary education and postsecondary education elements and include coherent and rigorous content aligned with challenging academic standards and relevant career and technical content. These programs include a statewide articulation agreement partnership between secondary schools and postsecondary institutions. SOAR programs prepare today's student for High Priority Occupations (HPO) which include career categories that are in high demand by employers, have higher skill needs, and are most likely to provide family sustaining wages.
Saving money on college tuition
Saving time by shortening college attendance
Getting on the right career pathway
Entering the job market ready
Getting a consistent education
If your student has selected a college and wants the articulated credits, follow the directions below:

Have their instructor fill out the following forms:

If the student is applying to Community College of Philadelphia, fill out this coversheet instead

Students Technical GPA must be 2.5 or greater.
Make a copy of their completed PAL (100% Mastery achieved)
Make a copy of their NOCTI certificate (Competent or Advanced)
Make a copy of their Industry Certification (not necessary but highly recommended)
Include an official transcript from the school with the school's official stamp.
Make a copy of their High School Diploma.
Student must be accepted to the college already in order for the credits to be accepted.
Once you have all of the above information, submit it to Reginald Moton at rkmoton@philasd.org
Is there a time limit after a qualifying student graduates from a SOAR program to receive the
college credits?
Yes, the student has three years from their date of graduation to apply and matriculate into the related
CTE program at a partnering postsecondary institution to receive credit.
What does SOAR stand for?
SOAR stands for Students Occupationally and Academically Ready. The mission of SOAR is to prepare students for college and careers in a diverse, high-performing workforce.
What is a SOAR Program?
A SOAR Program is a PDE (Pennsylvania Dept. of Edu.) approved, Career & Technical Education Program that credits skills and tasks learned at the secondary school (high school) level to a postsecondary (college) degree, diploma, or certificate program. SOAR programs prepare today's students for High Priority Occupations which are tomorrows high demand and high wage careers.
Are students are required to complete all competencies on the POS Secondary Competency Task List?
Yes, Secondary school students must complete to industry proficiency level all the tasks listed on the
Secondary Competency Task List in order to qualify for the course credits awarded at the partnering
postsecondary institution.
How does a student qualify for SOAR postsecondary college credits?
Under the terms and conditions of this Agreement and based on the following principles, college-level
credit will be granted to students matriculating into a partnering postsecondary CTE program when all the
student criteria listed below is achieved and proper documentation is submitted.
Students must:
Earn a high school diploma, achieve a minimum 2.5 grade point average on a 4.0 scale in the technical
courses and complete the Secondary School component of the approved PDE Program of Study.
Achieve competent or advanced level on the Secondary School end-of-program assessment that is
appropriate to the approved PDE Program of Study.
Achieve proficiency on all of the approved PDE Program of Study Secondary Competency Task List.
Furnish documentation necessary to the Postsecondary Institution upon written request. Documents
should be student specific that verify that the student meets all secondary requirements of the approved
PDE Program of Study.