BLENDED LEARNING
"The classroom teacher is the primary designer of the classroom experience, utilizing a variety of quality tools, including textbooks, teacher-created resources, and potentially technology-based tools to provide differentiated experiences for students."
– Dr. William R. Hite, Superintendent (The School District of Philadelphia)
Overview of Blended Learning and its Role in The School District of Philadelphia
The School District of Philadelphia provides innovative learning models to improve teacher practice and student academic outcomes. Every classroom is unique, with its own set of opportunities and needs. In 2015, The Office of Educational Technology launched the Blended Learning Initiative and invited schools to submit an application in order to participate. Through this application, schools were provided with classroom technology in an effort to support the Station Rotation Model to enhance center-based student learning. There are currently 32 schools implementing this initiative in classrooms across the district.
Blended Learning Defined
"Blended Learning is defined as a formal education program, in which a student learns, at least in part, through the delivery of content and instruction, via digital and online media with some element of student control over time, place, path, or pace."
– Clayton Christensen
It refers to a group of instructional models that mix face-to-face classroom teaching and online instruction (see figure below). These models engage students in learning, provide teachers with actionable data for more targeted, personalized instruction, and allow schools to extend learning beyond the traditional classroom. Blended learning accelerates student learning and achievement. It compliments comprehensive literacy and math.
What is a Station Rotation Model?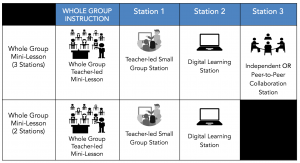 In the Blended Learning Station Rotation Model, students rotate between learning "stations" — one of which is through a digital learning platform — on either a fixed school schedule, or a schedule developed by the teacher incorporated in a lesson plan. In practice, these rotations begin after a teacher releases a WHOLE GROUP mini-lesson based on the core curriculum (scope and sequence). Students should always be exposed to grade-level content. The stations can include the use of an online adaptive program from an approved content provider, which will automatically provide a differentiated learning path based on students' needs. Schools can also choose to utilize the instructional textbook online resources as an additional station.