Best Practices in Blended Learning
Routines, Procedures, and Classroom Set-up
As with every classroom, well-defined classroom routines and procedures are essential to effective classroom management and learning.  When implementing the station rotation model, it is imperative that expectations are visible, practiced, and referred to throughout a lesson (if needed).
It is suggested that teachers include and post the following in their classrooms:
Rotation schedule with group assignments (this should not be posted on a SMART board-if applicable)
Blended learning/classroom norms
Clear expectations at each station
Clear technology management systems
The classroom environment and design are important to effective blending learning. The set-up of the classroom, e.g., the number of students, the dimensions of the room, and the school culture, all depend on the school and teacher.
Whole Group Instruction
Whole group instruction is a KEY component of the station-rotation model. It is essential that all students experience direct instruction (mini-lessons 20-30 minutes, based on the instructional block) that introduce the core curriculum based on the district's scope and sequence and key concepts. ALL STUDENTS should be exposed to grade-level content and materials before the launch of stations. Reminder, the teacher is the primary facilitator of instruction throughout the instructional block(s). Whether it's whole group or small group, the teacher is teaching students.
BLENDED LEARNING STATIONS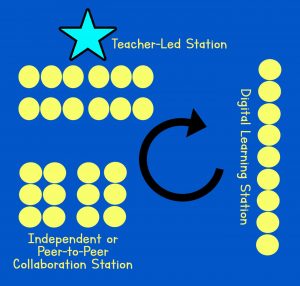 The Teacher-Led Station
The teacher-led station should focus on grade-level content, differentiated and/or modified practices, based on the needs of the students. This station and time are most important as  teachers and students are afforded an opportunity to work one-on-one to provide more targeted instruction. Teachers should use this time to continue the whole-group mini-lesson, begin guided practice of the skill or concept, correct any errors or misconceptions, support and build students for release to independent practice. The teacher is continuing the pathway of learning grade-level content to increase students' knowledge and application of a skill.
The Independent or Peer-to-Peer Collaboration Station
The independent or peer-to-peer collaboration station is where students can practice, apply, and explore grade-level concepts in small groups or individually. This group can be powerful and engaging if it is well-planned, structured and communicated effectively to students. It should connect with the learning that is taking place in the teacher-led station, and provide students an opportunity to be creative, apply knowledge and work collaboratively with classmates. It could also be an opportunity for students to practice skills based on the data given by an online adaptive program.
Using tools like Google Classroom can provide students with a consistent place to get directions and submit work. Teacher feedback is key in letting students know that the work they complete here is monitored and a part of their learning. Best practice would also be to use this student work as reference material for the teacher-led group, bringing all of the elements together.
The Online Adaptive Learning Program Station
This station is integral to the Station Rotation Model and can be a powerful part of your classrooms. In order to ensure the most effective and successful use of this station, ensure the following:
Student screens should face the teacher, so that the teacher can monitor students while at this station.
Teachers should regularly and intentionally look at student data in the online adaptive program and use it to inform their own instruction and conversations with students. This reinforces the stations' importance to the learning environment with students. To take it a step further, teachers should model and encourage students to track and analyze their own data in the program.
Too much time creates boredom and apathy. Limit to recommended usage only!
The teacher should allow the program to develop a learning pathway to meet students' individual needs. These programs assess and target deficits in student knowledge in order to raise their overall competency in the particular subject area. Although this time is not spent on grade-level work, it is important to building the foundational skills needed to be successful when attempting grade level work. This also provides teachers with the data needed to differentiate and scaffold grade-level learning for students.
Usage of Online Adaptive Learning Programs
Selected programs offered on the Online Adaptive Program Price list have been researched to show evidence of student achievement. This research shows usage amounts that best support student growth in the classroom. These usage recommendations should be followed.
For example: if a program has a recommended usage of 45 minutes per week, students should be reaching, not exceeding, this recommendation. Too much time on a program can lead to student apathy and decrease or eliminate a program's effectiveness. Too little time can do the same. Schools should monitor usage to identify areas where the average usage far exceeds or falls short of recommended usage.
Please see the Guidelines for Purchasing Online Adaptive Programs to review your programs.