Paint and Plaster Stabilization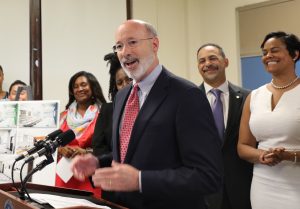 On June 29, 2018, Governor Tom Wolf, Pennsylvania Senator Vincent Hughes and members of the Philadelphia state delegation announced a $7.6 million grant to address lead paint in our school facilities. This grant will allow us to advance on our goal to create healthy, safe and welcoming environments at forty (40) schools.
Paint stabilization involves removing loose, peeling, flaking and crumbling paint and plaster under controlled conditions. Schools are selected for this work because paint damage was documented in occupied spaces such as classrooms and classroom closets, administrative offices, cafeteria, auditorium, bathrooms, kitchen, hallways, and emergency exit stairways. The goal of the work is to enhance classroom environments and remove the risk of lead exposure to children in our school community.
Our Goals:
1. Buildings and Classrooms free of peeling, flaking and crumbling paint
2. Healthy, safe and clean environments for Philadelphia students, staff and community partners
3. Implementation of safe work practices and testing aligned with city and federal regulations

What to Expect:
All work will occur during the evenings and when staff and students are not in the rooms.
A thorough post-stabilization cleaning will be performed to make sure that surfaces are clean of dust and debris when children return to their classrooms.
A coordinated testing process will be conducted in all areas where lead paint stabilization work has been conducted and completed.
Testing results will be provided in a final report that will be present in the Main Office after the project is completed.
Our Progress
All Summer long, we have released Summer Building Improvement Updates to keep you informed!
Click below to view the PDF.
Lists of Schools
Schools were selected for this work because of the quantity and severity of damaged paint documented during inspections performed by licensed professionals. Paint and Plaster work will be performed by painters who are certified in the Environmental Protection Agency's (EPA) Lead Renovation, Repair and Painting (RRP) work practices.
All schools with completed assessment reports are shown in green below. Click on the schools below to view the project scope.
Completion Reports
All completed paint and plaster stabilization schools appear below.  Click on the schools below to view the final report following completion.