2017-18 Focus Schools: Penn Treaty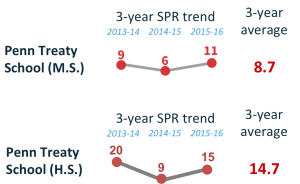 Penn Treaty was designated a focus school because it meets the three basic criteria:
The School Progress Report score (SPR) for the school has been in the lowest performance tier – Intervene – for three consecutive years.
The three year SPR average for the school is less than or equal to 15.
The school does not currently have a major intervention in place (such as the Turnaround Network, School Redesign Initiative, etc…)
Recommendation
Academic Improvement Plan
A plan for school improvement developed by the principal, their planning team and with support from central office.
Essential elements:
Focus on bold and clear school vision
Additional funding to support the school's plan
Implementation of best approaches, programs and practices to support learning
Online Feedback
If you are unable to attend one of the live meetings, please use this link to send your feedback and ideas.
Documents and Downloads
Presentations and other important materials about the process will be posted here as soon as they are available.
Download Staff Presentation Here
Download Community Presentation Here
Download Feedback and Findings Presentation Here
Download Parent and Family Cover Letter Here
Download School Quality Review Here
Download Parent, Family, Community Input Report Here