Climate and Culture Coach Team

Stephanie Overton, M.Ed
Learning Network 1
soverton@philasd.org
Stephanie has served in the education industry for just over 15 years, in various roles, ranging from Support Staff to Assistant Director of an alternative education program. Being an honored alum of an HBCU- Delaware State University has propelled her love for working with and supporting our Black and Brown students; it's what keeps her motivated to continue striving to give them the educational experience they deserve.
She is currently in her 3rd year of supporting Learning Network 1, with a heavy focus on exploring implicit biases, race systemically and culturally responsive pedagogy. In supporting LN1, she provides monthly professional development on Courageous Conversations about Race to all 19 schools, which includes our Assistant Superintendent, Principals, Assistant Principals and their SBTL's.
Teams:
Equity Collaborative (school-wide plans)
SEL Collaborative
Relationships First
LN1 Equity Newsletter
On-boarding
"If not us, then who? If not now, then when?" __ John Lewis
---
Jasmine Council
Learning Network 2
jcouncil@philasd.org
---

Cynthia Jones
Learning Network 3
cjones3@philasd.org
Cynthia is a scholar-practitioner of restorative justice, relationships building, school-community partnership, trauma-informed care, and youth empowerment. Currently, she is a Climate and Culture Coach for the Office of Climate and Culture. In this role she supports K-8 public schools in Philadelphia, working with school leaders to move towards equitable, safe, and compassionate school communities. Specifically, she spends a lot of her time working with schools to strengthen community building and equity related practices. Cynthia is a certified mediator and conflict coach as well as a conflict resolution specialist. She most enjoys skill sharing and opportunities to build collective intelligence. Cynthia earned her Masters of Education from Temple University, focusing her research on how building authentic school communities can be a powerful tool to combat ageism, racism and classism. When she is not working, she can usually be found writing or performing spoken word poetry. Cynthia was a team member representing Philadelphia at the National Poetry Slam in 2018.
---

Kyle J. Cephas, M. Ed
Learning Network 4
kcephas@philasd.org
Kyle spent several years working as an in-home trauma therapist, and as a school counselor prior to working as a Climate and Culture Coach. Kyle is a 3rd year Ph.D candidate in the final year of a Business Psychology program (Consulting Track) focusing on Organizational Development, Strategic Planning, Change Management, and Executive Coaching. Critical Race Theory is the foundation that his dissertation is built upon.
In addition to serving as the Climate and Culture Coach for LN4, Kyle is also the Organizational Dev./Strategic Planning Lead for the Anti-Racism Steering Committee for the Office of Climate and Culture, in addition to being one of the Project Management & Logistics Leads on the SDP Equity Coalition.
Kyle is a fitness enthusiast, who is also committed to personal growth + wellness.
---

Luis Rosario
Learning Network 5
lrosario2@philasd.org
Luis Rosario is an educator with a decade of professional experience in consulting, coaching, program management, teaching and leadership development. As a Philadelphia native and proud alum of Cramp Elementary, Julio De Burgos Middle Magnet and Edison High Schools, he is dedicated to the success of diverse students, teachers and school communities.
Luis currently serves as a Culture and Climate Coach. In this capacity, he coaches principals and climate leads on distributive leadership, implementing equitable school-wide systems and supporting effective learning communities. He also promotes anti-racism, restorative justice and conflict de-escalation practices in K-12 schools. Luis began his career as a founding member of the Sankofa Rites of Passages Program in the School District of Philadelphia. This program supported the holistic academic, socio-emotional and cultural development of young men of color in the several middle and high schools over the course of four years. He also served as a Project U-Turn Fellow in the Opportunity Network's Reengagement Center, a Financial Coach at District 1199c Training and Upgrading Fund, a Faculty Member at Phillips Academy Institute for the Recruitment of Teachers and an Educational Consultant at Boston Public Schools.
Luis earned his Master's Degree in Secondary Education and Teaching at Boston College and his Bachelor's Degree in Philosophy and Spanish with a minor in Latino Studies at The Pennsylvania State University.
---

Daniel Merin
Learning Network 6
dmerin@philasd.org
Daniel, currently, occupies the position of Climate and Culture Coach in the Office of School Climate and Culture within the School District of Philadelphia. Daniel supports SDP schools with developing frameworks to implement strategies that promote safe, equitable, restorative, and non punitive disciplinary approaches. Daniel has a long standing interest in restorative practices, youth development, workforce development, youth entrepreneurialism, and social policy.
---
Shannon Ellis, M.Ed
Learning Network 7
sellis@philasd.org
Shannon Ellis is the Lead Climate and Culture coach. She has ten years of experience in urban public education. Her special interest areas include social-emotional development & learning and supporting children and families impacted by parental incarceration. Shannon is the author of two children's books, Victoria's Glow Stick and Almost Like Visiting. They are centered on promoting social-emotional development. Shannon earned her Master of Education in School Psychology where she focused on social-emotional development in early childhood education.
---
Learning Network 8
---
Learning Network 9
---

Lauren Keith Thomas, M.Ed/J.D.
Learning Network 10
lkthomas@philasd.org
Before taking her current role at SDP, Lauren was a special education teacher for 7th- 10th grade humanities classes in the Bronx, NY and West Philadelphia. Before her time in the classroom, Lauren received a J.D. from Seton Hall Law School where she worked in the Center for Social Justice with a focus on how public school integration efforts are impacted by housing policies.
Lauren is a Climate & Culture Coach in the Office of Climate and Culture. She is deeply committed to supporting and training schools in creating and sustaining equitable, welcoming, and joyful learning environments. Lauren recently joined the Relationships First team where she will work with schools to incorporate restorative practices in their daily community-building and disciplinary systems. Additionally, she works with a cross-department team of specialists that will be using principles from Implementation Science to study and understand implementation challenges so that more targeted supports can be provided to schools as they implement evidence-based practices in climate and culture.
Lauren is always willing to discuss: racial justice, being a mom, broadway musicals, outdoorsy things, delicious recipes and anything else really because she's an enneagram 9 and loves to listen.
---
Learning Network 11
---

Dianna Phelps
Learning Network 12
dphelps@philasd.org
Dianna Phelps is a school-based mental health professional with a proven track record of success in providing evidence-based supports and interventions to students and schools. Prior to joining the School District of Philadelphia, she worked in Chicago as a school counselor and dean and in Atlanta coaching teachers in behavior intervention under a disproportionality program that was aimed at plugging the school-to-prison pipeline.
In her current role as Climate and Culture Coach, she is dedicated to supporting school communities in creating and sustaining inclusive, kind and equitable learning environments where all students can thrive. Dianna's areas of expertise include building climate and culture teams, social emotional learning, restorative practices and multi-tiered systems of support. She hold a master's degree in counseling from Louisiana Tech University and has completed a post-graduate program at Loyola University Chicago in advanced school-based mental health practice.
Outside of work, Dianna loves to travel, garden and create spaces and opportunities for diverse groups of women to come together with the intentional purpose of building community and joyful connection.
---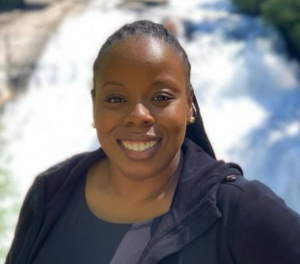 Kendra Jenkins
Learning Network 13 and Innovation
kjenkins4@philasd.org
Kendra currently works for the School District of Philadelphia as a Climate and Culture Coach serving Learning Networks 13 and Innovation, working with principals, staff and students to promote a positive, safe and welcoming learning environment. In this role, she trains and coaches schools to implement Restorative Practices for community-building and as an alternative to suspension. She is also part of the district Implementation Science team that studies the barriers and facilitators of effective program implementation to improve outcomes of evidence-based practices related to climate & culture.
Kendra's background is in philanthropy and, prior to joining the District, she worked for local, regional, and national organizations, with a strategic focus around equity, education, public health and social justice. Kendra has also consulted with numerous organizations as a trainer and grant reviewer, to ensure the equitable distribution and allocation of resources to communities of color. Currently, Kendra is in her second year as an Impact100 Founders Fellow in Philanthropy.
Kendra earned her Master's in Social Work and Policy, focusing on Social Administration and Human Service Management. Throughout her professional career, Kendra has remained committed to creating diverse and functional partnerships, and building the capacity of organizations to better serve communities. She has special interest in adult wellness and leadership development.
You can find Kendra hiking every trail around the region, rediscovering Philly, trying a workout routine and detailing her calendar with future live music festivals and concerts.
---

Kenneth Glover
Learning Network Acceleration
kkglover@philasd.org
Kenneth has a dual masters degree in Early Childhood Education and Special Education with a certification in Early Childhood Education. He is currently a doctoral candidate at Saint Joseph's University where he is pursing a terminal degree in Educational Leadership. Kenneth's research is focused on developing trauma informed school for underserved communities.
With almost a decade of experience as a classroom teacher and as Climate and Culture Coach, Kenneth is dedicated to helping leaders transform schools and communities. For the past 3 years, he has worked with the Acceleration Network's Assistant Superintendents and school leaders to implement more interventions, professional developments, and programming that focus on building positive school communities.
In Kenneth's time outside of work, he enjoys spending time with family and friends. He also enjoy spending time outdoors- rowing/kayaking, hiking, and cooking.
---

Deauntra Thompson-Smith
Restorative Programming
Prior to joining this team, Deauntra spent two years teaching in Philadelphia. From there, he was fortunate to teach in Chester for a year. The two following years he had the opportunity to teach in Delaware. During those years, he was able to start programs, implement restorative justice and lead equality programs.
He is the Relationships First Specialist. His goal is to help educators develop positive and authentic human connections.  Connecting both academic success and social-emotional learning will help develop students into loving and caring students.
When not working, Deauntra trains mixed martial arts and coaches football.
---