Project Prevent
The Federal Project Prevent Grant Program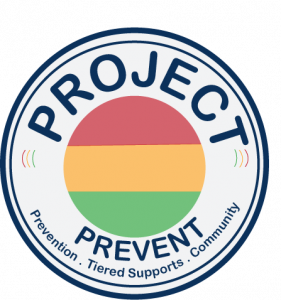 The program provides funding to districts to increase their capacity both to identify, assess, and serve students exposed to pervasive violence, helping to ensure that affected students are offered mental health services for trauma or anxiety; support conflict resolution programs; and implement other school–based violence prevention strategies in order to reduce the likelihood that these students will later commit violent acts.
The School District of Philadelphia's Office of School Climate and Culture was awarded one of 14 projects in the nation and just over 2.5 million dollars over 5 years.
For SY 20/21, Project Prevent will target 4 SDP schools in Learning Network 11: Blaine, Cayuga, Elkin, and Kenderton.
Our vision for Project Prevent focuses on the following four pieces:
1. Integrating Tier I Initiatives: Relationships First, Equity, Social-Emotional Learning, Trauma Informed Practices, and Positive Behavior Interventions and Supports
2. Build/Strengthen Tier II: Check-In, Check-Out, Universal Screening, and Evidence-Based Small Groups • Focus on utilizing existing STEP program to incorporate framework supports
3. Leveraging and Enhancing Community Partnerships for Tier III: Emphasis on Family Engagement and Supports
4. Focus on Sustainability
For more information on our Project Prevent work, please see the one pager below.
For more information regarding Project Prevent, please reach out to any of the following planning team members:
Steven Rufe, Director of PBIS and Project Prevent Director – srufe@philasd.org
Kristina Popkin, PBIS Coach for Check-In, Check-Out and Project Prevent Lead – kzameito@philasd.org
Kara Helzner, Project Manager – khelzner@philasd.org
Abby Gray, Deputy Chief of the Office of School Climate and Culture and Principal Investigator – agray2@philasd.org