#HardWorkPaysOff: Superintendent Hite Joins Philadelphia Students, Teachers, and Staff to Celebrate School District Progress and Hard Work Paying Off
State PSSA and Keystone results show more School District of Philadelphia students from elementary through high school are achieving – especially in the area of literacy.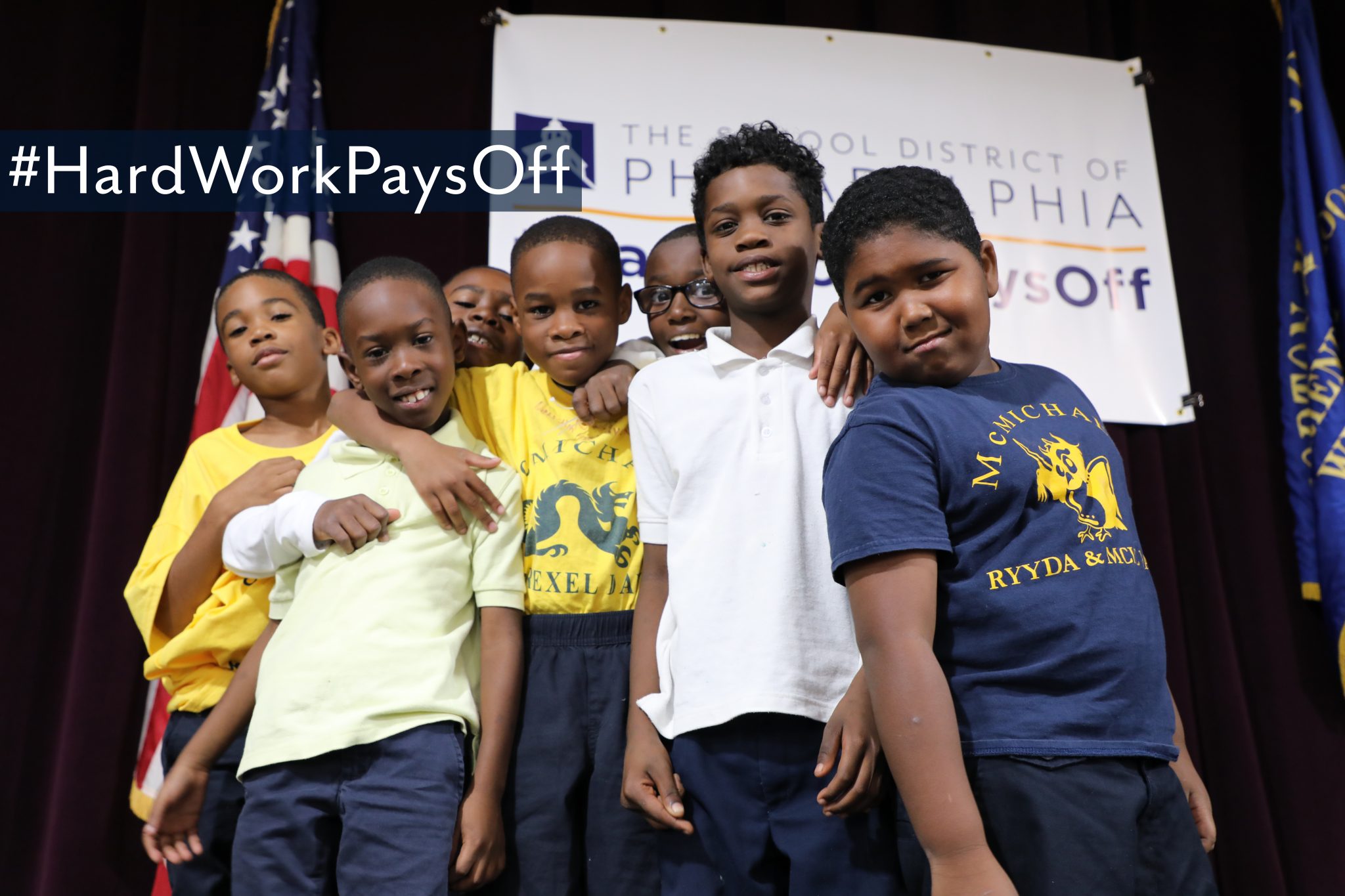 On October 3, 2017, Superintendent Dr. William R. Hite lead a pep rally celebration with students, teachers, staff and elected officials at the Morton McMichael School. The pep rally was to celebrate the steady—and, in some areas, significant—gains in student academic performance announced last week by the District in its 2016-2017 Pennsylvania System of School Assessment (PSSA) and Keystone exam results.
"It is important to recognize and celebrate academic success and who helped make these academic gains possible. The hard work and dedication of our students, teachers and principals are paying off across the District," said Dr. William R. Hite, Superintendent of The School District of Philadelphia. "The results are clear from elementary through high school that more of our students are showing academic growth. Our focus on early literacy is working, with more students reading on grade level. There is more work ahead, but we will remain focused on the strategies and initiatives that are building a strong foundation for future academic success."
Morton McMichael, a K-8 school in West Philly's Mantua neighborhood, was selected because it is representative of the many schools across the District showing notable gains in PSSA achievement, particularly in reading. Schoolwide, McMichael saw a 7 %-pt increase in the percent of students reading at proficient/advanced levels (grades 3-8) in 2016-2017 PSSA scores compared to the year before.
Last year's McMichael 3rd graders showed large gains with a 16 %-pt increase at proficient/advanced, a 12 %-pt increase in those students scoring at advanced, and an 18 % point decrease in those students reading at the lowest reading level. 3rd and 4th grade also saw the largest gains in math with 3rd graders seeing an 11% point increase at proficient/advanced levels and 4th grade with a 15% increase.
"These results don't come easy and we are proud that our hard work is paying off. More of our students are reading on grade level, and our math scores are up. These results are the product of a focus plan and dedicated students, amazing teachers, and a great school community," said Morton McMichael Principal Brian Wallace said.
" We're thankful for the District's focus on and investment in early literacy," said McMichael 3rd grade teacher Marisa Schulz. "I have the training and coaching, along with an amazing classroom full of the Right Books and multilevel resources, to ensure each student has what they need to become the best readers they can be."
"The increased test scores show that hard work pays off," said Mayor Kenney. "Our students, teachers, school leaders and education partners should be very proud of their efforts and the results. We're not just celebrating the test scores, however. We're celebrating what the scores represent: more children who are ready to learn through reading, and more high school students graduating with college- and career-ready skills. Most of all, the scores tell us that we're heading in the right direction, and can build on this momentum to prepare more students for success."
The PSSA/Keystone data released last week show positive news about Philadelphia's public school students, with perhaps none more significant than the PSSA results in reading skills. S tudents at every grade level from 3rd through 7th showed improvements in reading (ELA). Results show that more District students are reading at proficient/advanced rates, more students are reading at the highest level, and fewer students are reading at the lowest level. A mong third-graders, the number of students scoring at ' proficient' or 'advanced' levels increased by five full percentage points.
Students at every grade level from 3rd through 7th showed improvements in reading (ELA), with 3rd grade showing the largest gains.
●  3rd grade proficient/advanced rates increased 5 %-pts, from 30% to 35%
●  4th grade proficient/advanced rates increased 3 %-pts, from 28% to 31%
●  5th grade proficient/advanced remained steady at 31%; however, the percentage of students scoring advanced increased 2 %-pts, from 4% to 6% and the percentage of students below basic decreased 6 %-pts
●  6th grade proficient/advanced rates increased 1 %-pt, from 35% to 36%
●  7th grade proficient/advanced rates increased 1 %-pt, from 34% to 35%
●  Across 3rd-8th grade, proficient/advanced rates increased 1 %-pt, from 32% to 33%
###