School District Expands on #GivingTuesday Movement with Giving Week Celebration
Roster of activities highlights volunteers, donors supporting schools
 PHILADELPHIA – Expanding on the popular #GivingTuesday movement The School District of Philadelphia, in partnership with the Fund for the School District of Philadelphia, has kicked off its first annual Giving Week to highlight the exciting ways individuals, businesses, nonprofits and families are making a difference in our schools.
"This time of year, many of us are thinking about how we can give back to our communities," said Dr. William R. Hite, Superintendent of the School District of Philadelphia. "Giving Week allows us all the opportunity to consider how we can make targeted investments to help make great schools close to where children live. We are grateful for all the support we have received, and are excited to launch this annual event."
"Giving Week is an opportunity for us to highlight the many individuals, companies, and organizations that partner with, adopt, and donate to our schools," said Donna Frisby-Greenwood, President and CEO of the Fund for the School District of Philadelphia. "We are thankful for their support and hope their generosity will encourage others to do the same."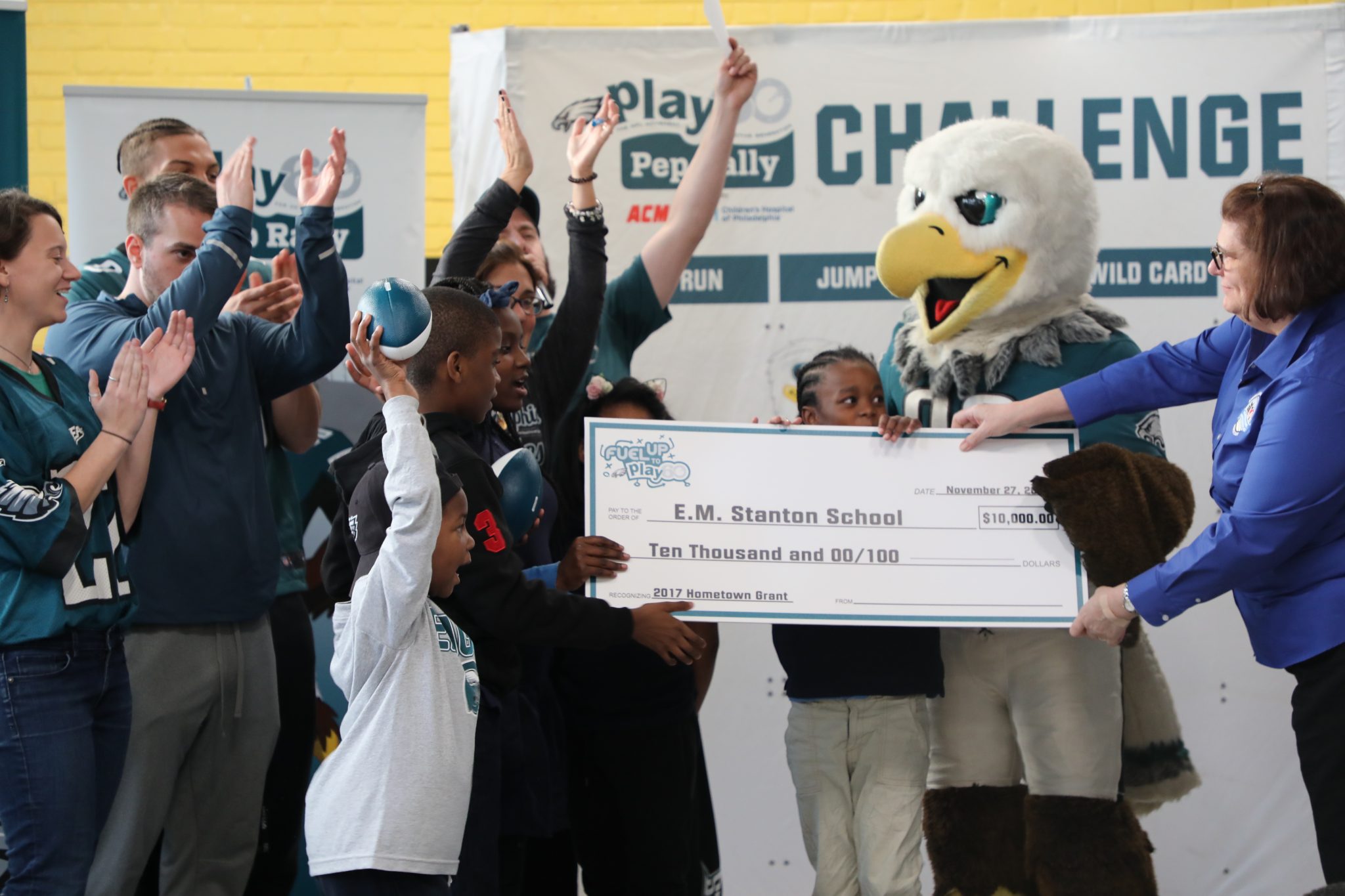 Giving Week runs from November 27 to December 1.  At Frankford High School, employees from multinational services firm EY took part in mentoring opportunities with students. Since 2009, EY staff has visited the school each month as part of its College Mentoring for Access and Persistence (MAP) program. The program focuses on college and university access, and is designed to help students become aware of the benefits of pursuing higher education; learn about applying for aid and paying for school; and build up persistence skills to help students earn a degree and succeed in careers.
The Philadelphia Eagles, with the help of the American Dairy Association Northeast, American Heart Association and ACME, hosted an interactive Fuel Up to Play 60 pep rally for students and faculty at Edwin M. Stanton School yesterday. The campaign encourages 60 minutes of daily exercise. In addition, the Eagles presented the school with an NFL Hometown Grant of $10,000 to strengthen programs geared towards keeping students active and healthy.
Other events to be celebrated this week include:
The Fund for the School District of Philadelphia Giving Tuesday with Philadelphia Eagle Lane Johnson & City Councilman Allan Domb

Tuesday, November 28, 2:45 p.m., F. Amedee Bregy School, 1700 Bigler St., Philadelphia, PA 19145
In honor of Giving Tuesday, #65 Lane Johnson, offensive tackle for the Philadelphia Eagles, joins The Fund for the School District of Philadelphia, the School District, the City of Philadelphia, and Philadelphia's public school teachers and students to announce that he has now decided to donate 100 percent of the proceeds from his new clothing line, LJ65, to The Fund. Earlier this month, Johnson had announced that he would donate 65 percent of the proceeds. City Councilman At-Large Allan Domb will also confirm his pledge to again donate his City Council salary to Philadelphia public schools. More information about donating to the Fund, in addition to its new school-specific Philly FUNDamentals tool, can be found at http://thefundsdp.org/get-involved/philly-fundamentals.
"CLOSE THE BELIEF GAP" Donation Presentation
  Wednesday, November 29, 9:15 a.m., Mary McLeod Bethune Elementary School, 3301, Old York Rd., Philadelphia, PA 19140
The Philadelphia Alumnae Chapter of Delta Sigma Theta Sorority, Inc., will donate $2,500 to Mary McLeod Bethune School's "CLOSE THE BELIEF GAP" program. The initiative is funded by a matching grant through the Philadelphia Leadership Academy and the Neubauer Foundation, and Principal Jamina Clay-Dingle is a second cohort fellow. The program funds student visits to college campuses to inspire them to succeed.
Major Donation Announcement to Central High School
Wednesday, November 29, 11 a.m., Central High School, 1700 W. Olney Ave., Philadelphia, PA 19141
Central High School and the Associated Alumni of Central High School will announce details of a $42 million unique public-private partnership capital campaign that will expand, renovate and reinvigorate the school's campus and help build a Performing Arts Center that will be located on the north lawn of the school. Dr. Hite will be joined by Mayor Jim Kenney for the announcement.
Philadelphia School Partnership Grant Announcement
Thursday, November 30, 10 a.m., Finishing Trades Institute, 2190 Hornig Rd., Philadelphia, PA 19116
Dr. Hite and Mayor Kenney will be on hand to showcase PSP's $435,000 grant to help fund the expansion of the Vocational Internship Program, which is a partnership between the Finishing Trades Institute, the School District and other high schools.