District Joins City of Philadelphia to Celebrate National Voter Registration Day with a Collective Effort to Register Gen-Z and Millennial Residents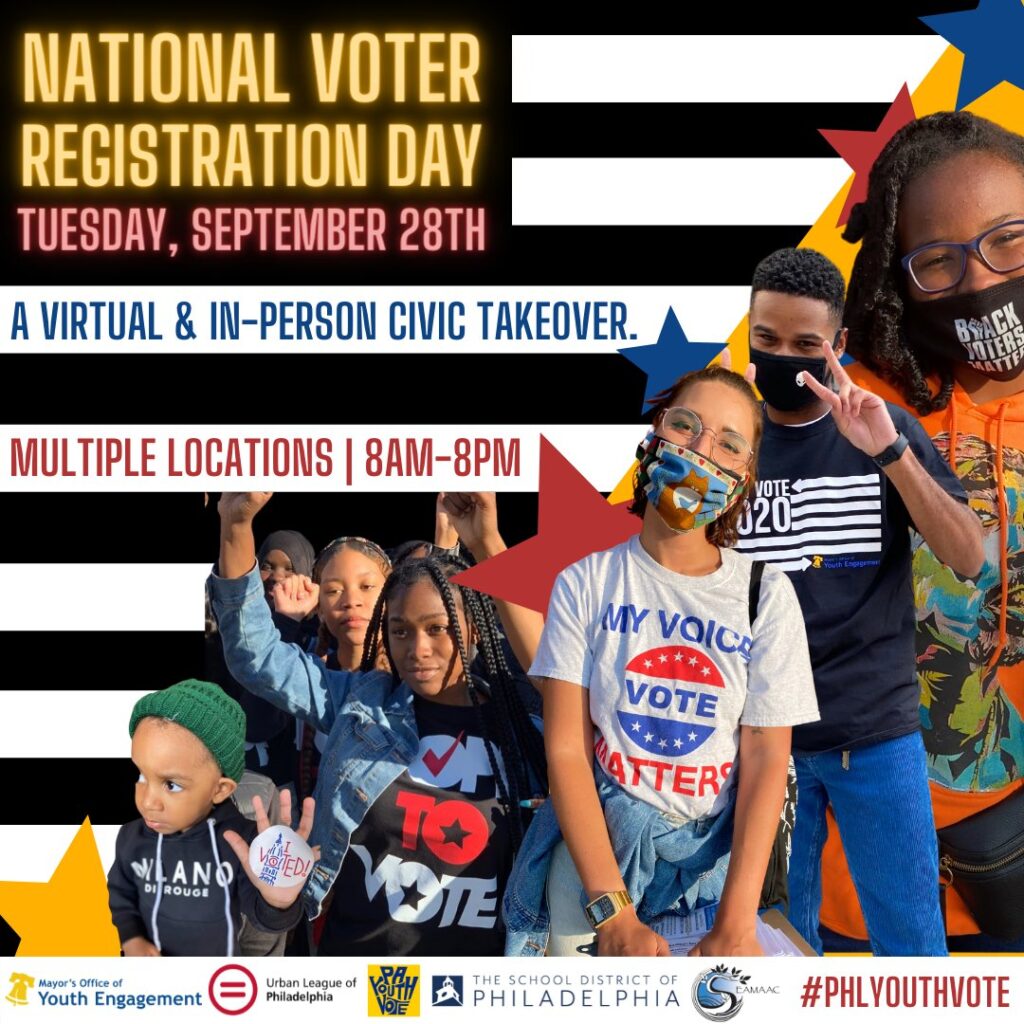 PHILADELPHIA — On Tuesday, September 28, the Mayor's Office of Youth Engagement (OYE) in partnership with the Urban League of Philadelphia, PA Youth Vote, the School District of Philadelphia, the Office of the Philadelphia City Commissioners, and SEAMAAC will celebrate National Voter Registration Day by engaging the city's youngest residents around the importance of their voices in our democracy – whether they are eligible to vote or not.
This youth-led effort will provide multiple opportunities for young people to exercise their civic responsibility throughout the day – including an interactive virtual presentation at their high schools, pop-up activations at Love Park and 34th & Market, and voter registration tables at various youth-serving partner sites around the city. This initiative will encourage participation in this election cycle by conducting voter registration and engagement ahead of Pennsylvania's October 18 deadline.
"We are so excited to join our partners in celebrating National Voter Registration Day in the way only Philly can!" said Jeanette Bavwidinsi, Director of the Mayor's Office of Youth Engagement. "We promised young people last year during our First Vote 2020 initiative that we'd be back to continue to remind them that this city and this nation is theirs to lead. 2020 showed us the true collective power of the youth vote and we believe that when young people vote, the world gets better."
"It is important for young people to understand the connection between voting and justice. Young people have been on the front line to combat injustices in their communities. We want young people to recognize the power in their vote and the importance of becoming a more informed and engaged citizen," added Andrea Custis, President, and CEO, Urban League of Philadelphia.
"When people start voting at a young age, they are more likely to stay engaged throughout their lives. Today and everyday, we have a responsibility to help to ensure our youth are registered and ready to vote in every election and know how to make their voices heard to advocate for the changes they wish to see in the world," said Angelique Hinton, Executive Director, PA Youth Vote. 
"When students graduate from our schools, it's our mission to ensure that they are ready to succeed as fully engaged citizens of our world – and engaged citizenship begins with exercising the right to vote," said William R. Hite, Jr., Ed.D., Superintendent of the School District of Philadelphia. "Our young people should have an active role and voice in our Democracy during this local election and beyond, so we are proud to support voter registration through this initiative."
Young people interested in volunteering to register people to vote at Love Park can sign-up here and select VOLUNTEER: bit.ly/PHLYouthVote
Organizations interested in partnering/hosting their own voter registration table can sign up here and select PARTNER ORGANIZATION: bit.ly/PHLYouthVote
Using the hashtag #PHLYouthVote, partners will chronicle the experiences of first-time registrants and young Philadelphians as they engage their peers and become more civically engaged individuals.
For more information about how to participate on National Voter Registration Day, please email the Mayor's Office of Youth Engagement at youthengagement@phila.gov. Follow OYE on Twitter and Instagram.