Randolph Technical High School Students Get Hands-on Experience in Electronics

February is Career and Technical Education (CTE) Month. We will be celebrating with some features of unique programs within our schools!
Just a few weeks ago, A. Philip Randolph Technical High School senior Amaurys Miguel-Torres stripped a wire and replaced a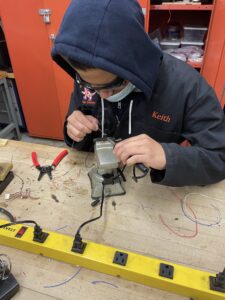 plug in a vacuum in under two minutes as part of his new side venture to help family and friends fix electronics or support with computer programming.
While he's helping others outside of school hours, he's learning the skills and receiving the training as part of the Advanced Electronics program at Randolph. Within this program, which is the only of its kind in the District, students learn the basics to become an electronics technician for any industry by receiving real-life training through maintaining and repairing vending machines, making circuits, coding, building models and fixing and repairing electronics from home.
"The main focus of this program is to make electronics technicians so my students receive all the basic skills that prepare them to secure jobs beyond high school," says CTE instructor Davis Haines, who learned electronics while working on helicopters in the Marines.
Formerly known as the Vending Technology program, this program is the only program in the USA that is supported by the entire vending industry through the National Automatic Merchandising Association (NAMA), an organization that offers education, support, and government representation to the vending industry. Through this partnership, Randolph's program receives equipment and assistance to send students to industry events, including the NAMA Show, an industry-wide annual event that supports the vending, coffee service, micro market and foodservice management industries.
Students who pass this program of study graduate with both a NAMA certification and Occupational Safety and Health Administration (OSHA) certification, an industry-standard certification for health and safety in construction and general industry, and have the opportunity to receive a job or internship at many companies in the Philadelphia area.
According to Haines, some graduates from this program have secured positions in electronics and vending with Mini Melts, Rivers Casino Philadelphia and some local townships, and some have used the program as the foundation to pursue electronics in college.
"They all have some ambition to pursue electronics and use my class as a starting point," Haines says.
Miguel-Torres came across the program while searching for a high school where he could learn robotics and coding with the intent to become a game designer. He quickly learned, however, the similarity between the two fields.
"The electronics field is getting bigger and there are opportunities, both local and outside of Philadelphia, that I can take advantage of based on what I'm learning now," he says.
Junior Taheem Thompson was also originally attracted to the program because of his interest in game design.
"Through this program, I'm learning how to code and build my own software. We are breaking it down step-by-step so that I can take what I learn here and use those skills to help better myself for what I really want to do – game design," he says.
Thompson's favorite part of the program is soldering.
"It's an important part to build electronics, but it's also calming and relaxing for me. I want to get a job where I'm soldering all day," Thompson says.
The opportunities for students, however, are versatile. Miguel-Torres is currently interning with Johnston Mechanicals, where he's learning to help support, fix and code the controls and electronics within heating and air conditioning.
"Once you learn the fundamentals, it's easy. Whether it's fixing a phone, vending machine, computer, appliance or a remote, it's always the same components," says Haines. "If you understand what it does at the end, you can fix it."
For more information on the program, visit their website.
—
Pictures below were taken prior to the pandemic.