District joins The Fund and Wawa to Celebrate One-Year Partnership on National Employee Appreciation Day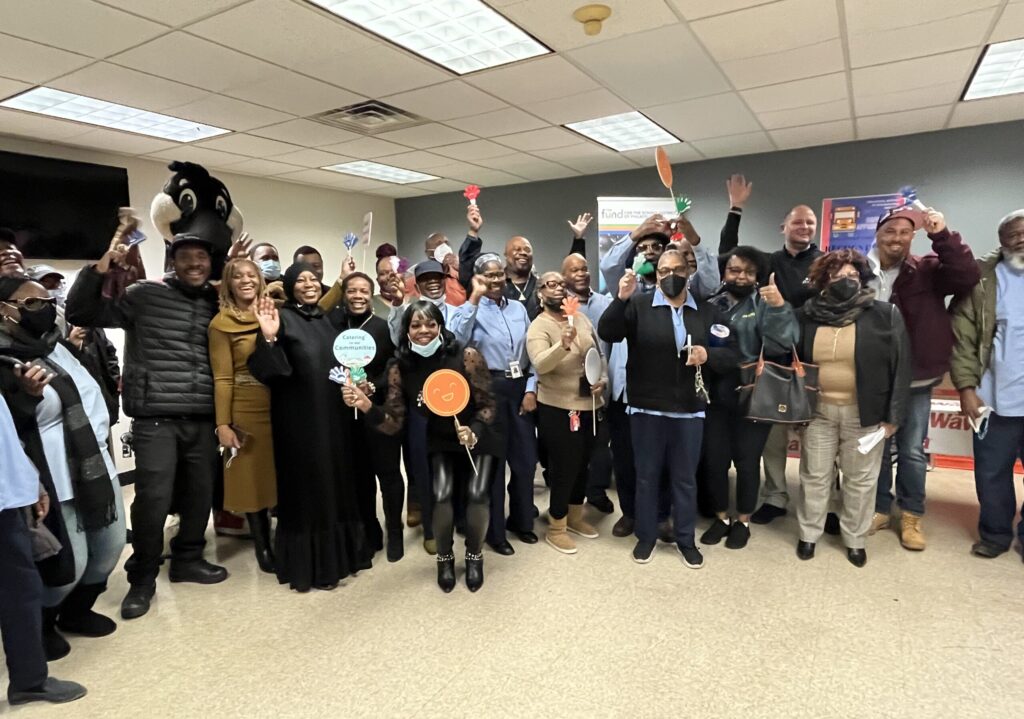 School Bus Drivers and Garage Operations Staff Selected as One of Wawa's "Catering to Our Communities" Recipients of a Free Catered Lunch to Recognize Unsung Heroes; Announce donation of 80,000 COVID Test Kits to the District
Today, the School District of Philadelphia joined Wawa and The Fund for the School District of Philadelphia (the Fund) to mark the one-year anniversary of a partnership that has supported District employees and operations throughout the pandemic. The celebration was held at one of the District's three school bus garages where Wawa treated the school district drivers and garage operations staff to a special lunch as part of their new Catering to Our Communities program.*  Drivers and staff at the two other bus station locations also were treated to a special appreciation lunch.
The event, held on National Employee Appreciation Day, continues to demonstrate Wawa's support of The Philadelphia School District – not just the schools, students, and teachers, but all District employees, including the nearly 250 bus drivers and garage operators across the city. The District's bus driver event was one of many "Catering to Our Communities" events held on this national day of appreciation throughout Wawa's operating area.
Today at the event, Wawa also announced its donation of 80,000 COVID test kits to the District during January and February of this year to help keep teachers and students safe in the classroom.
"Wawa's donations to The Fund for the School District of Philadelphia over this last year helped us recognize and thank District employees at a time when they were working harder because of the two-year pandemic," said Donna Frisby-Greenwood, President and CEO of the Fund. "Wawa's additional recent donation of 80,000 COVID test kits augmented a critical testing program to helping teachers, kids, and their families feel safe to resume in-person learning."
Frisby-Greenwood said that last year on this date, at an event at Northeast High School, Wawa started its support by recognizing over 3,000 essential District employees who remained onsite to provide food and support to students and families in need with an Appreciation Kit, containing Wawa gift cards as well as coupons for hoagies, donuts, coffee, teas and other beverages. The Fund then purchased an additional 1,335 Appreciation Kits for bus drivers, IT professionals, building engineers, and others for a total of 4,335 kits distributed.
"As part of our commitment to serving our communities, we are delighted to support The Fund for the School District of Philadelphia and District faculty with food, resources, gift cards, and our appreciation for everything they've done to keep students safely in schools these past challenging years," said Becky Altemus, Wawa Director of Store Operations. Altemus said, "On March 4th, National Employee Appreciation Day, it gives us great pride to thank the bus drivers and garage operations staff with a free catered lunch as they are truly unsung heroes in our community."
"We are very appreciative to partners like Wawa who recognize the important work our employees do every day to support students, families, and communities," said William R. Hite, Jr., Ed.D., Superintendent of the School District of Philadelphia. "These last two years have been very challenging due to the pandemic, so we are grateful to Wawa for providing additional support to help our schools continue to safely offer in-person learning."
The School District of Philadelphia's Office of Transportation is looking for new drivers and bus attendants to join its fleet.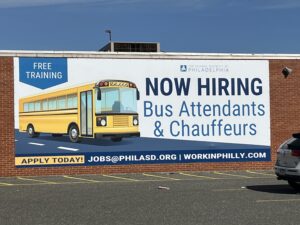 Individuals who have a passion for working with children, enjoy a flexible work environment and want to receive full benefits for part time work should apply through the Office of Talent Support Services. For more information, please visit their website.