District Hosts 20th Anniversary Celebration for Urban Technology Project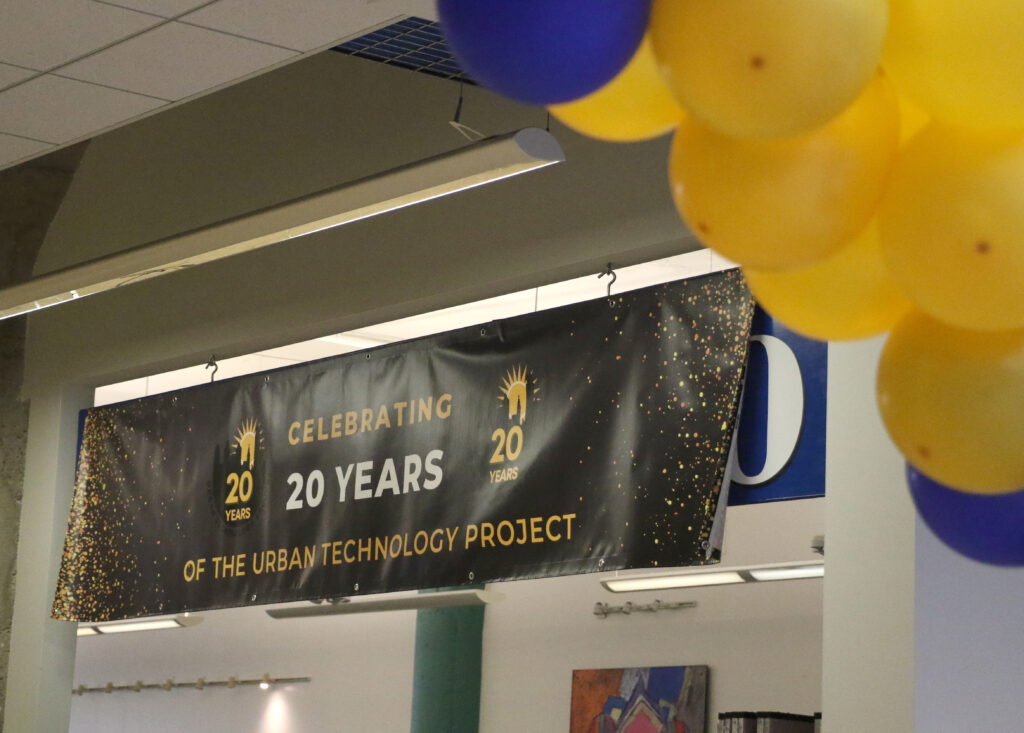 On Saturday, the School District of Philadelphia celebrated the 20th anniversary of the Urban Technology Project (UTP), a nationally recognized apprenticeship program run by the Office of Information Technology. This sold-out event featured alumni and current apprentices.
"There's a reason why women and people of color – particularly Black and Hispanic continue to be underrepresented in STEM career fields. Which is why I get excited when I hear and learn more about technology programs like UTP," said Tony B. Watlington, Sr., Ed.D., Superintendent for the School District of Philadelphia. "Programs like this are creating real opportunities for underrepresented populations and making true change."
A collaborative initiative between the School District of Philadelphia and Launch of Philadelphia, formerly Communities in Schools of Philadelphia (CISP), UTP has provided women and people of color with paid on-the-job training, industry certifications and mentorship to begin successful careers in the technology industry. UTP is a post secondary, workforce development program that provides access to a career in the tech field to those who otherwise would not have the opportunity. In alignment with the School District's goals and guardrails to ensure students graduate ready for college and career readiness, UTP is a continuum of service-learning and school-to-work experiences. UTP includes the Computer Support Specialists Registered IT Apprenticeship Program, the Software Development Apprenticeship Program and the Pre-Apprenticeship Digital Service Fellows AmeriCorps Program.
"While I am proud of all of the work lead by the Office of Information Technology, it comes as no surprise to those of you that know me, that this is my greatest honor, to be in a position to support the growth of the young people of this city through the Urban Technology Project, an apprenticeship program that leads to not just jobs, but life changing careers in the high demand tech industry," said Melanie Harris, Chief Information Officer for the School District of Philadelphia.
This program has helped prepare more than 500 District graduates for careers in the technology sector, with 89% staying in the technology field. UTP is focused on increasing diversity in tech with 84% percent of its current cohort identifying as Black, Indigenous or People of Color and 26% as women.
Shana Savage, who serves as the executive director of UTP, served as the event's emcee and closed out the program.
"UTP is removing barriers to enter the tech field by providing paid tech training to women and people of color that are often left on the sidelines of this growth industry," said Savage.
As the assistant director of UTP, Jessie Cunningham presented a series of Recognition Awards to the following individuals:
Edison Freire, UTP Founder, for being the founder and visionary for the program;
Beth St. Clair for her dedicated service to UTP apprentices;
Lynette Ivery, mentor, for her invaluable mentorship to UTP apprentices;
Ed Detrich, UTP Supporter, for his knowledge and support; and,
CISP, a long-standing UTP partner for their unwavering partnership to the program
This event was sponsored by Worldgate LLC, Visual Sound, Capital Access, JobWorks, Tech Quest Apprenticeship, NuPaths, Foundations, Inc., CYAI and Technical.ly Media.
"I am an alumni from the program, so I've had the pleasure of working alongside and getting to know all of the wonderful contributors of UTP in both a mentee and a colleague capacity," Cunningham said. "As we celebrate 20 years of preparing underrepresented folks for careers in technology, we would like to recognize some individuals that have really helped shape the program into what it is today."
Former City Council Member & Philadelphia Business Owner Allan Domb served as this year's keynote speaker. Additional speakers included UTP alumni Christopher Brown and Gregory Johns-Miller, as well as UTP apprentice Bethany Hayes.
For more information about the program, please visit its website.