Hill-Freedman World Academy Student-Artists Release Sixth Album

Hill-Freedman Records, the record label of Philadelphia public high school Hill-Freedman World Academy of the School District of Philadelphia, announces the release of GROWING UP BLACK, an album of 34 original student songs, co-produced by Philadelphia independent music nonprofit World Cafe Live. The album, a central component of Hill-Freedman's IB Design/Music Technology curriculum in the school's International Baccalaureate Programme, was made over the course of the 2021-22 school year, in a collaboration that involved all 10th grade students, school leadership, artists from World Cafe Live, and WHYY Media Labs.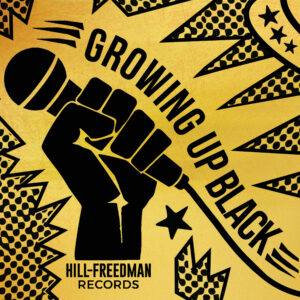 Hill-Freedman Records is led by Music Technology teacher Ezechial Thurman. GROWING UP BLACK is the label's sixth album, all of which have been made in partnership with World Cafe Live, one of the region's leading independent music venues. A trio of World Cafe Live teaching artists—Grammy-nominated songwriter/producer Kristal "Tytewriter" Oliver, songwriter/performer Bethlehem the Vocussionist (Bethlehem Roberson) and composer/songwriter/producer Andrew Lipke—all acclaimed for their performing and recording,  joined Thurman, and WHYY's Lisa Wilk in the collaboration.
Key to the process was a  group of student producers, all veterans of past Hill-Freedman Records albums (including recent alumni), mentored the 10th grade students in their songwriting.
The album grew from the students' exploration of the music of artists and producers from diverse genres from Pop to Reggae and even Country. These artists and producers, who included Michael Jackson, Quincy Jones, Bob Marley, and Charlie Pride spanned decades and represented a range of musical genres and cultures.
The songs on GROWING UP BLACK  amplify students' perspectives on the challenges of the past several  years, from the pandemic to racialized violence, and how music, in the words of teacher Thurman, "can be a force that helps promote positive change in our world."
Direct support for this project has been provided by Philadelphia City Council member Cherelle L. Parker (9th District), Spring Point Partners, the Les Paul Foundation, the Wyncote Foundation and the School District of Philadelphia, as well as additional foundations and individuals. World Cafe Live is supported in part by the Pennsylvania Council on the Arts, a state agency funded by the Commonwealth of Pennsylvania and the National Endowment for the Arts, a federal agency.