SDP Teacher Named 2023 Teacher of the Year Finalist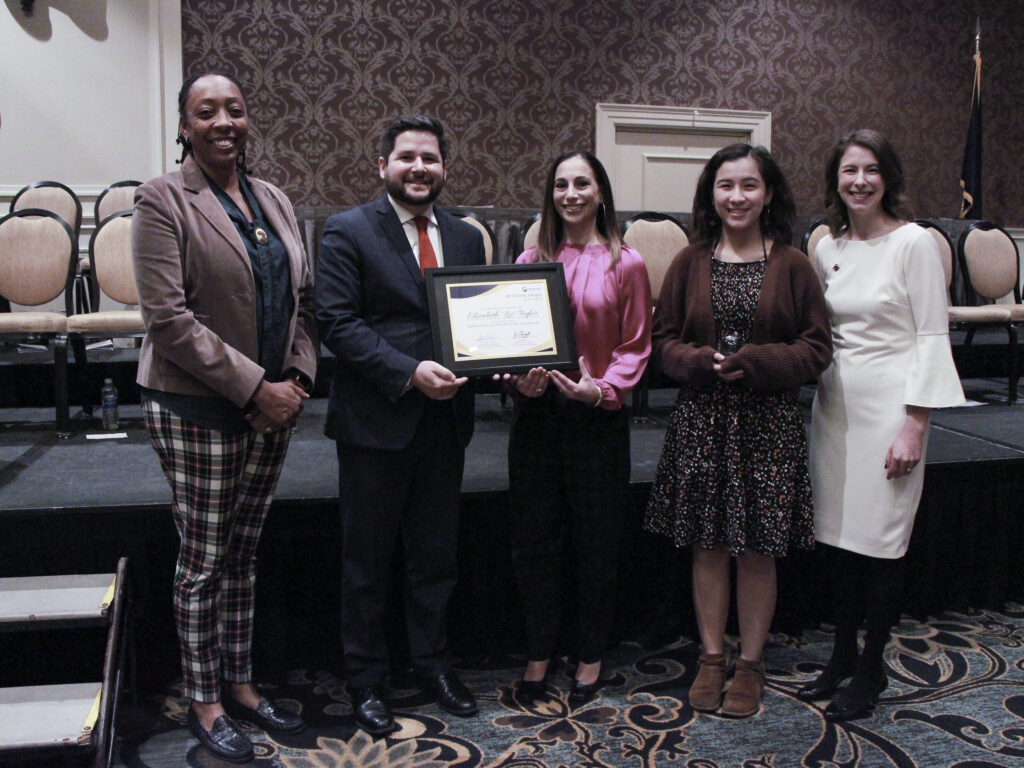 Elizabeth "Liz" Taylor, 10th and 11th grade social studies teacher at Julia R. Masterman Laboratory & Demonstration School is a 2023 Pennsylvania Teacher of the Year Finalist. The National Network of State Teachers of the Year (NNSTOY) is a service organization that represents educators, believes that education is part of the democratic society that contributes to the continued improvement of humankind.
Taylor was one of 12 finalists who were selected and participated in interviews as well as a recorded teaching episode that exhibited effective instructional strategies. She was recognized at the Pennsylvania Department of Education's annual Keystone Awards of Excellence program.
"I feel honored and excited to be chosen as a finalist. I'm grateful to the amazing faculty, staff, students, and families at the schools where I taught who pushed me to treat each day as a precious opportunity for learning," said Taylor. "It is because of the pedagogy and content ideas learned from the exceptional Philadelphia educators who I've been privileged to work with that I have been nominated. I hope to be able to promote the work of Philadelphia's teachers and students and provide a window into the caring relationships and dynamic teaching and learning that happens in our buildings.
Taylor began teaching in 2001 in the West Contra Costa Unified School District in California and later joined the School District of Philadelphia in 2005. She spent her first three years at Roberto Clemente Middle School as a seventh grade World Cultures and Geography and eighth grade US History teacher. She is currently a 10th grade African American History and 12th grade Social Science teacher at Masterman High School.
"Education prepares students for success outside the classroom by engaging them in authentic rigorous academic work that prioritizes student agency and discovery," said Taylor. "When students enjoy learning, they develop the skills needed to make positive contributions to our society."
Taylor's passion for history and teaching is demonstrated through her active involvement as a sponsor of both the National History Day project and Masterman's Voter Registration Club, which students earned the Governor's Award for Civic Engagement at the Gold Level in 2019, 2021 and 2022 for their work to register students who were eligible to vote . She is a Social Studies Department Facilitator and is a member of the National Council of the Social Studies, National History Day Philly Teacher Advisory Group, Organization of American Historians and Association for the Study of African American Life and History.
Previous awards that Taylor has received include the 2020 National History Day Hannah E. (Liz) MacGregor Teacher of the Year Award finalist, 2020 National History Day in Pennsylvania Teacher of the Year, 2020 and 2014 National History Day Philly Teacher of the Year, and 2016 Lindback Award for Distinguished Teaching. Taylor has also authored a chapter published in August 2021 on teaching argumentative writing in Guide to Student Research and Historical Argumentation. She holds a Bachelor of Arts in Ethnic Studies from the University of California, Berkeley, a Master of Arts in Teaching Social Studies from Columbia University and a Master of Arts in History from Temple University.