Central's Robotics Team Qualifies for World Robotics Championship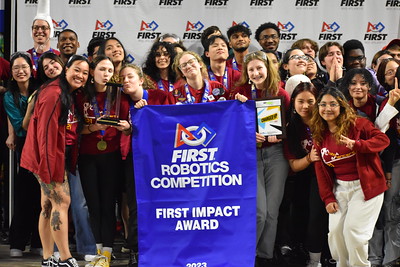 Central High School's Robotics Team captured the FIRST® Impact Award at the FIRST® Mid-Atlantic District Championship and is advancing to the 2023 FIRST® Championships in Houston, Texas next week. This marks the fifth time that the school has qualified, and the first time since 2018.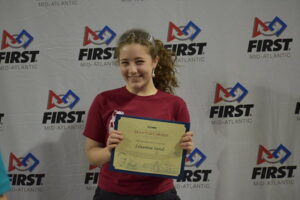 "The RoboLancers have been working for years to grow STEM opportunities for Philadelphia students, and we are so excited to share our story, our machine and our students with the world next week in Houston," said Central teacher and coach Michael Johnson.
The FIRST® Impact Award is the most prestigious FIRST® award and recognizes the team's outstanding and sustained efforts to grow access and equity in STEM programs for Philadelphia public school students. With this award, the team has qualified to compete against other regional Impact Award winners at the FIRST® Championship April 19-22, 2023.
Now in its 25th season, Central's robotics team, the RoboLancers, is a 168-student robotics team that strives to inspire and prepare the next generation of STEM leaders in Philadelphia. Students learn to design, fabricate, and program a new robot each year to play that year's game against robots from other schools. This year's robot, Lucy, collects cones and cubes and scores them in the "grid" before balancing on the "charging station" in the Charged Up game. The students also learn branding and marketing skills, as Lucy's functional gooseneck arm is complemented by goose theming throughout.
The Impact Award recognizes the RoboLancers for their work to spread STEM opportunity to Philadelphia public school students, principally through the nonprofit Philadelphia Robotics Coalition, founded by the RoboLancers in 2016, which is supporting 143 robotics teams for K-12 students across the city this school year. The Coalition provides coach training, team workshops and events, and financial and material support to ensure the teams' success. RoboLancers students drive this effort with thousands of volunteer hours each year, mentoring teams and running events.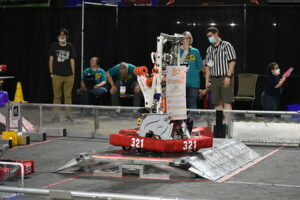 In addition to the team award, sophomore team member Lily Sand (284) was named a FIRST® Dean's List Finalist for her personal contributions to her team and to the mission of FIRST®. She will be judged against other finalists for the Dean's List Award at the Championship.
The team is currently fundraising for the trip, which will cost roughly $55,000 to bring 24 students, six adults and equipment to the championship event. To support the team, please visit https://donorbox.org/robolancers-world-championship-2023