Event to benefit Hill-Freedman Records from Greenwich International Film Festival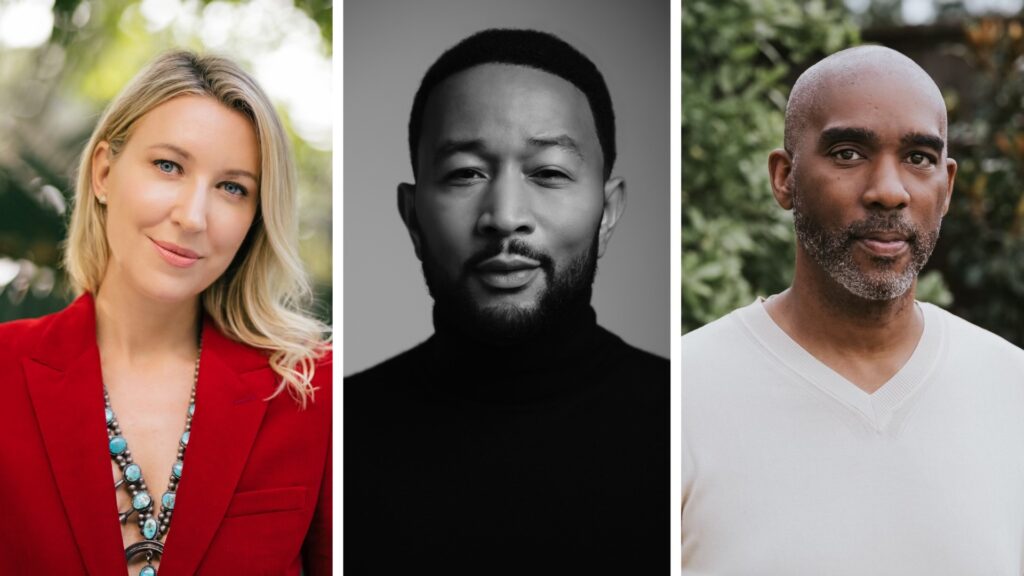 Greenwich International Film Festival (GIFF) announced today the honorees for the annual Changemaker Gala will be EGOT winner John Legend, Emmy and Tony winner Mike Jackson, and Emmy winner Ty Stiklorius, producers and founders of the production company Get Lifted Film Co. The event, which is set to take place on Thursday, November 9, 2023 at L'Escale in Greenwich, CT, will benefit Hill-Freedman Records, the school record label of Hill-Freedman World Academy, a public high school in Philadelphia, proudly serving over 95 percent black and brown students with a variety of backgrounds and talents. GIFF's Changemaker Award honors artists who have used their public platform and the power of film to further positive social change. Past honorees include Lin-Manuel Miranda, Eva Longoria Baston, Ashley Judd, Renée Zellweger, Christy Turlington Burns, Gretchen Carlson, Freida Pinto, Trudie Styler, Abigail Breslin, Harry Belafonte and Mia Farrow.
Since 2016, Hill-Freedman World Academy has been committed to fostering student creativity and lifting student voices through the school's record label, Hill-Freedman Records. To date, they have completed 7 albums of student songs, supported largely by independent funding through grants and nonprofit partnerships.
"We are honored to be accepting this year's Changemaker Award from our friends at the Greenwich International Film Festival," said Get Lifted executives. "From the beginning, Get Lifted Film Co. has worked to make a difference in the culture, not only in what you see on screen and stage, hear in music, and read in books, but also in everyday life for the community. We are proud to support Hill-Freedman World Academy, a public, multi-cultural high school in Philadelphia, and look forward to continuing our support for them and many others in the years to come."
"GIFF is thrilled to be honoring John Legend, Mike Jackson and Ty Stiklorius of Get Lifted Film Co. at the 2023 Changemaker Gala. John, Mike and Ty have launched a company aimed at elevating underrepresented voices through film, Theater, Publishing and television. The content they are producing will create a greater understanding between people of different backgrounds, beliefs and cultures, which is exactly what the Greenwich International Film Festival is all about. We are looking forward to another exceptional uplifting evening honoring these three incredible individuals," Wendy Stapleton, Founder & Chairwoman, GIFF.
"This generous gift of support to our students and program recognizes and affirms the importance of our students' creative voices and will help them to accomplish their mission to provoke positive change in the world through their music," said Ezechial Thurman, Hill-Freedman Records Founder and Program Director.
About Hill-Freedman World Academy
Hill-Freedman World Academy is a public high school in the School District of Philadelphia where students in grades six through 12 are challenged and encouraged to develop their creative talents, even those yet to be discovered. Proudly serving over 95 percent black and brown students with a variety of backgrounds and talents including serving 26 percent of students who have complex support needs including Autism. As a citywide criteria-based school, all of Hill-Freedman students come from economically challenged homes from across the city of Philadelphia.
All Hill-Freedman ninth and tenth grade students participate in composing music and songwriting through their International Baccalaureate (IB) Design & Music Technology courses culminating in the release of a yearly published album supported by an award-winning staff.
Through its IB Middle Years and Diploma programs, Hill-Freedman World Academy provides a rigorous academic environment that inspires individuality and fosters lifelong learners who are committed to being knowledgeable, caring, internationally-minded global citizens.
About Get Lifted
Get Lifted Film Co. is led by Emmy® and Tony® Award-winning producer Mike Jackson, EGOT recipient and award-winning producer John Legend, and Emmy® Award-winner and CEO of the management, media and social impact company Friends At Work, Ty Stiklorius.
Their upcoming projects include PHANTOM, a reimagination of Phantom of the Opera and Misha Green's feature film B-SIDES.
Get Lifted's latest projects include 1000% ME: GROWING UP MIXED, an HBO documentary from W. Kamau Bell about life for mixed children in America; LOUDMOUTH, a documentary about Reverend Al Sharpton who has been at the center of the national conversation around race since the late 1980s, which premiered at the 2022 Tribeca Film Festival; ARTHUR, an animated feature inspired by the long time running PBS series; the film THE WAR & TREATY inspired by real life of husband and wife black country music stars Michael and Tanya Trotter; the TV adaptation of S.A. Cosby's novel BLACKTOP WASTELAND; hip-hop competition series RHYTHM & FLOW for Netflix and Theater projects IMITATION OF LIFE and BASQUIAT.
Notably, Get Lifted produced David E. Talbert's acclaimed holiday film JINGLE JANGLE: A CHRISTMAS STORY and executive produced HBO docu-series ATLANTA'S MISSING AND MURDERED: THE LOST CHILDREN, which received the AAFCA TV Honor for Best Documentary and was awarded "Best Multi-Part Documentary" by the International Documentary Association. Jackson and Get Lifted also executive produced the HBO documentary 40 YEARS A PRISONER, the Netflix documentary GIVING VOICE and the WGN series UNDERGROUND, created by Misha Green. Among Get Lifted's other recent documentary credits are CITIZEN ASHE, THE LEGEND OF THE UNDERGROUND and A CRIME ON THE BAYOU. Additionally, SHERMAN'S SHOWCASE on IFC and AMC,  RHYTHM + FLOW for Netflix, which won the 2020 NAACP Image Award, ABC's "John Legend and Family: A Bigger Love Father's Day.", Damien Chazelle's Oscar®-winning musical LA LA LAND, as well as NBC's 2018 Emmy®-winning JESUS CHRIST SUPERSTAR LIVE and the 2017 Tony® Award winning August Wilson play JITNEY.
Aside from film/TV, Get Lifted have partnered with Zando to form Get Lifted Books, which builds upon Get Lifted Film Co.'s mission of spotlighting stories from dynamic creatives. The imprint will publish brilliant authors, who transform the conversation, in both adult fiction and nonfiction as well as titles for young readers. The imprint kicked off with Rosewater, the debut novel from Liv Little, a deliciously gritty and strikingly bold debut novel about discovering love where it has always been. Rosewater hit shelves on April 25 to rave reviews, solidifying Get Lifted's stance in the book publishing world.
In 2021, Get Lifted and Erik Feig's PICTURESTART formed Picture LIFT, a joint venture focused on developing, producing and financing multiple films in the $10M range, featuring diverse filmmakers and inclusive casts. Recently announced, Get Lifted and Universal Studio Group's UCP inked a first-look deal for unscripted series and an exclusive multi-year overall deal for scripted content. Additionally, Get Lifted renewed their first look feature documentary deal with HBO.
About Greenwich International Film Festival
GIFF is an all-female founded 501(c)(3) non-profit organization that bridges the worlds of entertainment and philanthropy through year-round programming and special events. GIFF harnesses the power of film to serve the greater good by supporting causes that relate to basic human rights, education, the environment, and health care.
GIFF prides itself on its female driven and philanthropic programming. To date, GIFF has raised over $1,000,000 for its charity partners, awarded $190,000 to filmmakers, and offered a variety of free educational programs for the community, raising awareness of important issues facing the world today. For additional information, please visit www.greenwichfilm.org.
Photo Credits:
John Legend head shot: Jabari Jacobs
Ty Stiklorius head shot: Lauren Kallen
Mike Jackson head shot: Erin Brooks