Honoring Hispanic Heritage Month: Employee Spotlight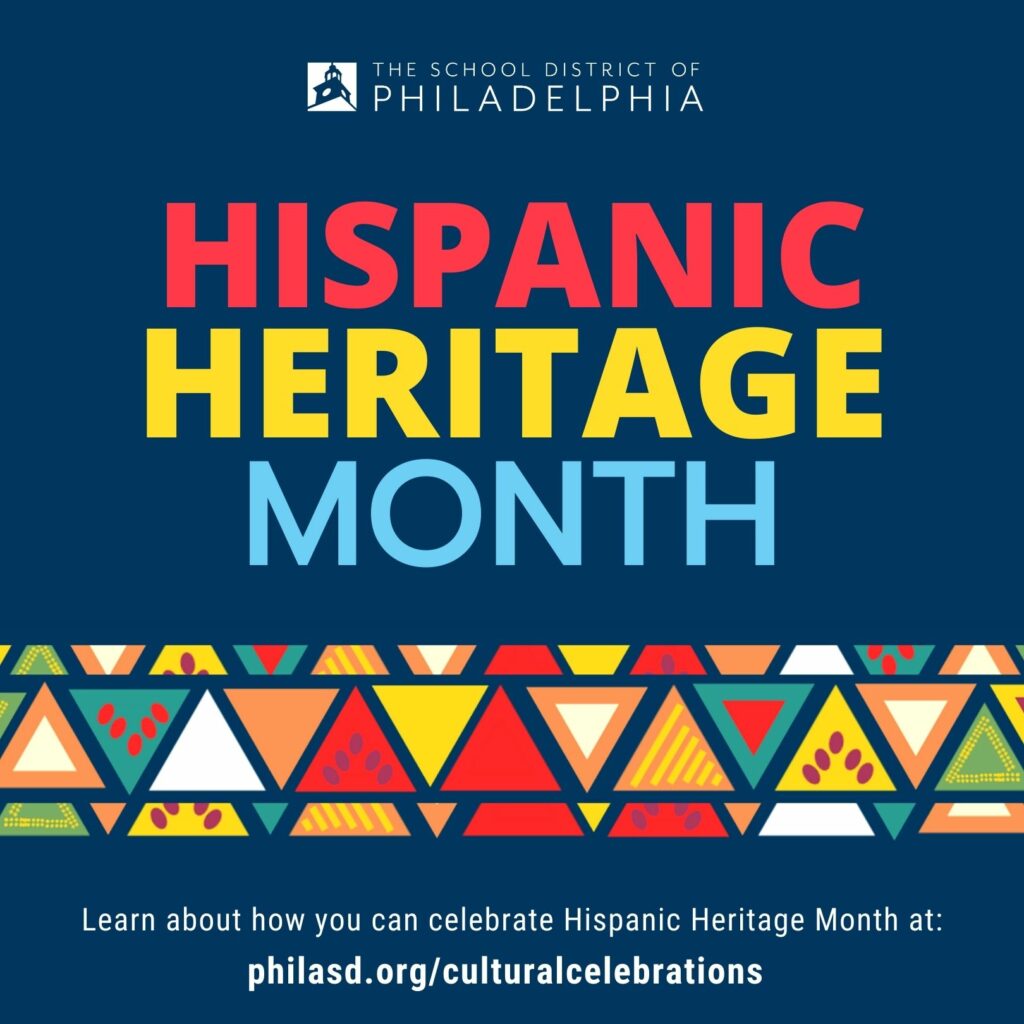 Luz E. Falcon Cordero, Autistic Support Classroom Assistant
Ms. Falcon has worked at Morrison Elementary for over 20 year. Her career with the School District of Philadelphia started in 1998 when she began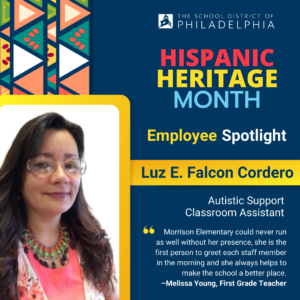 working as a Kindergarten Classroom Assistant. While she has held many positions over the years and supports all of Morrison, she is most passionate about her current role as an Autistic Support Classroom Assistant, which she has held for the past seven years.
As a proud Puerto Rican woman, Ms. Falcon has decorated and helped Morrison to light up its corridors and classrooms with positive images of Latinas and other cultures for many years.
"She is patient, loving, and supportive in every way that a child could need and encourages them to love themselves and achieve greatness. Every student at Morrison feels her love and finds comfort in her presence. Morrison Elementary could never run as well without her presence, she is the first person to greet each staff member in the morning because she arrives at 7 am to make sure everyone can get into the building. She never complains, rarely takes a day off, and always helps to make the school a better place, even when it is something that isn't in her job description."
–Melissa Young, First Grade Teacher
We asked Ms. Falcon some of our favorite questions: 
What are the joys of being a Latinx/Hispanic? 
One of the joys of being a Latinx/Hispanic Assistant is being able to help Spanish speaking students and their parents. I also enjoy sharing food, language, and crafts from my culture with my co-workers.
What are the challenges you've overcome as a Latinx/Hispanic in the District or in general? 
One of the challenges that I have had to overcome as a Latinx/Hispanic woman is my heavy accent when speaking in English.
How do you honor your heritage and culture inside or outside of work? 
A way that I show appreciation and honor my heritage is by being bilingual. I also honor my heritage by sharing my food and music with others, and keeping the values that I was taught by my family. I love to pass these on to my own children, and the children I work with at Morrison.
What is your favorite thing about your culture/heritage? 
My favorite thing about my culture is that it is a mix of other cultures, including Indigenous Spanish and African traditions.
Ms. Falcon, thank you for your service to the School District of Philadelphia and your commitment to Philadelphia's students!