Top Philadelphia Schools Honored for Performance on 2016-17 School Progress Report
District releases annual School Progress Report showing second consecutive year of progress with 164 Philadelphia public schools increasing their SPR scores and positive growth in the city's lowest performing schools
PHILADELPHIA—On Monday, January 28th, at an awards ceremony at Potter Thomas Elementary, the School District of Philadelphia recognized 22 schools for high achievement on the 2016-2017 School Progress Report (SPR), and 4 district schools that have the highest level of SPR improvement. Potter Thomas was chosen as the site of this year's SPR ceremony because it was one of the most improved schools in the district and showed the highest gains in the district's Turnaround Network.
"Today is another great day for Philadelphia's public schools. We honor not just the top schools in the city but the fact that more of our children are learning in higher performing schools and more of our schools are improving across the city," said Dr. William R. Hite, Superintendent. "Every child's potential is limitless. Every child can learn and every child deserves a great school close to where they live. We celebrate the hard work of our students, teachers, principals and families who are at the heart of this progress. They are showing us everyday what is possible in public education."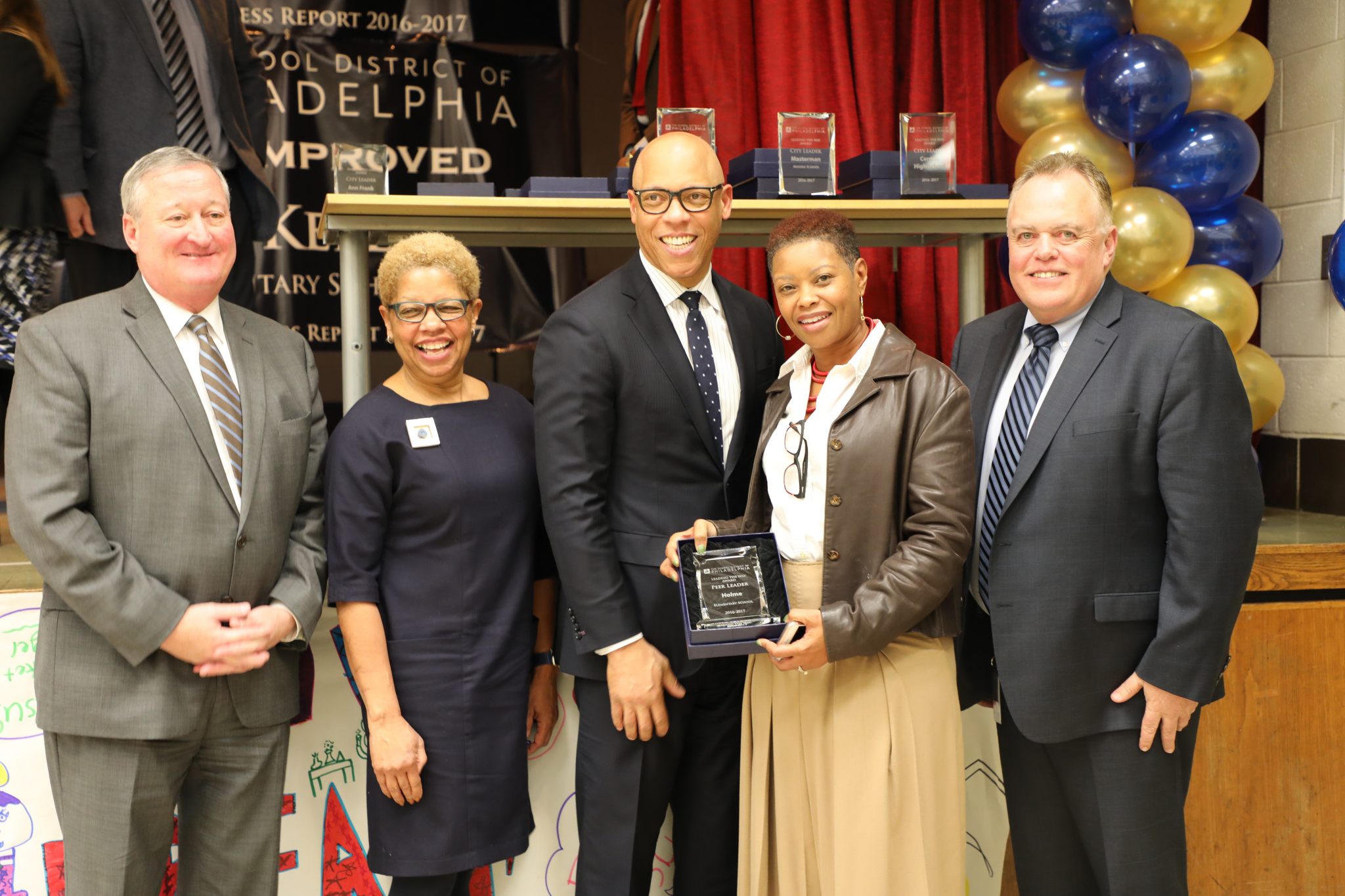 The SPR is the District's primary tool to measure progress towards the Action Plan 3.0 anchor goals on grade-level literacy and college- and career-readiness. Now in its fifth year, the SPR evaluates schools in multiple areas, including student achievement, student growth, school climate, and for high schools, college-and career-readiness. The SPR speaks to the District's belief in school autonomy paired with support and accountability. It is a transparent, actionable way to gauge the progress and achievement of a school.
Anne Frank (Elementary), Penn Alexander (K-8), Masterman (Middle) and Central High School (High School) received the highest SPR scores citywide for their grade levels. They joined an additional 18 schools – 5 District, 13 charter – in achieving the highest SPR scores among their peers.
Potter Thomas, the site of this year's SPR awards, was chosen because it was the most improved school in the district's Turnaround Network. The Turnaround Network saw 8 %-pt SPR gain, the largest %-pt increase in any network. Six Turnaround schools moved up from Intervene to Watch, representing 2,600 students in higher performing schools. "I am proud that our largest gains have come from the schools we have prioritized to improve academic achievement. The investments being made in these schools are creating better school leaders, improving student instruction and improving school climates," added Hite.
"Today shows everyone what hard work, a dedication to professional development, a commitment to data, and a growth mindset can accomplish, " said Potter-Thomas Principal Dywonne Davis-Harris. "I am proud to be a Principal in the Turnaround Network, but I am even prouder of our students, our staff, parents and caregivers who are at the heart of our progress. Today is not the end of our work but another step on the road to improving our school and maximizing our children's potential."
The district also honored for the second year district schools who most improved their SPR performance over last year. "This is a proud day for everyone at J.B. Kelly. This proves that our weekly collaborative grade meetings, new textbooks and learning materials, and our increased teacher training around our early literacy is working. I can't thank my teachers and staff enough for all their hard work and dedication to our school," said Kala Johnstone, Principal at J.B. Kelly – Most Improved District Elementary School.
"I'm pleased that this year's reports show another year of improved SPR scores across the District," said Mayor Jim Kenney. "While we still have work to do to ensure that every child can attend a high performing school, the new reports show that the District is on the right track. My Administration is committed to supporting this ongoing progress by spearheading a return to local control of the District. Our city's success depends on our schools. I congratulate and thank the hardworking teachers, principals, and support staff who work hard every day to educate and serve our children."
2016-2017 SPR Major Highlights
Strong Gains in Progress and Half of District Schools Saw an Increase in their SPR Ratings
Highlights of the report include:
District's average overall SPR score increased for the second straight year to 34%. Citywide (factoring in Charters and District schools) the average SPR score rose for the second consecutive year to 37%
164 schools increased in overall SPR score from 2015-16 to 2016-17 (111 District, 53 Charter)
49 district schools went up an overall SPR tier. We are seeing progress across tiers as schools are moving from Intervene to Watch, from Watch to Reinforce, and from Reinforce to Model. 23 charters went up an overall SPR Tier.
1,800 more students are in Model schools than last year
Our focus on low performing schools is paying off – The largest area of improvements was in our Turnaround Network. The Turnaround Network identifies and supports great school leaders, implements routines to improve teaching and learning, and builds teaching skills.
8 %-pt SPR gain, the largest %-pt increase in any network
Six schools moved up from Intervene to Watch: Paul Dunbar, Potter-Thomas, Munoz-Marin, John Barry, Morton McMichael, and S. Weir Mitchell
Strong gains in the progress domain
Half of schools in the Turnaround Network saw improvements in school climate which can foreshadow academic growth
We are investing in people and professional development and it is helping to create better outcomes for children
Principals and teachers are using data to improve instruction and make a bigger impact in their classrooms
Achievement: 89 district schools and 42 charter schools saw an increase in their achievement score, which measures student performance on standardized assessments, including the PSSA and Keystone Exams, ACCESS for ELLs 2.0, and reading assessments.
Progress: The District exhibited strong evidence of growth (as measured by PDE's Average Growth Index) in PSSA Math and ELA.
Climate: 29% of district schools saw an increase in climate score (63 district schools in total). 16 district schools increased at least one tier in climate.
Career and College Readiness: More than 1 in 5 seniors (21%) performed at the college- or career-level-ready on an AP, IB, or NOCTI assessment.
Other Notable Highlights:
Southwark School saw the percentage of K-2 students reading at grade level rise from 30% to 50%, an increase of 20 percentage points. Five additional schools – S. Weir Mitchell, Add B. Anderson, A.S. Jenks, Jenks Academy for Arts and Sciences, and Hardy Williams – also saw the percentage of K-2 students reading at grade level rise by 15 or more percentage points.
PSSA English Language Arts proficiency rates rose by more than 10 percentage points at Chester Arthur; Alexander Adaire; Richard Wright; John Moffet; and Thomas Finletter. Among charters, Math, Civics, and Sciences Charter and Universal Charter at Creighton saw similar gains.
The percentage of students attending at least 95% of instructional days rose by 10 percentage points at both John Hartranft and Feltonville School of Arts and Sciences.
At Sayre High School, the percentage of on-track students earning credits required for promotion rose by 15 percentage points, from 71% to 86% – MaST Charter was the largest gainer, rising 20% points to 95%
The first-fall college matriculation rates at Strawberry Mansion and Philadelphia Military Academy rose by at least 20 percentage points.
Five schools – Bodine, Lankenau, Julia R. Masterman, MAST Charter and Philadelphia Military Academy – had a 100% graduation rate.
Twelve schools received the "Model" designation for their Overall SPR score: Central High School; Penn Alexander; Julia R. Masterman (for its MS report); Green Woods Charter; Franklin Towne Charter High School; Philadelphia Academy Charter; General George A. McCall; Folk Arts Cultural Treasure Charter; Franklin Towne Charter Elementary School; Anne Frank; HS of Engineering and Science (for its HS report); Joseph Greenberg; and MaST Community Charter II.
There are four report types: Elementary, K8, Middle and High. Each school receives an overall score, as well as a score for each of four SPR domains (performance areas): Achievement, Progress, Climate and College and Career (high schools only).
A school's overall and domain scores are categorized into one of four performance tiers: Intervene (lowest), Watch, Reinforce and Model (highest). Schools can achieve a maximum of 100 percent in each domain. Scoring is based on the floor (minimum standard) and target for each key performance indicator.
The School Progress Report is available for download at www.philasd.org/spr complete with a parent's guide to SPR results.
2016-2017 SPR Peer Leaders (bold represents City Leaders)
Elementary – Feltonville Intermediate School, Universal Bluford, Holme Elementary, and Anne Frank
K8 – Pan American, Universal Alcorn, Universal Creighton, Antonia Pantoja, Discovery Charter, Penn Alexander, Philadelphia Academy, Kirkbride, and Keystone Academy
Middle School – Esperanza Academy, Young Scholars, and Masterman
High School – Central High School (Special Admission), Master Pickett, Mariana Bracetti, Multicultural Academy Charter School, Academy at Palumbo (Special Admission), and Carver (Special Admission)
Most improved District Schools in SPR in 2016-2017
Elementary – J.B Kelly
K-8 – Stanton
Middle – Feltonville Arts and Sciences
High School – Constitution