School District's GreenFutures Sustainability Program Earns Statewide Recognition
Initiative Now Recognized at Federal, State and Local Levels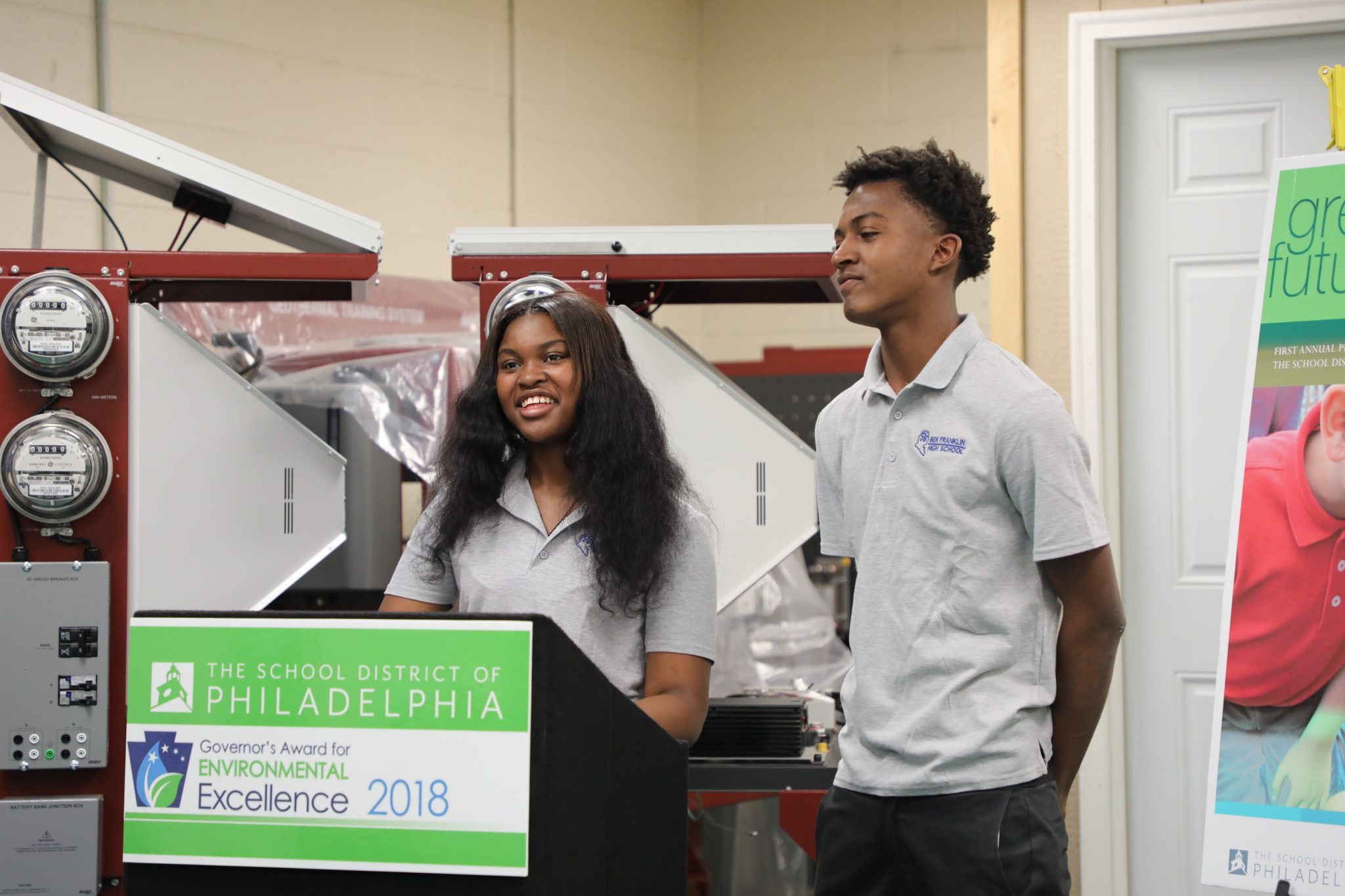 PHILADELPHIA — On Monday, April 23, The School District of Philadelphia celebrated receiving the Environmental Excellence Award from Governor Tom Wolf's administration for the District's GreenFutures Sustainability Program. Monday's event took place at Benjamin Franklin High School where there is a solar Career Technical Education program, while representatives from the District will accept the award in-person at an event in Harrisburg tomorrow.
This is the third consecutive year the District's GreenFutures Sustainability Program has been recognized for its commitment to leadership in facilities, health and environment. Previous honors include the City of Philadelphia's Sustainable Futures Award in 2016 and the United States Department of Education's District Sustainability Award in 2017.
"The State Department of Environmental Protection (DEP) received more than 60 applications, which we evaluated for their degree of environmental protection, innovation, partnership efforts, economic impact, consideration of climate change and sustainability, and results achieved," said DEP Secretary Patrick McDonnell in a press release. "It's an honor to recognize the tremendous impact many Pennsylvanians have in protecting our air, land, and water."
The District is just one of 23 organizations statewide to receive the award. Any individual, business, school, government agency, or community organization in Pennsylvania was eligible to apply for the award.
"Here at the District, we recognize the importance of ensuring our schools are healthy, environmentally-friendly places for our children and community members," said Dr. William R. Hite, Superintendent. "Through the investments we have made through our GreenFutures Program, students have access to clean, sustainable spaces to learn and grow, both in their school buildings and out on the schoolyard."
In one year, the District has made critical investments to schools across the city, and has saved over one million plastic water bottles by installing 786 hydration stations, implemented a student-led energy education program, completed a student summer solar installation program, constructed nine green schoolyards, provided recycling services, launched a compost program, and conducted indoor environmental quality assessments.
Dr. Hite joined School Reform Commission Chair Estelle Richman; Danielle Floyd, the District's Chief Operating Officer; Pat Patterson, Regional Director at DEP; and Dr. Christine Borelli, Principal at Benjamin Franklin High School, at Monday's event. Students at the school's solar CTE program were also on hand to discuss the summer jobs they have landed thanks to the program and how they are preparing for college and career after graduation.
Further targets for the program include: increasing the District's waste diversion rate by 10 percent, decreasing energy consumption by 20 percent, and increasing green schoolyards by five schools per year to ensure that every school has green space.