School District of Philadelphia Hosts 2018 College Signing Day with Former First Lady Michelle Obama
8,000 high school seniors celebrate heading to college with A-list celebrities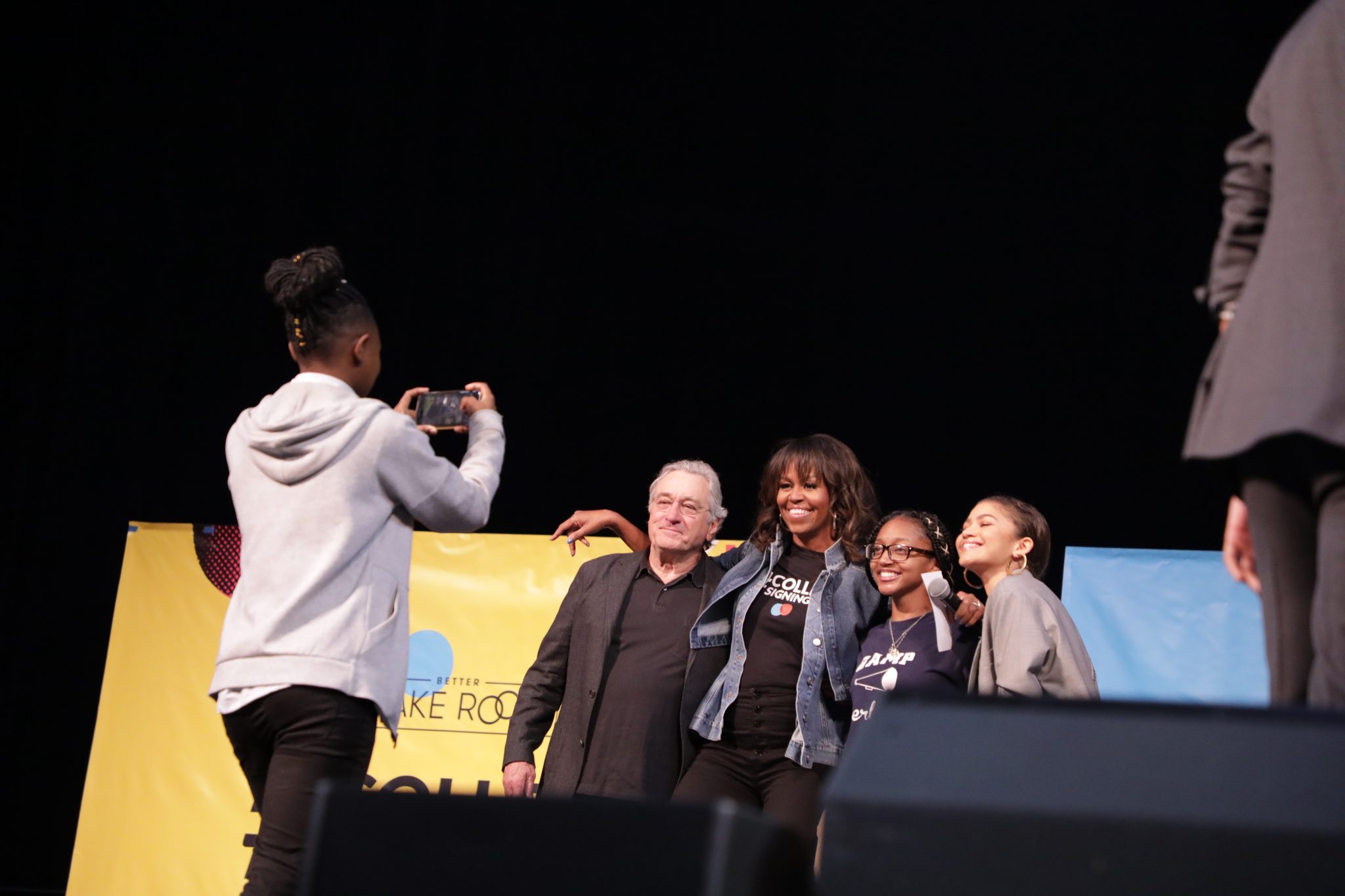 PHILADELPHIA — Former First Lady Michelle Obama served as keynote speaker at The School District of Philadelphia's annual #ReachHigher College Signing Day (CSD) event at the Liacouras Center at Temple University. Each year, CSD celebrates high school seniors choosing to pursue higher education at a professional training program, a community college, a four-year college or university, or the military.
Mrs. Obama joined a number of celebrities at the event, including: Bradley Cooper, actor; Camila Cabello, performing artist; Jussie Smollett, performing artist; Kelly Rowland, performing artist; Nnamdi Asomugha, former NFL athlete; Philadelphia's own Questlove, performing artist; Robert De Niro, actor; and Zendaya, actress. Members from the Super Bowl-winning Philadelphia Eagles and the Philadelphia 76ers were also in attendance and performer Nick Cannon served as the emcee.
"What an exciting opportunity for our students to hear from one of the country's leading education advocates, former First Lady Michelle Obama," said Dr. William R. Hite, Superintendent. "The energy at the Liacouras Center was amazing as we all celebrated the limitless potential of the 8,000 students from around Philadelphia in attendance. Today was made possible because of the tenacity and determination of our students. I hope that this experience is one that they will never forget."
Hite was also joined by Mayor Jim Kenney, state Education Secretary Pedro Rivera, and City Council President Darrell Clarke. The event is in partnership with Temple University and CF Charities, with sponsors including the Jordan Brand, Comcast and Sallie Mae.
"We are thrilled to celebrate our fifth annual College Signing Day with Philadelphia's amazing students, as well as the hundreds of thousands of students across the country in nearly every state," said Eric Waldo, executive director of Mrs. Obama's Reach Higher initiative, which she launched while she was in the White House. "Reach Higher is focused on the promise of every student, no matter his or her zip code, to pursue some form of higher education. The passion of Philadelphia's students will be an inspiration to students across the country as they consider what they want to do after high school."
Representatives from colleges and universities throughout the region were on hand to welcome accepted students and provide resources about opportunities at their respective schools. In addition, students were able to meet other members of their incoming freshman class.
"We are so grateful for all of our sponsors for giving our students such a memorable experience," said Donna Frisby-Greenwood, President and CEO of The Fund for The School District of Philadelphia. "There was a tremendous amount of behind-the-scenes work that had to happen to make today a reality, and we are thankful to our partner organizations for assisting in these efforts."
The event also included exciting activities such as singing and drumline performances, celebrity and student selfies, and a number of inspirational celebrity speeches. In addition, representatives from The Wilt Chamberlain Memorial Foundation presented a check to the local high school that had the highest FAFSA completion rate among students.
"This is the biggest College Signing Day ever and Comcast is thrilled to help bring it to our hometown," said Stephanie Kosta, Comcast Vice President of Government Affairs. "Our Philadelphia high school seniors continuing their education in college deserve to be celebrated, and by shining a spotlight on the value of higher education, we hope that more students will see college as a path for them."
Started by Mrs. Obama during her time at the White House, Reach Higher has continued its college access and completion work at Civic Nation, a non-profit focused on innovative engagement and awareness initiatives. This work includes Reach Higher's Better Make Room campaign, which aims to inspire every student in America to take charge of their future by completing their education past high school.
The celebrities who joined Mrs. Obama to celebrate College Signing Day include:
Anne Munition, Internet Personality
Bailee Madison, Actress
Bradley Cooper, Actor
Camila Cabello, Performing Artist
Ciara, Performing Artist
Daymond John, Author
Dikembe Mutombo, NBA Legend
Erin Wayne, Internet Personality
Janelle Monae, Performing Artist and Actor
Jameer Nelson, NBA Player
Jesse Tyler Ferguson, Actor
Jessica Goch (JGhostly), Internet Personality
Jidenna, Performing Artist
Jussie Smollett, Performing Artist
Karlie Kloss, Model
Keke Palmer, Performing Artist
Kelly Rowland, Performing Artist
Lindsay Harding, Former WNBA Player
Malcolm Jenkins, Eagle
Mark Jackson, 76er
Nnamdi Asomugha, Former NFL Athlete
Nick Cannon, Performing Artist
Tyler Blevins (Ninja), Internet Personality
Questlove, Performing Artist
Rebel Wilson, Actress
Robert De Niro, Actor
Tariq Nasheed, Performing Artist
Tinashe, Performing Artist
Zendaya, Actress