"Good Morning America" Broadcasts Pop-Up Show, Honors Community School Coordinator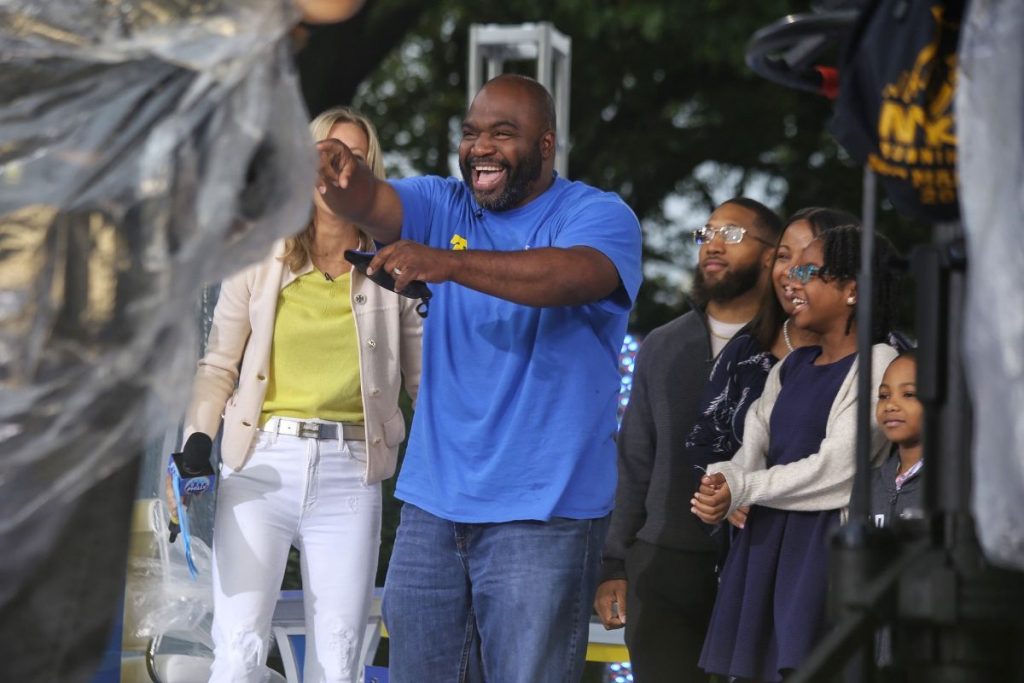 City employee Charles Reyes recognized for service to the community where he grew up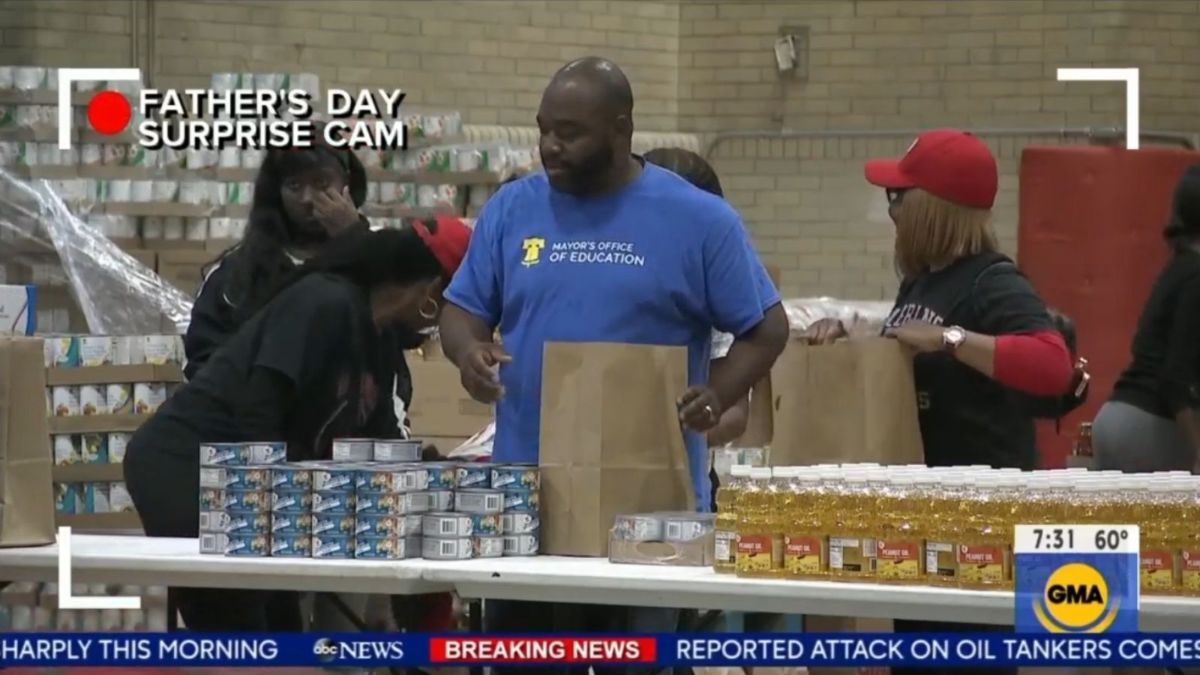 PHILADELPHIA – On June 13, 2019, national morning show "Good Morning America" broadcast a live pop-up show from Philadelphia's Eakins Oval, in front of the Philadelphia Museum of Art.
The ABC show selected Philadelphia to be the first stop on a "pop-up" tour of major U.S. cities taking place this summer. It featured appearances
by Philadelphia's sports mascots, the Eagles cheerleaders, and the Sixers Dancers. Philadelphia's own Patti LaBelle performed and shared that the City, in partnership with the Wawa Welcome America Festival, will honor her exceptional career with a ceremonial street renaming this summer.
During a special Father's Day segment, the show surprised and honored local father of five, Charles Reyes, for his public service and dedication to his community. Reyes was nominated for this spotlight by Philabundance, the area's largest hunger relief organization, with which Reyes works in his role as a Community School Coordinator in one of the City of Philadelphia's designated Community Schools. Reyes is a life-long Philadelphian and proud alumnus of Murrell Dobbins CTE High School where he now works as an employee of the Mayor's Office of Education. During the show, Mayor Jim Kenney praised Reyes' service to his community and his family and issued a proclamation declaring June 13, 2019 Give Back. Make an Impact Day in Philadelphia.
"Philadelphia is filled with incredible people like Charles, who remember where they came from and work day in and day out to give back," said Mayor Kenney. "As a Community School Coordinator, Charles is part of a growing initiative that's very close to my heart, and makes an incredible difference in the lives of students and adults. I'm proud that today's celebration highlights one of our City's loving dads as well as the brotherly and sisterly love that so many Philadelphians show to their community. I hope that everyone watching today's show is inspired to help their hometowns through public service and volunteerism."
As the Community Schools Coordinator at Dobbins, Reyes creates partnerships and expands programs and services that benefit students, families, and neighbors. These include a weekly "Fresh for All" free food distribution in partnership with Philabundance, which delivers 2,500 pounds of fresh produce to the school each week for students, families, and neighbors to take home. Thanks to a donation by GIANT Food Stores, the school will distribute 50,000 pounds of food on Thursday afternoon in honor of Father's Day. Reyes also coordinates adult education and job training programs for neighbors, mentoring and career exploration opportunities for students, and free fitness classes for the community.
"I'm speechless," said Reyes. "I am proud to do this work to help my community – right in the school where I graduated – and it means a lot to be recognized. I thank Good Morning America, Philabundance, the Mayor's Office of Education, GIANT Food Stores, and my family and friends for their support."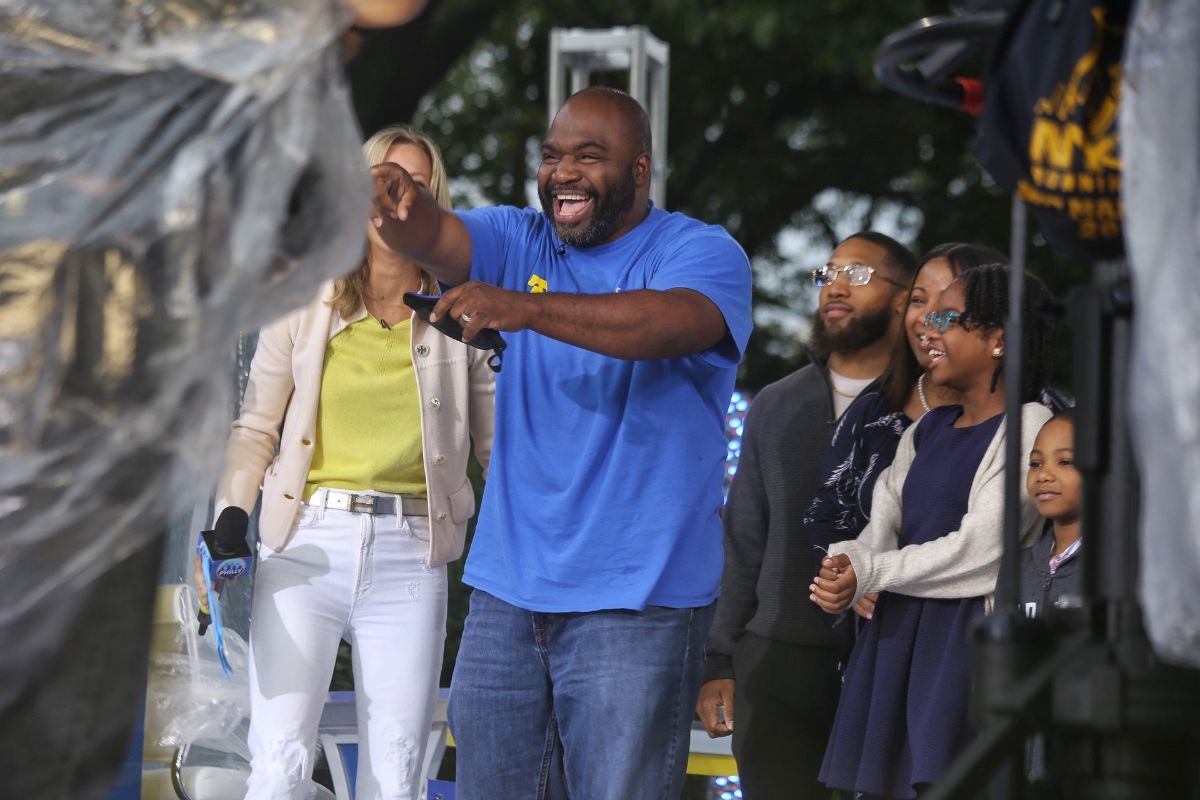 "We are extremely proud to help honor Charles, who serves as a role model for our students not only at Dobbins High School, but throughout Philadelphia," said Dr. William R. Hite, Superintendent of the School District of Philadelphia. "His love of volunteering and his giving spirit set a great example for all of us. Through his role as a community schools coordinator at Dobbins he is making a huge impact within the school and throughout the neighborhood. As a school district we are always focused on shaping the next generation of thoughtful citizens and leaders, and people like Charles play a crucial role in this work."
Philabundance nominated Reyes for recognition by "Good Morning America" in response to a national call for outstanding dads who give back to their community. GIANT Food Stores assisted with surprising Reyes by making a generous donation of $10,000 worth of Philabundance's most needed items to this week's Fresh for All, and setting the stage for Reyes to be whisked from Dobbins to the live show at Eakins Oval this morning.
In addition to surprising and honoring Reyes in front of friends, family, and millions of viewers, "Good Morning America" and their sponsors provided the Reyes family with a family vacation to Aruba, and a $20,000 donation to Philabundance.
"The whole school and community looks up to Charles as a leader and provider. He is there 6+ days a week providing countless opportunities to lift up his community," said Philabundance Programs Manager Hilary Stiebel. "His upbeat demeanor and energy is motivating, inspiring and provides a foundation for change. Congrats, Charles – you deserve this recognition!"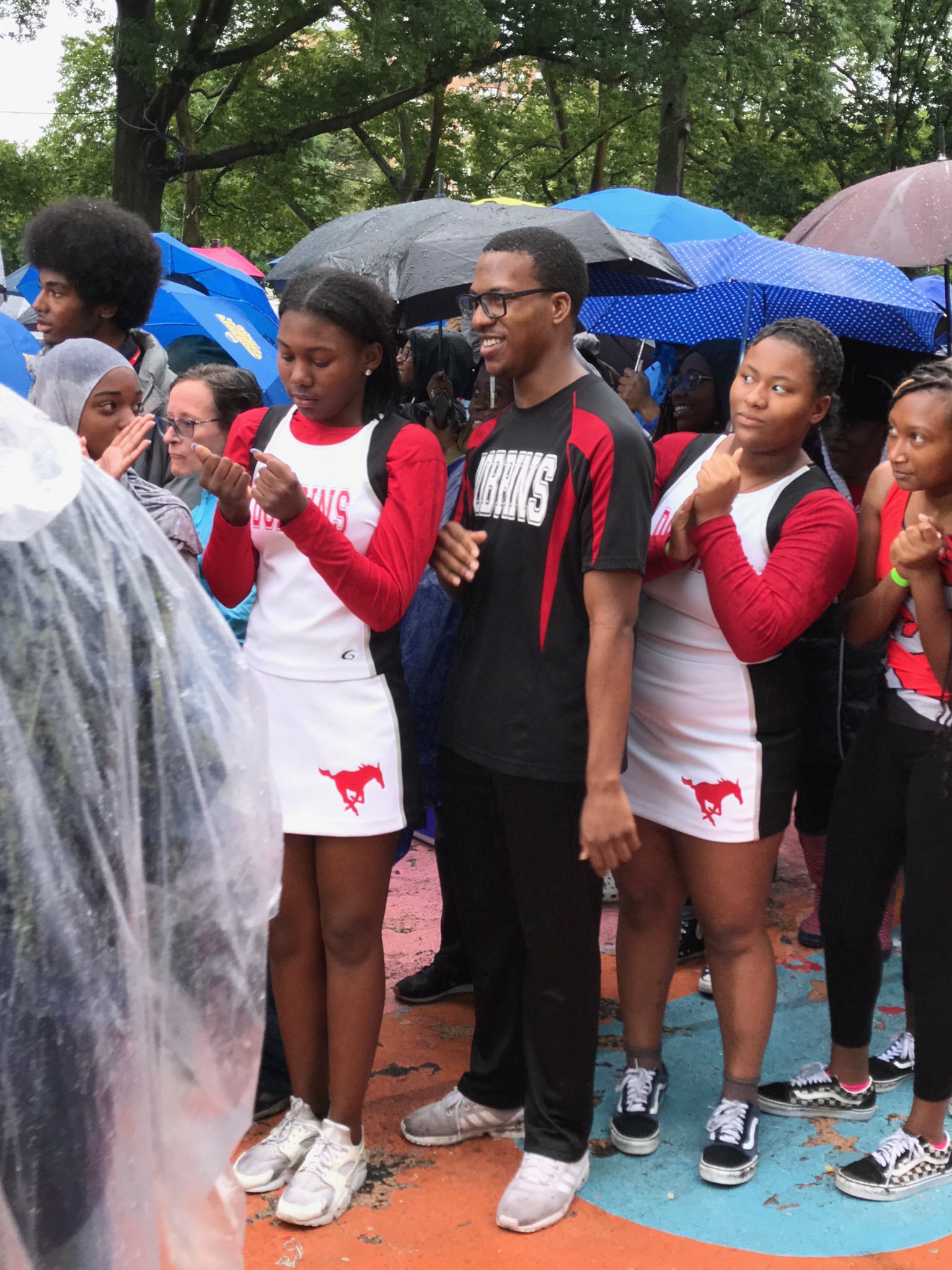 "GIANT is so excited to be a part of this celebration for Charles," said John Ruane, Senior Vice President of Merchandising at GIANT Food Stores and Philabundance Board Member. "We are also grateful for our long-standing partnership with Philabundance and truly support each other's mission to end hunger in the region through initiatives like this as well as various programs throughout the year. We know this food donation today will help feed the people who need it most."
About Community Schools and the Mayor's Office of Education
The Community Schools initiative is a collaboration between the School District of Philadelphia, the City of Philadelphia, and community partners, and is central Philadelphia Mayor Jim Kenney's vision for public education. Philadelphia currently has 17 designated Community Schools, where a Community School Coordinator supports added school-based programs and services for 10,000 students and their families and neighbors. The initiative will expand to 20 schools in 2020, and is funded by the Philadelphia Beverage Tax.
About Philabundance
Philabundance is the Delaware Valley's largest hunger relief organization, seeking to drive hunger from our communities today and end hunger for good. In 2018, it distributed more than 26 million pounds through a network of 350 member agencies, and partnerships with hospitals, schools, libraries and other service providers. Philabundance serves more than 90,000 people each week, 30 percent of whom are children, 16 percent of whom are seniors, and others served include college students, single parents and the working class. Give now or learn more at Philabundance.org.
About the School District of Philadelphia
The School District of Philadelphia is the largest school district in the Commonwealth of Pennsylvania and the eighth-largest public school system in the United States. Enrollment includes more than 200,000 students in public, charter and alternative schools, and approximately 18,000 employees. Under the leadership of our Superintendent, Dr. William R. Hite, the vision of the School District is to deliver on the right of every child in Philadelphia to an excellent public school education and ensure all children graduate from high school ready to succeed. The School District's strategic mission, outlined in Action Plan, focuses on grade-level literacy, quality instruction and leadership, college- and career-readiness and financial stability. For more information about the School District, visit www.philasd.org.