Ringing in the 1st Day of School!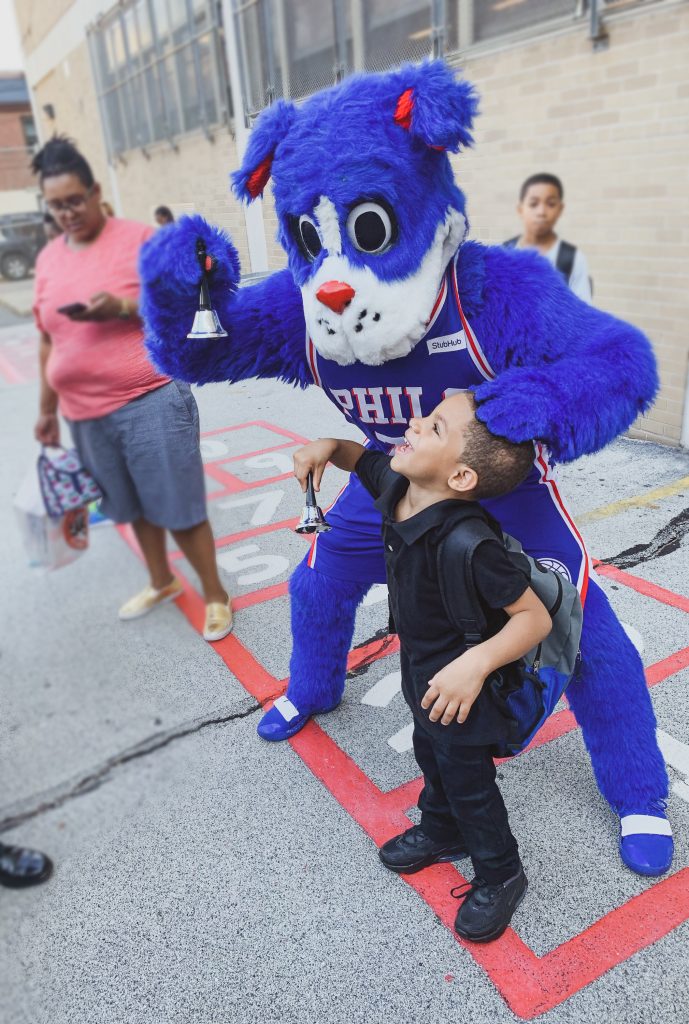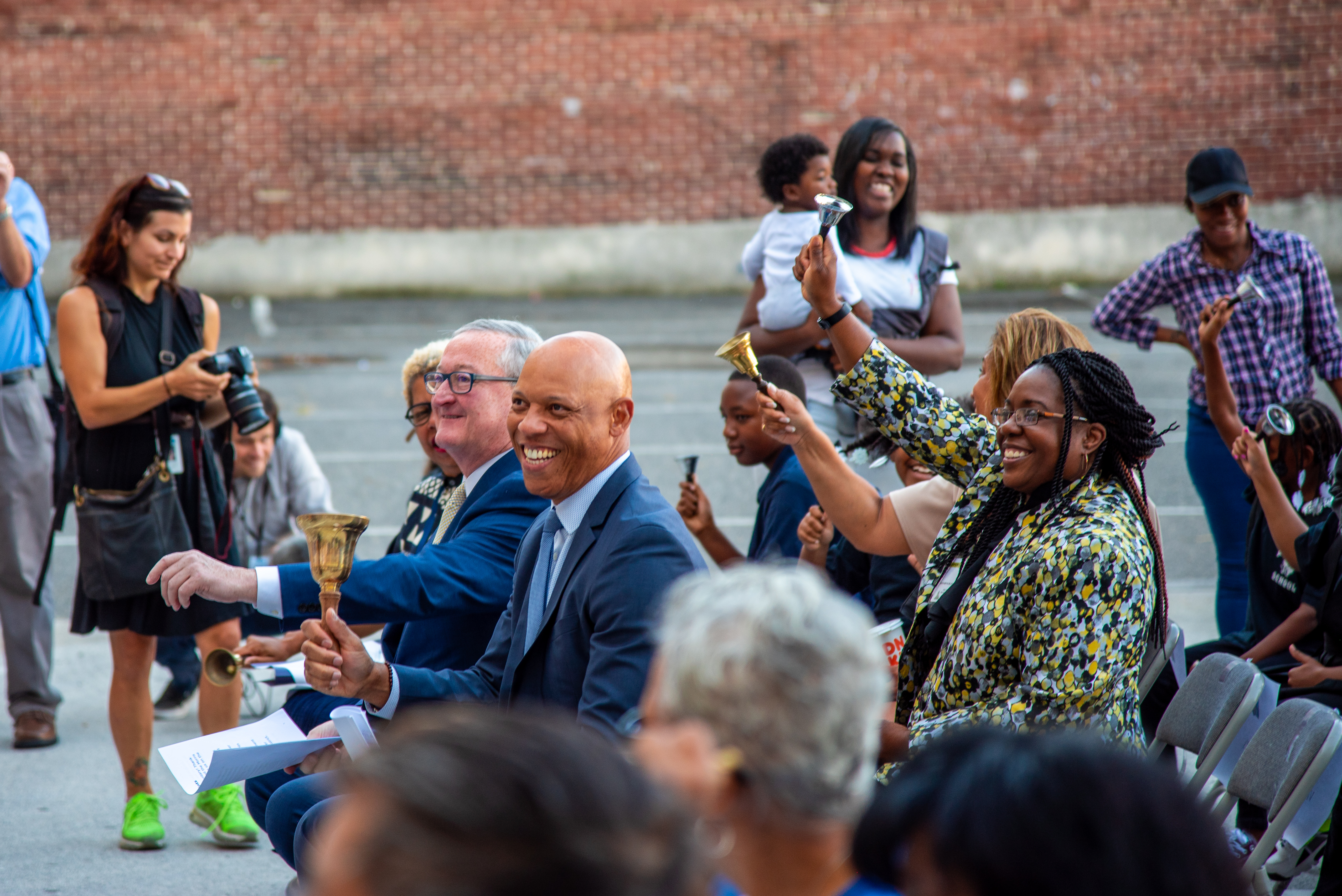 PHILADELPHIA – Dr. William R. Hite, superintendent of the School District of Philadelphia, Mayor Jim Kenney, Board of Education President Joyce Wilkerson, Principal Carolyn Williams, additional elected officials, students and families officially opened the 2019-2020 school year by ringing school bells at Robert Morris Elementary School in North Philadelphia.
"As we begin the school year, we wish all the best to our students, teachers, principals, and support staff," said Dr. Hite. "We are excited to build on the progress we have made in recent years, which includes more children reading on grade level, attending school regularly, and graduating ready for college and career. There is still work to do, but we look forward to working with our families, communities and other partners to make this school year the best one yet for our students."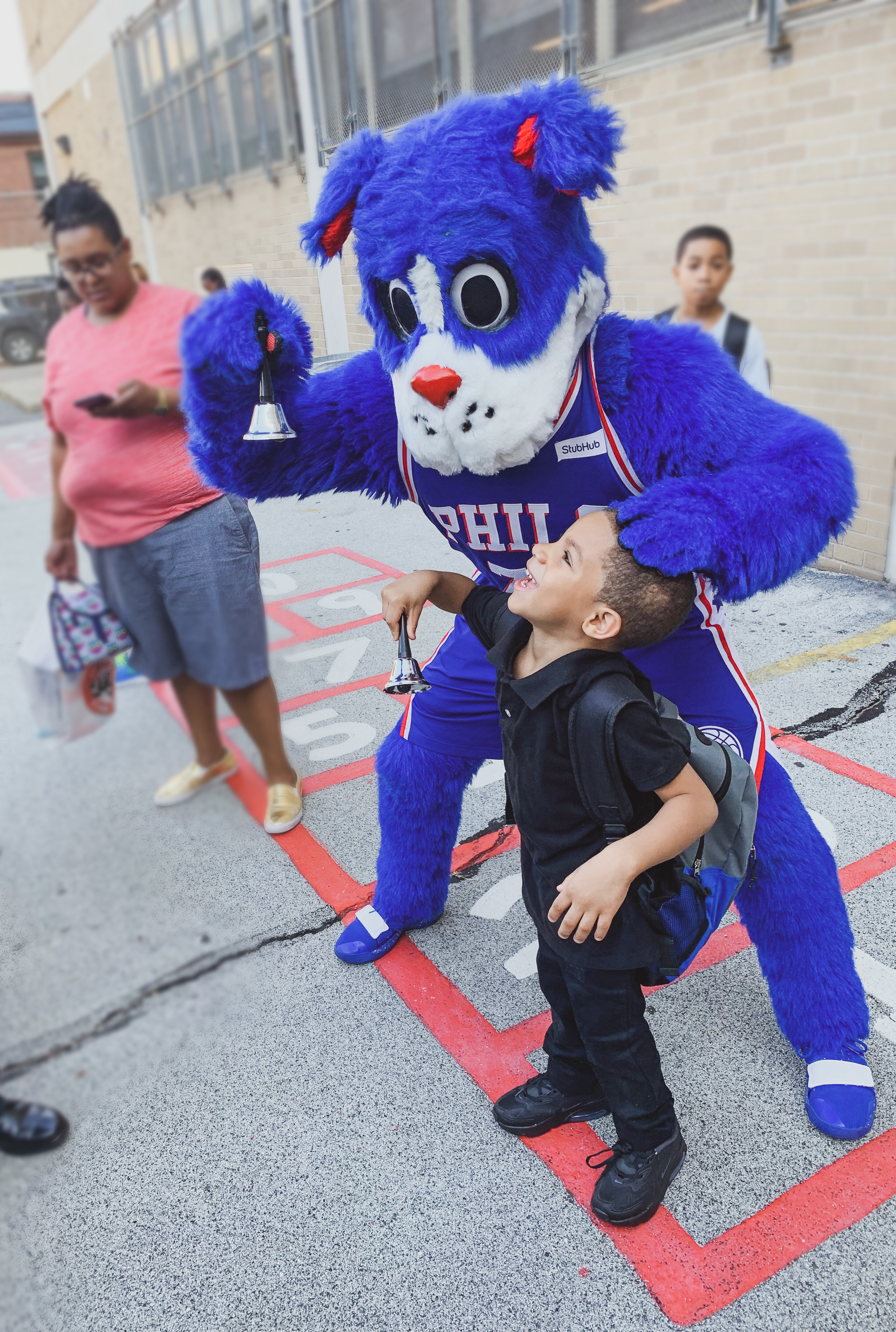 The ceremony kicked off with a performance by the Sixers Dunk Squad presented by Dunkin' Donuts, who helped Principal Williams count down to 8 a.m., when those in attendance rang bells. Fifth grade student London Gant also shared what she was excited about in the upcoming year. After the ceremony, Dr. Hite, Mayor Kenney and invited guests toured the school to see teacher Deborah Russell's second grade classroom, recently modernized with new furniture, lighting and manipulatives to enhance reading instruction. They also visited the school's "Bee-Hive," where students can earn incentives, including books, for positive behavior throughout the year.
"I am excited about the new supports and opportunities that Philadelphia students will have this year, including new staff, modernized classrooms, and improved school facilities," said Mayor Jim Kenney. "This progress wouldn't be possible without the leadership of Dr. Hite and the Board of Education, and the thousands of School District employees who are committed to ensuring the success of each child. I am also proud of the City's ongoing partnerships with the School District, including expanded investments in out-of-school time programs and Community Schools. Together, we can ensure that all students receive a quality education. That's what our city needs most, and it's what our children deserve. I encourage everyone – families, neighbors, and businesses – to continue to be part of the progress this year."
Dr. Hite also visited six other schools, including Alexander McClure Elementary School, which is part of the Mayor's Office of Education's Community Schools initiative, and Samuel Fels High School.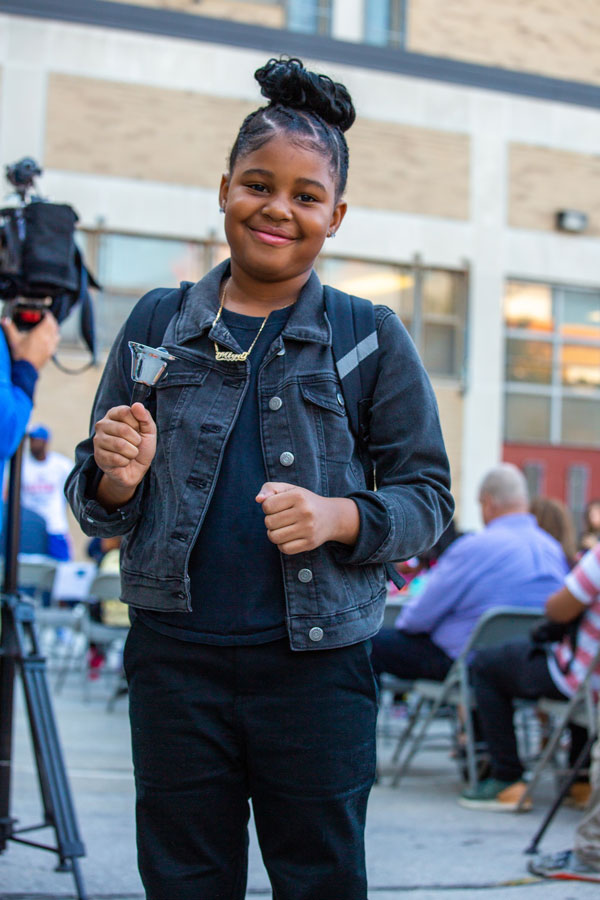 At McClure Elementary, Dr. Hite was joined by Mayor Kenney and Otis Hackney, Chief Education Officer for the City of Philadelphia, and visited several classrooms, including a third grade dual language classroom. Six elementary schools offer the Dual Language program, where students learn one week in Spanish and then one week in English, with the goal of becoming biliterate. They also toured an art classroom that supports the school's Picasso Project grant award from Public Citizens for Children and Youth. The theme of the project is "Celebrating Hunting Park," which will allow the school to explore students' cultures and honor the community.
Dr. Hite then joined students at Samuel Fels High School for lunch. The school is home to a diverse student population, with various languages spoken, including Spanish, French, Vietnamese, Chinese, Arabic, Urdu and Portuguese.
The visits cap the District's #RingTheBellPHL campaign, which involved a social media challenge this year. To get the city excited about the beginning of school, Dr. Hite, District schools and central offices recorded videos wishing students well and ringing a bell, posted them to social media, and then challenged others to do the same. Mayor Kenney and Governor Tom Wolf also participated in the challenge.
Staff throughout the District have been hard at work over the summer to prepare for the new year. The District hired 700 new teachers and counselors, including more English Language Learner and special needs teachers, nurses, and behavioral health professionals, and many participated in training to hone their skills. The District also invested more than $24 million in school renovations, which resulted in the modernization of 132 classrooms in 12 schools. Additionally, lead stabilization projects were completed in 18 schools and 150 air conditioners were installed.
"All students deserve to learn in healthy, safe and supportive environments," said Dr. Hite. "We want our students to have a great school year and are excited to welcome them back after preparing all summer. We're looking forward to celebrating even more successes this year!"