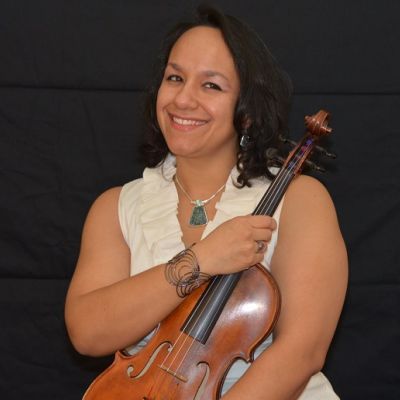 Celina Velez
Music Director – Cayuga Elementary School
Philadelphia, Pennsylvania
Celina Velez has devoted her career to working with Philadelphia's Latino community. "I always want my students to feel passionately and positive about their music-making experiences," she said.
As the music director at Cayuga Elementary School, she uses singing, movement and rhythm exercises to open the door for students to play instruments. "Singing through exercise and swaying/dancing to the rhythm of a song before playing it are critical to helping students internalize the music," Velez said. "The more senses we use to learn something, the better the students will retain it. My students love stepping to different rhythms and challenging each other or me to a 'rhythm off!'"
She brings guest artists and ensembles to her class and prepares her students to play alongside them. "It's so nerve-wracking! I create mini-performance opportunities like lunch hour café shows to get the nerves out," Velez said. "I use performance buddies — pairing a younger student with an older student for mentorship — to help keep each one accountable at concert time with instruments, costumes and other equipment."
In addition to her work at Cayuga, Velez also is a founding member of the North Philadelphia Art Teacher's Alliance that brings together K-12 students from area public, private and charter schools. "While schools train students and help them grow as artists, NPATA provides additional performance opportunities for participating schools by hosting collaborative concerts, festivals and art shows," Velez said.
According to one of her "40 Under 40" nomination letters, "A Latina woman, Celina relates on a personal level with the students she has devoted herself to supporting. As a role model, she instills confidence, positivity and key values in her students who are often dealing with adversity."