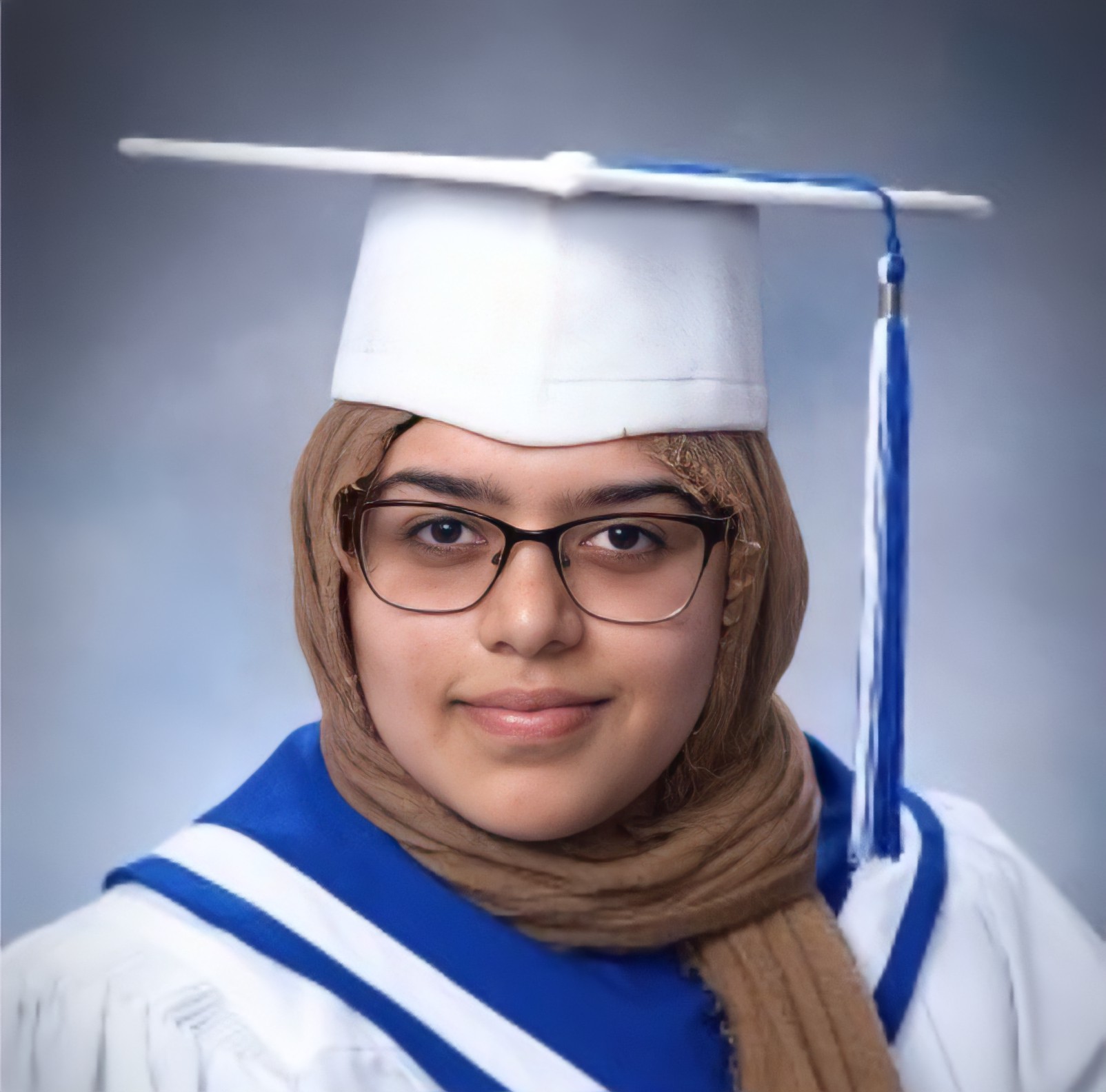 Name: Noor Rana
School: Masterman High School
Nominated By: Heather Marcus – School Counselor
Many of us would consider ourselves lucky if we knew our purpose, all the more so if we were able to articulate it. That profound clarity often escapes even the most determined people. So listening to Masterman senior Noor Rana clearly explain her motivations and personal goals was a humbling and inspiring experience.
Noor revealed that she is motivated by compassion and giving back…and that it's been that way for a long time. As the second child of four, with two younger sisters, Noor's knack for compassion manifested early. She and her siblings are first generation American citizens and as wonderful as their parents are, there were certain unavoidable challenges with navigating the United States. As she and her siblings aged, Noor ended up playing a motherly role, helping her younger siblings maneuver through life in America. Those skills and instincts have also served Noor well as a student. She has an uncanny ability to adapt, absorb information and process it quickly — all while keeping the best interests of others in mind.
Noor's skills were able to fully blossom once she arrived at Masterman in 6th grade. Masterman is a rigorous school that provides the academic challenges that Noor enjoys. But beyond academics, as someone who deeply values other people and the beautiful tapestry that diversity provides, Masterman has provided opportunities to connect — with her school, her community and her city. Noor quickly joined the Islamic Awareness Association (IAA), of which she is now the president. The IAA is a safe space for where Muslim students to discuss current events, receive support, share advice, talk about and implement anti-racism practices and raise money for events. Perhaps most admirable though is that the club is open to and welcoming of any student of any religious background. "People should have access to safe, welcoming spaces, no matter who they are" Noor said.
Noor has spent time volunteering with Northeast Tree Tenders, an organization that plants trees across Northeast Philadelphia. Being multilingual, Noor uses the Lingbe App to help people all over the world learn English. They, in turn, help her learn languages she wants to add to her toolkit (she's fluent in English, Hindi and Urdu, and is working on French and Arabic). On top of all of this, she volunteers at Temple University Hospital – Jeanes Campus assisting anyone who needs it — doctor, nurse or patient. She observes the doctors and nurses, runs errands for them, and generally works to brighten people's day while they are in a very bleak environment. "I truly am motivated by giving back to the community around me," she explained. "When people choose to give back, we all benefit."
Actively volunteering at the hospital is one of Noor's strategies to not only help people, but to achieve her other clearly defined goal – to be a Doctor of Obstetrics and Gynaecology (OB-GYN). This goal has also motivated her from an early age. Her father told her a too familiar story about a woman in Pakistan (where her parents are from) who needed an additional procedure after a c-section. She couldn't afford an extra day in the hospital and pleaded with the doctors to perform the surgery the same day, without any time to heal, and died as a result — her husband and children waiting just outside the operating room. "That's when it hit me, poverty kills people," Noor asserted. "No one should have to die, children shouldn't lose their mothers due to economic inequality. From the time I heard that story I knew I wanted to be able to provide care specifically to those who need it most."
She's well on her way to becoming an OB-GYN. Her excellent grades in her college prep and four AP classes will surely propel her to medical school at one of the local colleges for which she's applied. Noor, an example for the rest of us, is on track to achieve her goals and live her purpose just as she planned!
We had the privilege of chatting with Noor after he was selected as Senior of the Month. Here's more of what she had to say:
Why do you think you were nominated as Senior of the Month? I think because of how vested I am in the different communities that make up Masterman, Philly, especially NE Philly. I am committed to my various communities and work hard to have a positive impact in all of them. I think, I hope, people recognize that.
You were nominated by Heather Marcus. Explain your relationship to her? Our relationship goes back to 7th grade. I was overworked and overstressed and Ms. Marcus stepped up when I needed her. She was truly there for me and gave me a lot of advice. She has guided me through my years at Masterman and with both personal and academic problems, she's helped with the college application process. She truly knows me and my ambitions and has influenced who I am as a person now.
What is one thing you'd like to share about yourself that most people don't know about you? I have Celiac Disease…but I don't let it stop me. In fact, I am very much determined to find a cure for Celiac. I have already started studying immunology in order to further understand the immune system and eventually help to find a cure for autoimmune diseases including mine. It's just another goal I'm persevering towards.
What do you enjoy most when you are not at school? I enjoysocial time with friends and reading. I also like to experiment in the kitchen with baking especially. It's therapeutic but also challenging considering my disease.
What is the best thing about attending school at Masterman? I love the academic environment and being able to take classes that challenge me. I also love the student community, and how we're all competitive with one another but also gracious and selfless with each other when we need to be.
What is one thing that the School District could do to improve our service to students? I think the District should provide more counselors and counseling services for students. We also need to make sure that counselors are diverse and represent the student population.
Congratulations Noor!