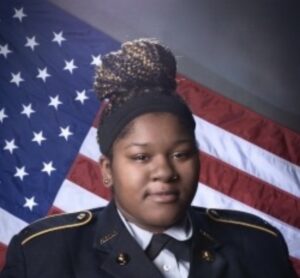 Name: Lelah Benn
School: Philadelphia Military Academy
Nominated By: LTC Russell Gallagher – JROTC Commandant
Redemption stories are usually written about weathered and time-tested adults. One could argue that this is because redemption, deliverance from past missteps or mistakes, takes a long time — sometimes a lifetime. Cadet Lelah Benn's redemption story spans her four years of high school. And while she'll admit she has a lot of growing to do, she's come a long way already.
"During her first two years at Philadelphia Military Academy, she drove us all crazy." said her nominator LTC Gallagher. Lelah concedes that is true. She matter-of-factly explains that she was lost and unmotivated. She roamed the halls when she should have been in class, succumbed to the negative influences around her, often found herself in the principal's office for disciplinary reasons — she was failing out of JROTC.
As with every redemption story, there was a flashpoint where Lelah realized something had to change. It was between sophomore and junior year when she got word that PMA would not accept her back and she would have to transfer to a different school. Suddenly, the lack of discipline and motivation was going to dramatically change her life in ways she did not want. And so, she decided it was time to grow; time to become the person she believed she could be.
"When the pupil is ready, the teacher will appear," said Principal Margie Goodwin, echoing a common education quote. "Cadet Benn is the embodiment of that sentiment." At the beginning of her junior year, Lelah directly asked her principal and LTC Gallagher what she could do to earn a rank and improve her standing. Reasonably skeptical, they devised a plan akin to the labors of Hercules, that would provide Lelah a chance to redeem herself and salvage her last two years. First, she was given a month to prepare for a 99-question exam that she had to pass with at least a 90% — and she passed with flying colors. Then she was given a list of administrative tasks that she had to complete, from filing to cleaning to leading peer discussions — she completed the tasks with superb efficiency and skill. Lelah pursued opportunity after opportunity, worked and worked, succeeded and succeeded until she made the rank of Master Sergeant (E-8). "She met and surpassed every expectation," LTC Gallagher said. "I couldn't believe it…there were times I wasn't sure she'd make officer."
According to Principal Goodwin, Philadelphia Military Academy is a school committed to meeting students where they are, considering their diverse backgrounds and circumstances, and giving every student a chance if they ask for one. Cadet Lelah Benn has thrived in that model. Though the beginning of the journey was difficult, with a combination of humility, perseverance, accountability, discipline — plus a little bit of stubbornness — Lelah made the rank of 2nd Lieutenant and earned the Military Order of the World Wars Bronze Leadership medal, cementing her legacy at PMA as the leader she was meant to be. She is known as a kind, caring, helpful friend and student, someone destined for greatness. She intends to parlay her leadership abilities and natural inclination to care for others into a health career, as either a pediatric or geriatric nurse. Mostly though, she is committed to helping others realize that they don't have to settle for less than their best. With the right motivation, and the right people providing support, a little hard work and discipline, anyone can become the best version of themselves.
We had the privilege of chatting with Lelah after she was selected as Senior of the Month. Here's more of what she had to say:
What does being named Senior of the Month mean to you? I was honestly shocked and thought "why me?" But I realize that it means a lot not just for me, but for anyone who is down on themselves. I want people to know that you don't have to be perfect. I'm definitely not. But if you work hard and accept some discipline and accountability you can be who you want to be.
Why do you think you were nominated as Senior of the Month? I think that LTC Gallagher saw how far I've come. It wasn't just with school. My junior year I realized that I was treating everyone wrong — my mom, my principal, my friends — and I made the decision to change. I decided that the disrespectful, undisciplined and irresponsible person I was, was not who I wanted to be. I'm very stubborn so when I put my mind to something, I'm going to get it done. I put my mind to being better. I apologized to my mom, I apologized to Principal Goodwin and I made a promise to act better and be better. I hope they can see I've kept my promise.
You were nominated by LTC Russell Gallagher. Explain your relationship to him? LTC Gallagher and I had a really rough start. He was very hard on me and I was very hard on him. But he never gave up on me, even when he wanted to. He gave me opportunities to earn his respect and earn a rank. And through all of that our bond grew stronger and I feel like I can go to him with anything.
What is one thing you'd like to share about yourself that most people don't know about you? Because my mom is a nurse, I have to take care of my 9-month old twin brothers, one of whom has a heart condition, while trying to finish school. It's really hard and I am always exhausted. But remember, I'm stubborn. I haven't given myself a choice. I have to take care of them, and I have to finish school. I have to graduate so I can achieve what I want to achieve.
What do you enjoy most when you are not at school? I'm really laid back, so I like hanging with friends, going to the mall and shopping. Bath & Body Works is my favorite store.
What is the best thing about attending school at Philadelphia Military Academy? Most of the time what students like me need is discipline. The teachers and staff at PMA have a lot of patience, and give us a lot of opportunities and chances to learn discipline.
What is one thing that the School District could do to improve our service to students? Improve the facilities and make sure everything is ADA-compliant.
Congratulations Lelah, keep growing, leading and achieving!