May Student of the Month: Malajah Moore-Lane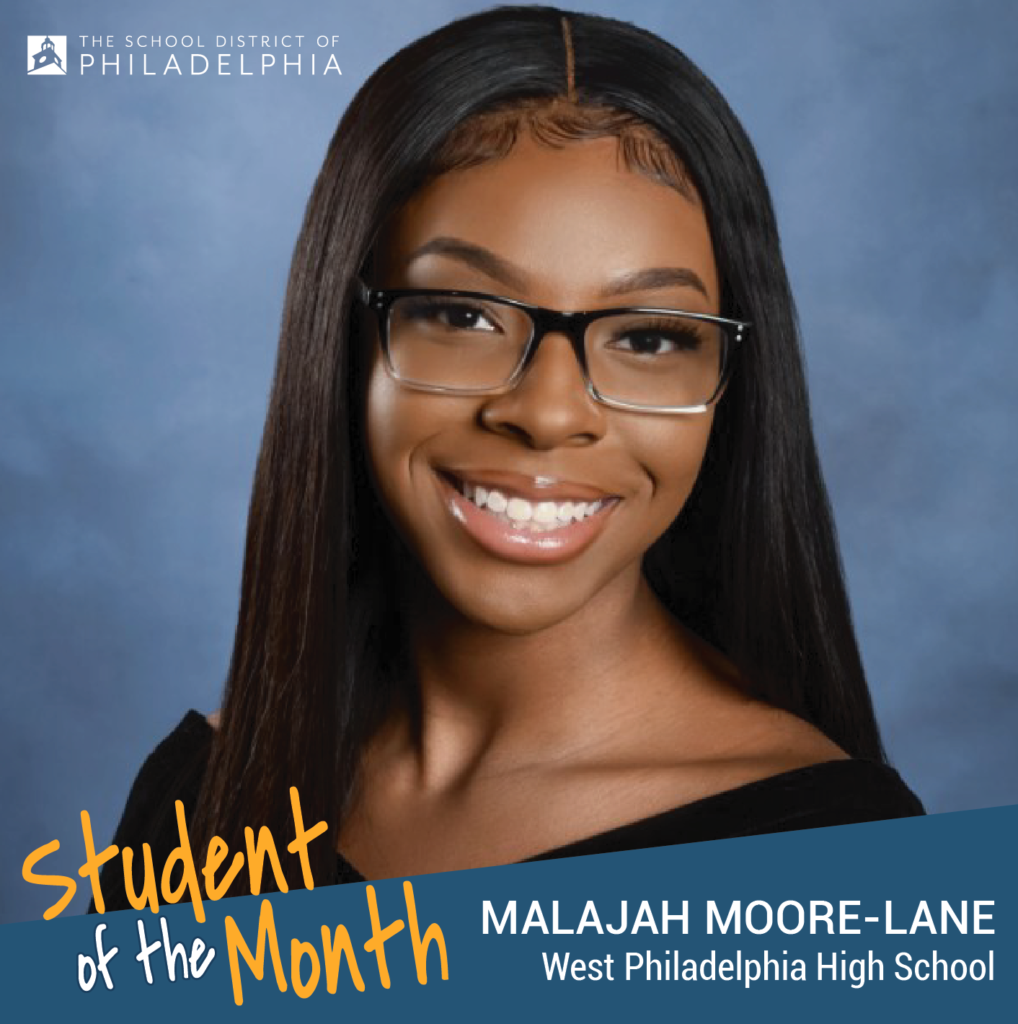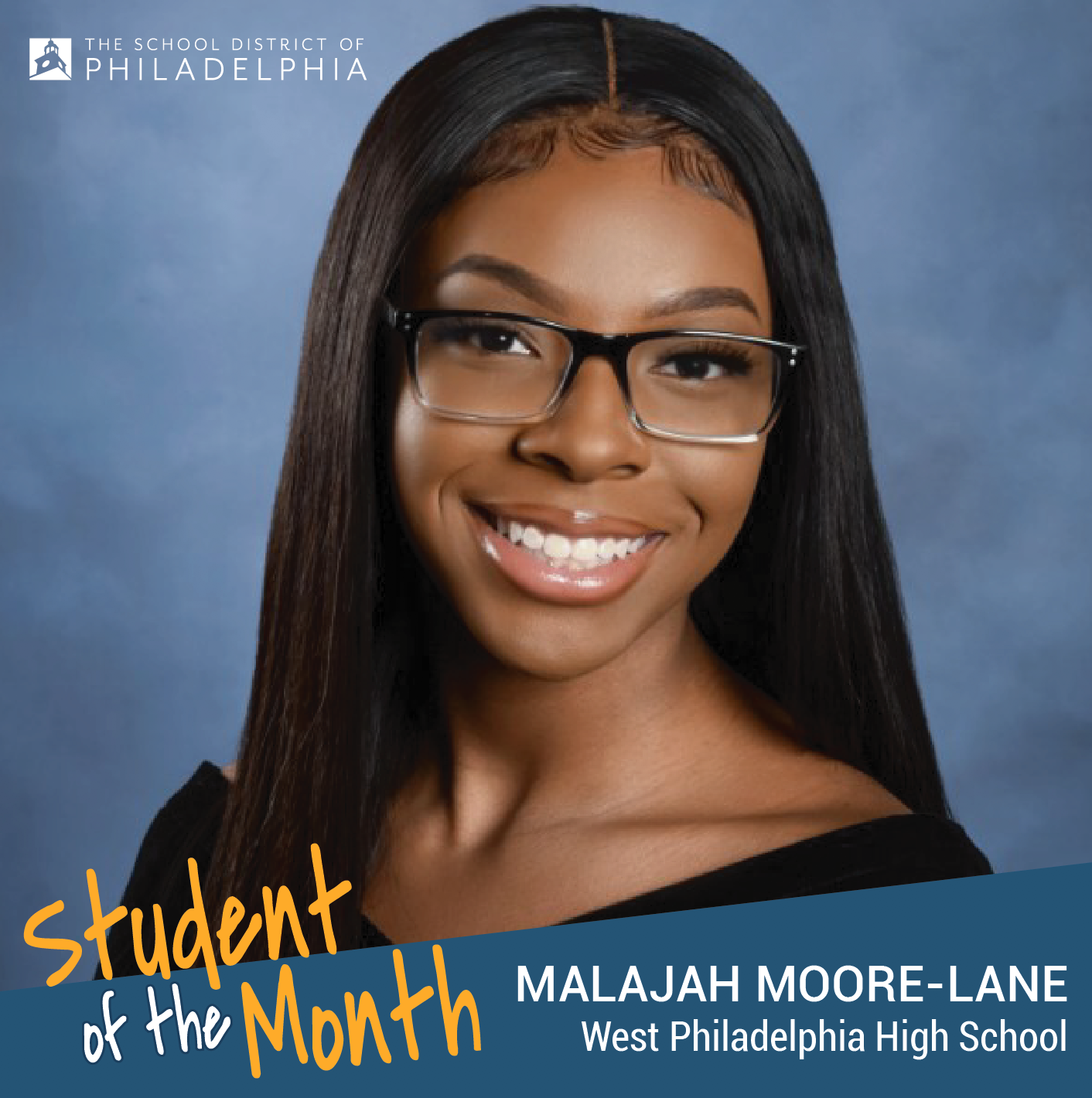 MAY STUDENT OF THE MONTH
Name: Malajah Moore-Lane
School: West Philadelphia High School
Nominated By: Crystal Little – Counselor
Sometimes, for various reasons, one can unintentionally end up bearing the weight of representation. Malajah Moore-Lane never asked to represent the best of West Philadelphia High School, nor was she assigned that responsibility, yet she does — and she does it very well.
Some Philadelphia schools are unfortunately burdened with negative stereotypes, and unfairly pitted against each other. Some schools are labeled as "the good school, with the good kids, in the good neighborhood" while other schools are labeled the opposite. These inequitable and often ill-informed labels permeate the city's consciousness and are incredibly hard to shed. Malajah is determined to reverse the negative perceptions about West Philadelphia High School, and Senior of the Month is icing on the cake.
"I think sometimes the students and families at WPHS are jaded," Malajah explained. "Sometimes we fall into the trap of believing what others say about us, and the expectation that these types of honors are for kids at other schools. But as a black woman representing WPHS, a neighborhood school that is on it's way up, this means a lot!"
Malajah admits that it has not been easy. Early in her high school career, she found herself being exactly who the labels and stereotypes expected her to be — undisciplined and unengaged. Thankfully, Malajah had a strong support system of family, friends and WPHS staff (including her nominator, school counselor Crystal Little) who would not let her lose focus on becoming who she's always known she wanted to be. "Malajah is extremely focused. She has that it factor; she's the type of student you wish you had 100 of," touted Ms. Little. "In spite of the challenges that all students face, she never lost sight of what she knew she needed to do. She kept her village close, listened to advice, and has succeeded."
Perhaps the biggest challenge she faced on her journey of representing well, was the loss of both her grandfather and grandmother in December of 2020. They passed within weeks of each other, during a pandemic and a school year that was unlike any other. Malajah has worked so hard to achieve, and make them proud, and suddenly it felt like it was all for nothing. Enter her village again, and her steadfast motivation to represent, lead well, remain focused and succeed on her own terms. The perseverance, confidence, hard-work and dedication has led to high academic scores, acceptance into 8 colleges and counting, as well as multiple scholarship offers. Equally important, Malajah's refusal to succumb to stereotypes and accept unfair and unfounded labels has helped to maintain the high bar at West Philadelphia High School.
"The leadership, staff and students here at WPHS have worked hard to create a strong community and provide the same resources and opportunities that other schools offer," said Ms. Little. "The students have embraced WPHS as a high-performing school, and they perform accordingly. The word is getting out that we are a great neighborhood school, and Malajah's selection is a representation of all the work that we as a community are putting in."
We had the privilege of chatting with Malajah after she was selected as Senior of the Month. Here's more of what she had to say:
Why do you think you were nominated as Senior of the Month? I've come a long way. I used to have some discipline issues and couldn't get myself together until 10th grade. It was hard to keep up with my focus and my grades, but I persevered and really leaned into my village. And then again in December, when I lost my grandparents, I wasn't sure if I could keep going. I wanted to give up. It was very very hard, but I remained focused and was able to arrive here at graduation. I believe I'm a good role model for other WPHS students, and an example of perseverance and hard work.
You were nominated by your counselor Crystal Little. Explain your relationship to her? Since 9th grade, she has always been able to see my potential and the good in me. Because of that, no matter what, she has continued to work hard to motivate me, she's in my corner, she sends me scholarships and makes sure I'm on top of the college process. I believe she probably sees things in me that I don't see in myself.
What is one thing you'd like to share about yourself that most people don't know about you? I don't think people understand how much of a priority I place on my education. I play a lot, I like to have fun and get wild at times, but ultimately I put my education first and don't let anything mess with that. Also, math is my favorite subject. I want to be an architect because I love the combination of design and math — it's a process that comes easy to me.
What do you enjoy most when you are not at school? I like to dance and do hair (my mom is a hairdresser). I also enjoy running my business where I make and sell headbands, bonnets and scarves.
What is the best thing about attending school at West Philadelphia High School? Teachers put a lot of effort into making sure that every student gets individual attention. At WPHS they work to make sure that every student thrives, and so every student has a direct link to an individual adult.
What is one thing that the School District could do to improve our service to students? Create more opportunities for students to provide feedback, and then accept and implement that feedback.
Congratulations Malajah, we know you'll represent us well no matter where you end up!