School District of Philadelphia Kicks off 11th Annual Computer Science Education Week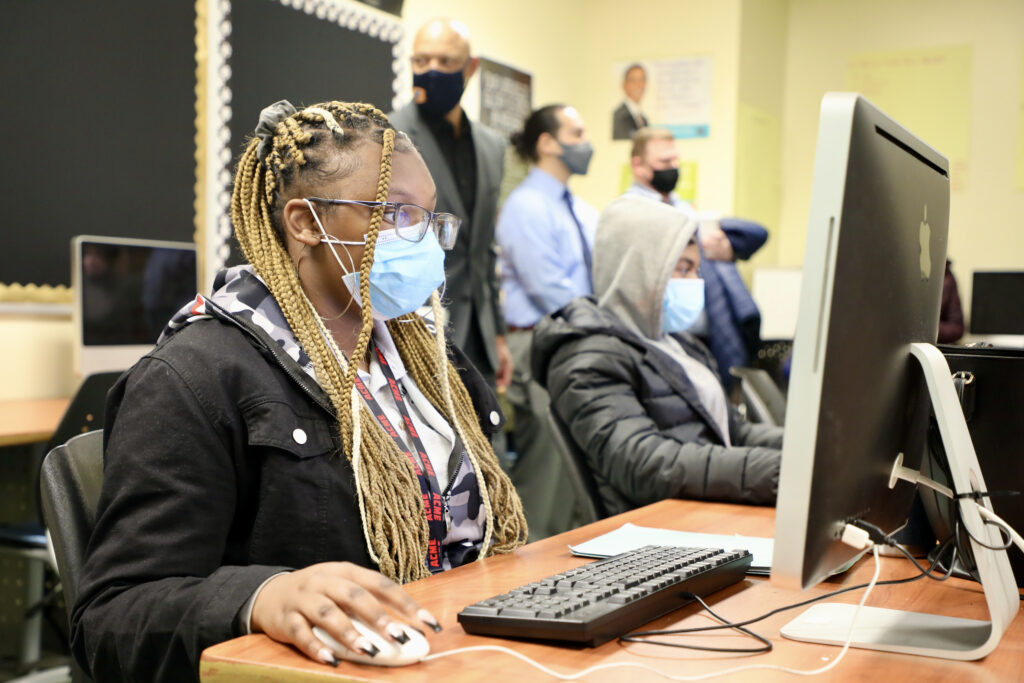 School District of Philadelphia Kicks off 11th Annual Computer Science Education Week
PHILADELPHIA, PA — The School District of Philadelphia is celebrating its 11th annual Computer Science Education Week, a weeklong celebration that highlights the District's commitment to digital literacy and coding.
"In today's digital age, providing our students with access to Computer Science Education opens the door for them to have additional opportunities in high-demand, high-paying jobs," said William R. Hite, Jr., Ed.D. "Computer Science Education Week introduces students to new digital learning experiences that can help drive their future and highlights initiatives and programs across the School District that keep students engaged."
Over the last eleven years, most K-8 schools across the District have implemented a Digital Literacy and Technology curriculum, which focuses on essential skills for 21st Century learners. It is designed to introduce students to fundamental principles which will prepare them for full computer science courses in high school and college. There are four key components of the curriculum: computing and society, digital tools and collaboration, digital media and information literacy, and computer science fundamentals and coding.
High school students also have the opportunity to take a number of diverse computer science courses, including Introduction to Technology and Computer Applications, Introduction to Computer Science, and AP Computer Science Principles. The District has doubled the number of schools since the 2017-2018 School Year.
In addition, the School District of Philadelphia has worked to strengthen Digital Literacy in grades K-8 and expand Computer Science opportunities for students in high school. To date, 145 schools across grades K-12 offer Computer science courses to more than 49,000 students.
Throughout the week schools across the District will participate in the Hour of Code, sponsored by Code.org, designed to expose students to computer science through the basics of computer programming in a fun, 60-minute activity. Students regularly participate in coding activities during digital literacy classes.
Some of the investments the District has made in computer science education in the last few years include:
Every child in every school has access to a Chromebook as part of the District's 1-to-1 technology initiative, which launched in 2020
A robust, District-wide digital curriculum which has been refreshed, modernized and expanded, with new online and digital resources for the current 2021-2022 school year
Provide Career and Technical Education (CTE) programs in Computer Aided Drafting and Design (CADD), Computer Supports Systems Technology, Computer Systems Networking, Engineering Technologies, Biotechnology
Expanded our I.T. Apprenticeship Program with the The Urban Technology Project (UTP) to include a Software Developer Apprenticeship Program
Computer Science Education Week is part of an annual, nationwide program organized by Code.org and runs from December 6 through December 12. The initiative is designed to inspire more students in grades K through 12 to take an interest in computer science.
For more information on opportunities for students in Computer Science and Coding, or to track how many students participate throughout the week, please visit: https://sites.google.com/philasd.org/hour-of-code