December Student of the Month: Bendu Borbor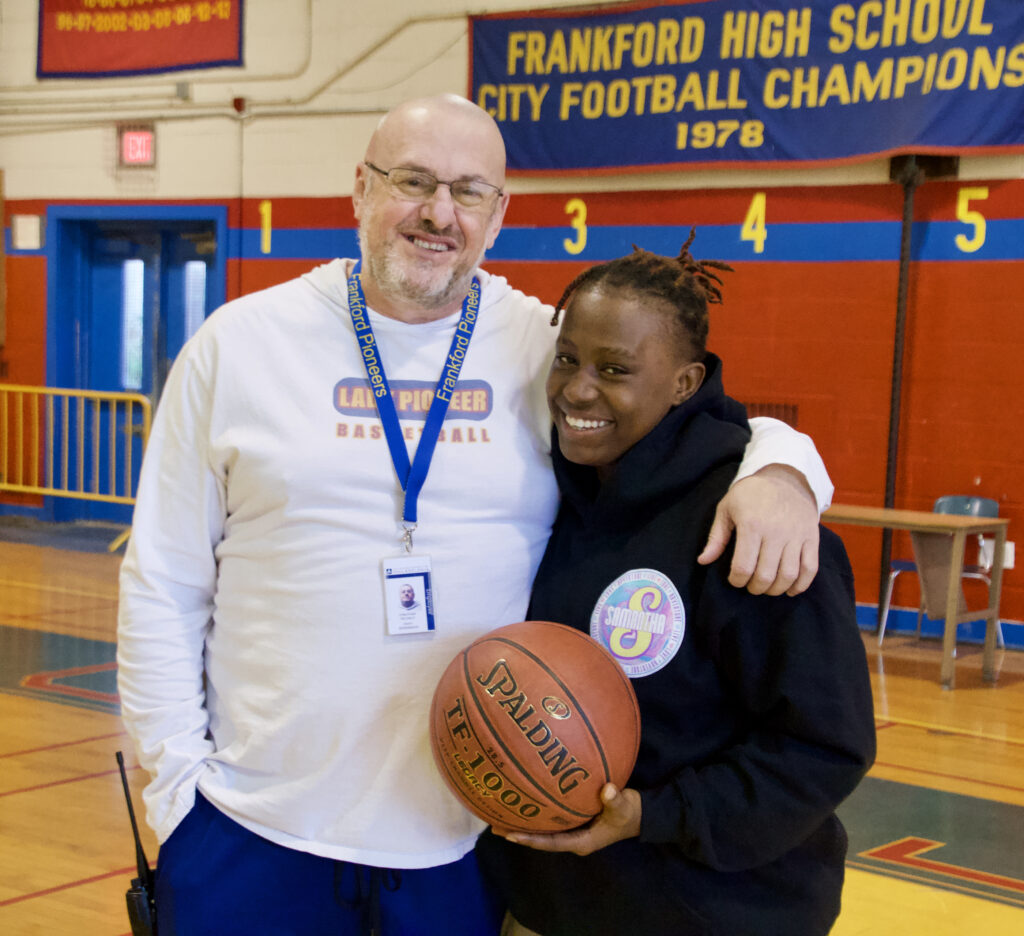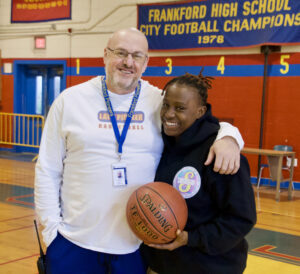 DECEMBER STUDENT OF THE MONTH
Name: Bendu (Bebe) Borbor
School: Frankford High School
Nominated By: Joseph Fraioli – JROTC Teacher & Jonathan Michels – Basketball Coach
When we think about unstoppable forces, we usually think about fictional characters first – Juggernaut, Superman, James Bond, etc. Then, perhaps we think of titans of industry like Tom Brady or Jeff Bezos. One conversation with Frankford senior Bendu Borbor, or Bebe as she prefers, you realize that unstoppable forces surround us everyday. They, like her, could be an unassuming but outstanding high school senior destined for greatness.
Bebe immigrated from Liberia as an 8th grader. Since then her life has been a rollercoaster that could have overwhelmed the average person, or even stopped them in their tracks. As a young immigrant, and the youngest of 22 (you read that right) girls, Bebe didn't get a lot of immediate attention or support. Her dad, who she was closest to, still lived in Liberia and flew back and forth only occasionally. Her older sisters were all on their own paths, literally in different places in the world, and focusing on their own survival. She leaned on her mom, who she lived with…but only for a little while.
After a tumultuous 8th grade year, Bebe ended up at Frankford High School. As an incoming freshman at a large high school, who had recently arrived in the U.S., knew very little English, had few friends and limited family, Bebe turned inward. She was shy and reclusive and as a result, admittedly not very kind. Then, on the second day of Freshman year Bebe's dad, her biggest cheerleader and closest family member, passed away. The combination of traumas in a short amount of time can and has stunted the growth of many young people. But Bebe didn't know at the time that she had found a caring, compassionate and accepting school community that would lift her up and help her cope.
One thing that Bebe did have was soccer skills that she acquired growing up in Liberia, and pure athleticism to match. She caught the eye of girls basketball coach Jonathan Michels, who observed not only her skill and her leadership potential, but also her loneliness. As he does with all his student athletes, Coach Michels invited Bebe to not just be an athlete, but to be a teammate, be part of their family. It would be the family that she needed most.
"It wasn't easy at first, Bebe was tough," Coach Michels recounted. "She was insecure, and that manifested as aggressiveness and disrespect. But our athletes, especially in our girls programs, consider themselves as an extended family. They don't give up on each other, they hold each other accountable, they take care of each other. And they were willing to do that for Bebe, even though she was new."
Of course, we couldn't describe Bebe as unstoppable if she wasn't forced to overcome over and over again. Later freshman year, after she had found a sense of belonging and a family at Frankford, she had the courage to come out as gay. This was a non-issue at Frankford, but severely impacted life at home. "My mom couldn't handle it," Bebe explained. "She sees it as a disappointment to the entire family, and an erosion of trust and respect. To this day she doesn't accept me." Feeling deeply lonely yet again, Bebe left home to live with her aunt. It wasn't a smooth transition and Bebe noticed herself falling back into some old patterns. This time she knew where to turn – she went right to her coach and teammates who pushed her to keep going once more.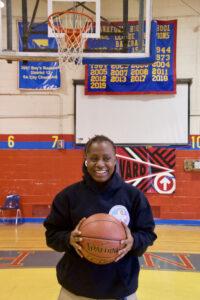 The journey between freshman and senior year hasn't been all smooth. There have been bumps in the road, bouts of uncertainty, doubt and depression. But it's also been filled with growth and achievement – some is the result of an innate drive and refusal to quit, some is the relentless support of her friends, teachers and coaches. "Early in her high school career we had a hard conversation," remembers Coach Michels. "I told her that other people had warned me about her toughness. I told her that I understood that she'd been through a lot, but that I believed she was more than the hard stuff. I told her that I don't need hard cases on my teams, but that I need leaders. I'd much rather have good leaders than good athletes, and that if she was committed to work toward that, I'd do everything in my power to help her."
Bebe blossomed. With the support and encouragement of Coach Michels, Sergeant Fraioli, Principal Calderone and her teammates, she became an athletic star. She is now the captain of both the soccer and basketball teams, and a rising lacrosse star. She was Public League Player of the Year in soccer and basketball as a junior and expects to repeat this year. More importantly, she has been able to maintain honor-roll level grades and participate in various community service leadership projects. Most importantly, she has learned the value of sharing what she's been given – a sense of belonging and the benefit of the doubt. She is a class leader at Frankford, a role model and peer mentor to younger students who she helps guide through school work, civic activities and JROTC disciplines like drill and first aid.
"I had never had anyone approach me like the people at Frankford. They came at me with love, they invited me in and encouraged me," Bebe fondly explained. "I'd never had an adult I didn't know ask me if I was ok. I didn't even know that's what I needed. I learned that sometimes the people you assume don't care actually care the most."
We had the privilege of chatting with Bebe after she was selected as Senior of the Month. Here's more of what he had to say:
1. What does being named Student of the Month mean to you? It means a lot, it means I'm special. It was extra special because I found out just after we had won a big basketball game. Coach Michels made the announcement in front of the team and everyone was cheering. It was a special night – the win, the recognition and everyone celebrating together.
2. You were nominated by Coach Michels and Sgt. Fraioli. Explain your relationship to them? All my life, the only person I felt like I could really talk to was my dad. When he passed, Coach Michels and Sgt. Fraioli really stepped up into the father-figure role. I can't describe how important it is to me to be able to come to them with anything.
3. What is one thing you'd like to share about yourself that most people don't know about you? A couple of things! One is that I actually like Coach Michels. During games we yell at each other a lot, and to see it, you'd think we hate each other. But we love each other. Another thing is that I think people assume that soccer is my favorite sport. It's not, basketball is.
4. What do you enjoy most when you are not at school? I enjoy alone time when I can organize my thoughts and recenter. I also enjoy music during my quiet time – all different types depending on how i'm feeling.
6. In your opinion, what is the best thing about attending school at Frankford? The people! There is an overwhelming culture of compassion here. You could have had a bad night, and walk in the next morning and someone is ready with a hug and a smile without having to say a word. It's part of the culture here, something that seems hard-wired into the people who work here. It doesn't feel like it's something that's intentionally cultivated, it's just who people are.
7. In your opinion, what is one thing that the School District could do to improve our service to students? I'd love to see the District develop more scholarships opportunities or access to scholarships opportunities for students to pursue.
Bebe plans to go to New York for college, continue playing sports and study nursing. Congratulations Bebe, keep up the good work and don't ever stop!