West Philadelphia High School Students Gain Experience in Architecture and Design

February is Career and Technical Education (CTE) Month. We will be celebrating with some features of unique programs within our schools!
West Philadelphia High School junior Haoua Tall designed, sketched and decorated a room for "clients" who had requested a music room that would blend their talents. This past January, Tall experienced that very room she had designed and created through a virtual reality tool, Planner 5D.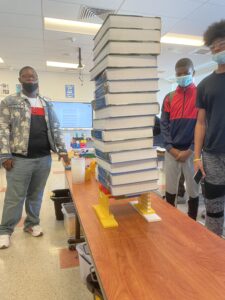 This hypothetical case study was part of Architectural Design & Drafting, a Career and Technical Education (CTE) Program at West Philadelphia High School. Within this program, which is the only of its kind in the District, students develop plans for buildings and other structures using various building materials and creative layouts and designs. Students use and apply knowledge, skills and principles that are supportive to the architectural field and have access to the industry standard AutoCAD and Revit computer programs, as well as a 3-D printer and makerspace.
"It was a really cool opportunity to see the actual space I designed right in front of me," says Tall. "I've always loved decorating and designing, so I thought why not be part of this program."
Although Tall's current plans are to attend college for Pre-med, she's excited to take what she's learned about lighting and space to help create an environment conducive to the healthcare environment.
"With how much of our time is spent indoors, we want to spend our time in places that are healthy and make us feel good," says Jessica Villanueva-McCollum, who teaches Architectural Design & Drafting. "A lot of the applications that I teach about interiors and architecture can help improve how people work and the way people are moving in a space."
Villanueva-McCollum says that the program combines a lot of soft skills and rigor with networking and industry partners so that students can take what they learn and apply it to various fields. The program also engages students with fun, hands-on projects like the Gingerbread House Competition, where students design new buildings using gingerbread.
Villanueva-McCollum arrived at West High School after spending 15 years in the industry. She turned to teaching architecture after attending graduate school for Interior Architecture. She had previously earned an undergraduate degree in Fine Arts.
"I've always been creative and artistic, but I was also drawn to the technical side of the arts, so I wanted to do something that combined the two, that's what architecture does," she says. "It's the perfect blend of being creative and being technical."
She turned to teaching in order to help expose more students to careers in architecture.
For Ashante Williamston-Barton, who graduated from West Philadelphia High School in 2020, he is continuing the work that started for him in high school.
"Before I entered high school, I felt like this was what I wanted to do. I always enjoyed building as a little kid, so I saw this as an opportunity to get a head start," says Williamston-Barton, who is a current sophomore studying Architecture at Temple University.
"Everything that I am doing now at Temple is what I already learned in high school. Knowing how to work all of the softwares and programs helped prepare me to get here."
Architectural Design & Drafting at West Philadelphia High School also connects students to industry experts and scholarships through partnerships with Aramark, CREW Greater Philadelphia, the Edward Netter Center for Community Partnerships and PhilaNOMA.
For more information on the program, visit their website.