Construction Begins on new Community Schoolyard at Add B. Anderson School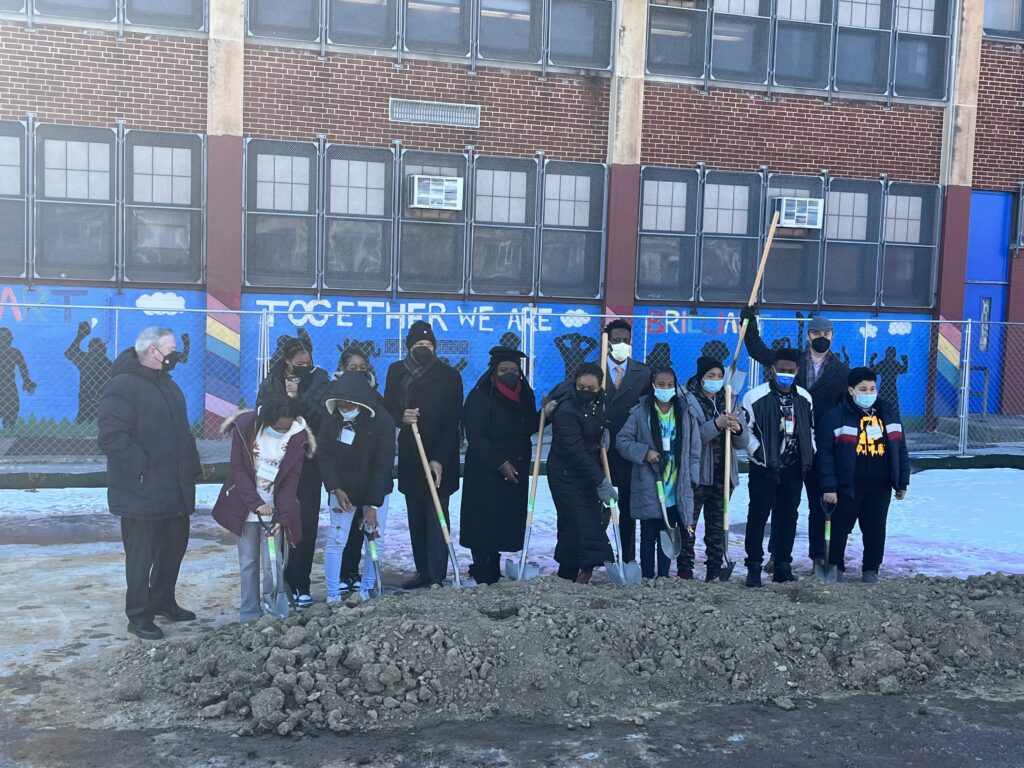 Today, The Trust for Public Land and partners celebrate the groundbreaking of a new Community Schoolyard at Add B. Anderson School in West Philadelphia.
The revitalized schoolyard will provide an additional 9,489 residents park access within a 10-minute walk of homes and the renovation will also yields other environmental and climate benefits, with dozens of new trees producing shade and stormwater management features soaking over a half a million gallons of runoff annually.
"This new schoolyard will create only a safe, accessible place for students and families to enjoy the outdoors together, but the combined climate benefits will ensure an overall healthier community," said Owen Franklin, Pennsylvania State Director for The Trust for Public Land. "We're so excited to see the hard work of the students engaging in the design process pay off and can't wait to see how the space can help benefit the entire Cobbs Creek neighborhood."
Through the student-led process, important features were identified and incorporated into the design, including trees and gardens to create shade and reduce heat impacts, as well as up-to-date play equipment, a multi-use turf field, running track, and basketball court. These tree plantings and use of stormwater management designs will help reduce approximately 600,000 gallons of stormwater runoff from entering nearby Cobbs Creek and the Schuylkill River.
"As we've seen over the last two years, high quality community spaces are so critical for the connection, health, and safety of all Philadelphians and this new schoolyard bring invaluable benefits to Cobbs Creek," said Mayor Kenney. "Every neighborhood in Philadelphia should have access to safe, outdoor spaces and I'm excited as we continue to make progress towards that goal."
The Trust for Public Land has partnered with the School District of Philadelphia, the Philadelphia Water Department,  L.L.Bean, Children's Hospital of Philadelphia, and others to close the equity gap for students at Anderson Elementary, as well as the wider community.
"The students at Anderson, and the residents of Cobbs Creek, deserve every amenity that we see in neighborhoods of greater privilege," said Principal Laurena Zeller. "Everyone should have a welcoming, beautiful, and safe place outdoors where they can learn, play, and gather with neighbors. We all have a role to play in addressing inequality, and the schoolyard at Anderson represents one step in the right direction."
"Having access to outdoor learning spaces is not only incredibly important for our students in the traditional academic sense, but they also provide the opportunity to encourage social growth through play and physical activity," said William R. Hite, Jr., Ed.D., superintendent of The School District of Philadelphia. "I'm thrilled to be an invested partner in this new schoolyard at Anderson and hope to see every student in Philadelphia have access to these types of environments."
In 2021, Anderson was one of three recipients of the third annual L.L.Bean Community Awards, which included a $50,000 grant, as well as a matching grant from Children's Hospital.
"Ensuring that all communities have access to the outdoors is at the core of L.L.Bean's mission and we're so proud to have partnered with The Trust for Public Land to bring the many benefits of nature to residents of Cobbs Creek," said Kathryn Pratt Director of Brand Engagement, L.L.Bean."
"CHOP is pleased to support the Community Schoolyard project at Add B. Anderson through the Healthier Together Initiative. This revitalized schoolyard will be a welcoming place for Anderson students to play and exercise and the whole community to gather safely," said Alonzo South, CHOP Senior Director of Community Engagement. "Research shows that creating green spaces can reduce gun violence, make people feel safer, and help people connect with their neighbors. These positive effects demonstrate why this type of place-based investment is critical to creating safer and healthier communities."
The Philadelphia Water Department provided approximately $200,000 for the green stormwater infrastructure component of the Anderson schoolyard project through its Stormwater Grant program, which helps fund the design and construction of stormwater retrofit projects on non-residential properties in Philadelphia.
"Funding green stormwater infrastructure projects and ensuring urban environments are actively filtering stormwater is critical to our water quality and health of our communities," said Philadelphia Water Department Commissioner Randy E. Hayman, Esq. "We're proud to support this project as an investment in clean water, and it is also a beautiful way to educate our students and residents about the importance of protecting the city's rivers and creeks."
Ninety-five percent of neighborhood residents are Black, and are more likely to experience a lack of access to green space. The neighborhood has also seen an increase in gun violence which has caused tremendous challenges around safety for kids and families, and this schoolyard space will offer a safe space for residents to gather.
"Creating equitable access to green spaces across our city is key to enhance public health – and the Community Schoolyard project at Anderson is an important step in that direction," said Councilwoman Gauthier. "Thanks to this renovation, nearly ten thousand of my constituents will have a new place to recreate and relax in walking distance from their homes. I'm grateful to the Trust for Public Land and their partners for investing in our West Philadelphia community."
The Trust for Public Land has a robust portfolio of schoolyard projects in Philadelphia, with nine schoolyards completed and, including Anderson, six in development. Nationwide, the Trust for Public Land has transformed more than 300 schoolyards into nature-rich parks designed to address inequities in education, health, and climate impacts. According to research from The Trust for Public Land, open access to all public schoolyards across the country during non-school hours would put a park within a 10-minute walk of more than 19.6 million people, including 5.2 million children, who currently lack access.