Frankford offers Hospitality, Travel & Tourism to students

February is Career and Technical Education (CTE) Month. We will be celebrating with some features of unique programs within our schools!
Hospitality, travel and tourism management is a trillion dollar industry in the United States – and now, Frankford High School students are receiving the experience and training to support careers in the industry.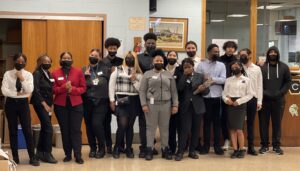 In its second year, the school's Hospitality, Travel and Tourism program, which is the only program of its kind in the District, exposes students to culture, cuisine, art, music and all of the different sectors of the industry, including food and beverage, accommodations, recreation, travel and transportation. Next June, the first group of students will graduate from the program.
"The students are very excited about being part of the first program, they take pride in being the inaugural class to go through it," said Shannon Thomas, who serves as the program instructor after working more than eight years in the industry. "They truly love the service part of it and being able to do something for someone else."
Frankford High School students have the opportunity to join as sophomores and receive real-life application of hospitality and tourism leadership through school-based projects to support needs in the school, including performing curated art and culture shows and operating a business center, a school supply closet and a school store. The group also performs guest services by participating in school-based events as tour guides.
"The hospitality program is preparing us for the outside world and how to always stay in character, be respectful and the best version of ourselves," said junior Malinda Saunders. "It focuses on utilizing our personalities and building our people skills, while also teaching us to be flexible and recover from unexpected events or an error in the plan."
The program operates in a non-traditional classroom, with hopes that it would provide students with a hospitality-student hub type of feel. High tops, stools, couches, dry erase tables and recliners fill the room, with a front desk occupying the entrance.
The space will soon add a fireplace and a hospitality suite with a cafe for tea and coffee stations and a mock room where students learn housekeeping skills.
"It's really about creating a safe place for students that they can take pride in – this is home for them. Watching them blossom individually and as a group has been a blessing for me," Thomas said.
At the end, students will complete the NOCTI test and receive certification of completion for the course.
"This program interested me because of the things it offers the students," said sophomore Lailah Jamaladdin. "It helps prepare me for possible careers or becoming an entrepreneur by teaching you about things you may experience once you're working in the hospitality industry."
Through the training, students gain skills in customer service, self-reflection and emotional intelligence. Students also receive support in their core classes.
"My biggest thing, and I constantly share this with our students, is whether or not they choose to go into the industry, they can take the hard and soft skills they learn from the program into any position they obtain after graduation," Thomas said. "This program is a privilege, not a requirement."
Junior Tiamani Bethea agreed, adding that it helps teach students how to approach people.
"Something most people don't realize about hospitality is that it's not just about event planning. It can be about the way you treat people, how you make them feel while in your space or business, the way you carry yourself based on the crowd of people you are around," Bethea said. "This program, it sets you up for success in the industry and prepares you for the best."
For more information on the program, visit their website.