February Student of the Month: Milan Dukes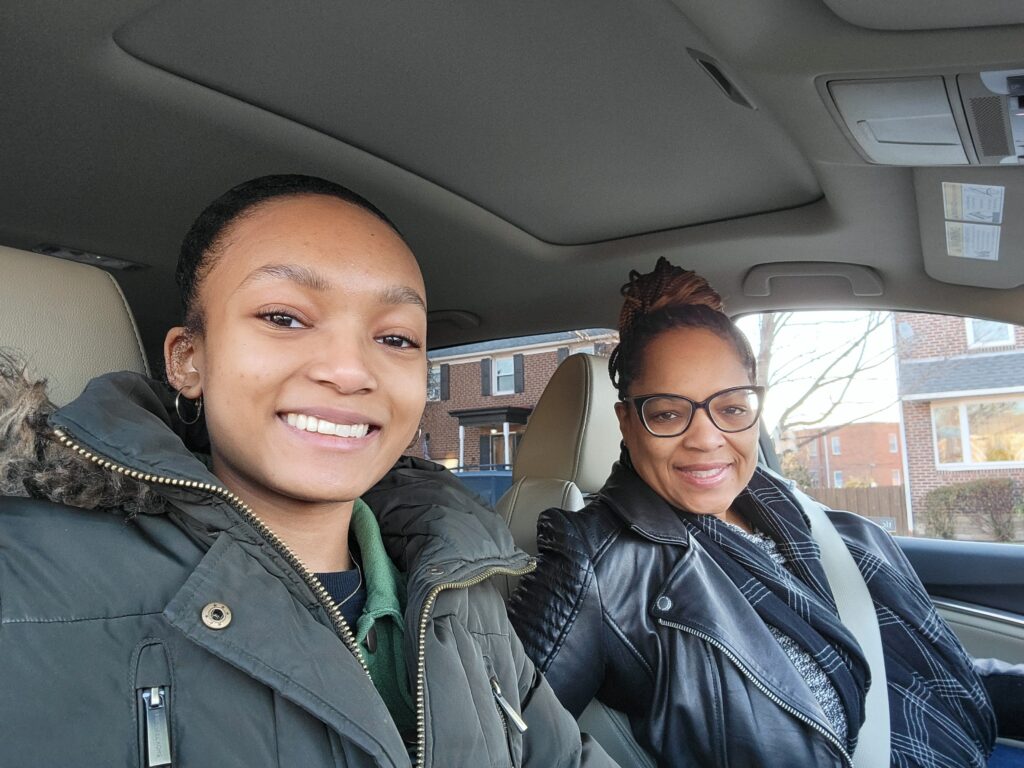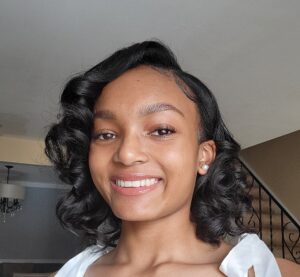 FEBRUARY STUDENT OF THE MONTH
Name: Milan Dukes
School: Central High School
Nominated By: Mike Horwits, 281 Class Sponsor, AP Gov and Social Science Teacher
When you meet Milan, you're immediately struck by her delightful optimism, her underlying self-confidence, the maturity in her stories and the calm she seems to infuse in the room (even a Zoom room). We were joined by her effusive and high-energy nominator Mr. Horwits, who couldn't say enough good things about her, and her mom, Keisha Parks, who, in that way that only a proud mom can, knowingly acknowledged that her daughter was a force to be reckoned with from a very early age.
"Milan is a gem at our school – a tremendous leader, scholar and athlete – but most importantly, an unbelievably kind person. We love having her be part of our leadership team and we're going to miss her next year!" gushed Mr. Horwits. That was just the beginning.
Milan did indeed know what she wanted from an early age. As a young child, she and her mom would drive by Central and see what Milan thought looked like a castle out of their car window. When she found out it was a school, she thought "of course I want to go THERE!" When it came time to actually visit, she took the tour and it was like "a lock unclicked for me. I could feel the energy. It was a done deal. Plus, it had everything I wanted – the academics, the clubs and sports, the diversity…"
From the get-go, she decided to get involved in as much as she could. She first ran for class president, which she didn't win – a self-assessed "blessing in disguise." With a calm, easy laugh, she explains "This is what I do in my life – I just kind of go for what I think will elevate me or develop me the most. So when the opportunity to participate in the class cabinet was presented,I thought I might as well try. I figured it would be a good way to get to know people. But running was stressful, and the job of President, now that I see it, is really all-consuming. I ended up participating instead on the more generalized Committee, which I've loved. So what I learned from this experience was that I really love participating, and I love leading, but I don't need to be the head honcho. I like leading from the background."
Mr. Horwits agrees emphatically "She's just a natural leader but very calm about it. For example, the District has a girls flag football team that Central actually started fifteen years ago. This year, we relaunched the team after COVID, and Milan wanted to play. Now, she's an amazing, All-Public track star, but she's not a football player! But, she just had this centered, confident, calm way of being on the field, being such a natural leader that the other girls followed even though she wasn't "rah rah" about it. It was the same with the blood drive, which was a really challenging event – she keeps me calm! I take deeper breaths when she's around!"
The Blood Drive was another Central High tradition Milan helped reinvigorate after COVID. Being selected by the staff as a co-chair is an honor and a big responsibility, and Milan was personally committed. "I really like helping people, and at that time I was looking to get into something community-oriented. Then I found out we had a blood shortage, and it just felt right. I've had a lot of family members with medical problems, so I feel they should have access to blood if they need it. We had a team of four and a full committee – the day was chaos but it was worth it! You get to the end and you count up the people you saw, the pints collected (89!) and all the details and work that went into it – and you realize it's worth it. It's a big deal."
"That's another reason," muses Milan, "why I think it's better I never won the race for President. I wouldn't have the time to dedicate to some of these other intensive projects like the Blood Drive and the Tree Committee and my track club, and I do dance outside of school. So again a blessing in disguise because I enjoy all of those things and being able to be involved at the level I'm involved."
Yes Milan also takes two dance classes after school and track, which involves a complex chain of rides, changes of gear and shoes, and LOTS of snacks! She's proud of her tenure (since she was 3 years old) with the same dance studio, where she'll dance until she ages out. "I started dance initially because my sister was doing it and I went to her recitals. I loved it – it was kind of euphoric – as a kid you get all this energy out dancing. As I got older it was another way to decompress. My ballet teacher taught me something really important –she said It's not about getting the choreography… it's about the dancing. I don't think at the time I really understood, but as I got older I got it. It kind of applies to life – I don't want to just be here, I wanna thrive here! And those are totally completely different things."
During virtual learning, Milan started a NEW tradition as well – she coordinated Central's class effort to secure a Home Runs for Trees grant from the Philadelphia Phillies. Her leadership and diligence helped Central receive ten trees in partnership with the Philadelphia Horticultural Society, which launched an effort to qualify Central as a school arboretum, one of the only schools in our area with twenty- five unique species of trees. "We worked with students in the Environmental Science classes, then the whole senior class got involved in the planting, which was really fun. And I love telling people I was on the Tree Committee."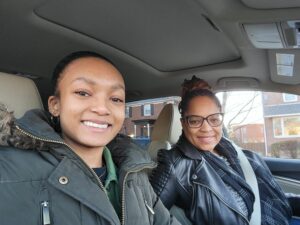 Milan, Mr. Horwits and Milan's mom helped answer our favorite questions:
1. What does being named Student of the Month mean to you?
It still feels kind of unreal to think my sponsor nominated me, and that I actually won! At Central we have thousands of great students, and so many more across the District, so it's crazy to think you're really that special! It hasn't sunk in yet! It feels unreal! It feels like an honor, and I'm just happy people feel I've made an impact.
"She's very humble. She's just being herself. Milan is a great kid." explained her mom. "I'm excited, because she does so much and works so hard to be a great person, when it comes to community, family, how focused she is on her schoolwork, her athletics. She's always known what she's wanted – even with me – if I ever said no to something, she'd ask why. And if she could do something about that "why", she'd try to find a way to get what she wanted. She'd ask the question in a different way, or negotiate a compromise. The story about Central is true – she's known from the beginning that this is where she wanted to be. It had been such a long dream, when she got her acceptance, she was so happy she laughed and cried at the same time. And now to be here giving so much back… it's a joy to see."
2. Why do you think you were nominated for Student of the Month?
I think because I'm the kind of student that Central wants to prepare their students to be; how I'm evolving as a person and a woman – being curious, being a leader, being kind, and confident in that I know that my presence is something that can affect change.
3. You were nominated by Mr. Horwits. Explain your relationship to him? Why do you think he nominated you specifically? 
"I really got to know Milan at the beginning of her sophomore year, when she joined the class cabinet. I was immediately impressed with Milan's intellectual curiosity, and her strong desire to be involved in class activities." Mr. Horwitz remembered. "Milan met the challenge and is an integral part of our team. She demonstrates a strong desire to help her classmates have the most memorable experiences during their high school careers, and to making a difference in the Central High School community.
If there's one word I could use to describe Milan, it would be poise. The way she deals with all the stakeholders in her various clubs projects and events – that includes alums, teachers, parents, staff, students – as a leader it's important to know how to work with all of these types and she's able to do it. It's hard for a 17-year-old to do all that! And all of her teachers – they all feel the same way as I do."
4. What is one thing you'd like to share about yourself that most people don't know about you?
My family and best friends know that I am obsessed with unicorns. I absolutely love unicorns– Everything they stand for, everything they embody, how they look… I have multiple figurines. I'm a self -acclaimed unicorn myself. I don't know how I got into them but I love them.
5. What do you enjoy most when you are not at school?
Honestly, being alone. I get a lot of stimulation all day — learning, thinking, dancing, running around. So just to come home and be alone with my own feelings and thoughts is a nice reset from the day or week. A lot of people tell me I'm very emotionally intelligent and I think this may be why – because I spend a lot of time thinking about things that happened, situations I may have gone through, how they made me feel, how I want to respond to those things in the future, and then to let it all go.
6. In your opinion, what is the best thing about attending school at Central?
The people. I've met incredible people here. There are multiple people I'd nominate for this recognition! As you go through your day here, in each of your classes you see the people who excel in each and it's just motivating! And all the clubs – I like walking by and seeing all the people at their clubs and doing what they enjoy – being part of the track club with people who love it the way I do. It's a warming feeling- you're watching someone be their truest self. The diversity here is also incredible – there are so many perspectives from students from different backgrounds – like, immigrant families who are trying to build a life here – is very enlightening. I won't forget any of this when I go to college.
7. In your opinion, what is one thing that the School District could do to improve our service to students?
The District should do a better job at making the students feel more like a priority. Many times I have felt like the District put us on the back burner in order to do what was best financially. Recently the District has made better decisions that I believe benefited students especially when it comes to covid restrictions within schools. Even though I am aging out of the District, I hope to see change for the sake of our schools and students.
Milan is still waiting on some final decisions, but is likely to head to Penn State Main or Syracuse University to study psychology for mental health, and is also interested in media or communications. We have no doubt this unicorn will find more castles awaiting her wherever she goes! Best of luck to you Milan and congratulations again!