Barry Elementary School, Philadelphia Eagles and American Dairy Association North East Celebrate National School Breakfast Week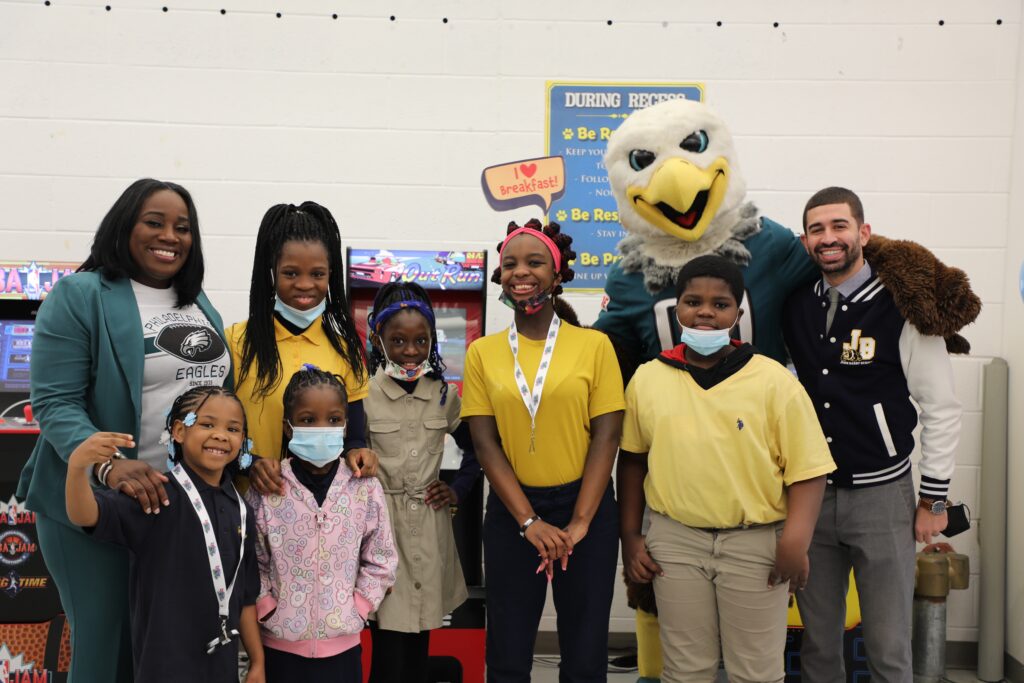 Today, the Philadelphia Eagles, in partnership with American Dairy Association North East and the School District of Philadelphia's Division of Food Services, celebrated National School Breakfast Week at Commodore John Barry Elementary School. The Philadelphia Eagles mascot SWOOP visited students to encourage them to take advantage of the healthy choices available for school breakfast.
During the visit, SWOOP also visited Barry's newest Positive Behavior Interventions and Supports (PBIS) room. The school was recently recognized for its School-Wide PBIS during the 2020-21 school year the 2021 Virtual Equity is Multi-Tiered System of Supports Pennsylvania Positive Behavior Supports Implementers' Forum in November.
"On behalf of our school, I would like to thank the Philadelphia Eagles and American Dairy Association North East for celebrating the importance of breakfast with our students," said Commodore John Barry Elementary School Principal KaTiedra Argro. "Ensuring students have a well-balanced, healthy breakfast to start off the day helps them perform better academically and keeps students focused, engaged and energized throughout the day."
National School Breakfast Week is an annual celebration to help educate parents and students about the healthy and great tasting school breakfast options that are available each day at their school and takes place this year March 7 through 11. This year's theme is "Take Off with School Breakfast," reminding students, parents and stakeholders that a healthy breakfast can give students energy to power them through the day. Research shows that regularly eating breakfast is associated with improved focus and better academic performance.
Yogurt Parfaits were served this week to celebrate National Breakfast week.
"Milk and dairy foods are essential to children's health," said Hannah Louie, Youth Nutrition Specialist with American Dairy Association North East. "We work with the district to provide innovative ways to incorporate dairy into school meals."
The District serves approximately 40,000 breakfast meals daily which regularly include a variety of options, including cereal, granolas, fruit, yogurt, muffins, and breakfast sandwiches.
The District is also committed to increasing alternative breakfast options within buildings and encouraging all students to participate in school breakfast to receive a free, well-balanced and nutritious meal to start their day. There are also several programs offered throughout the District that provide breakfast to students after morning admission, including Hallway Grab-n-Go, Breakfast Carts at Your Door, Second Chance Breakfast in the Cafeteria, Breakfast in the Classroom.