April Student of the Month: Jade Njie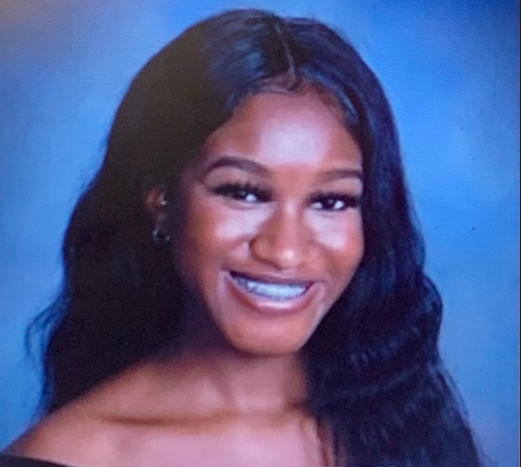 APRIL STUDENT OF THE MONTH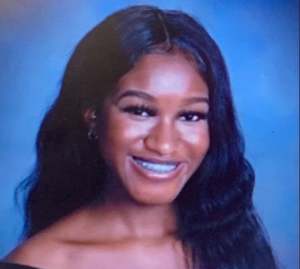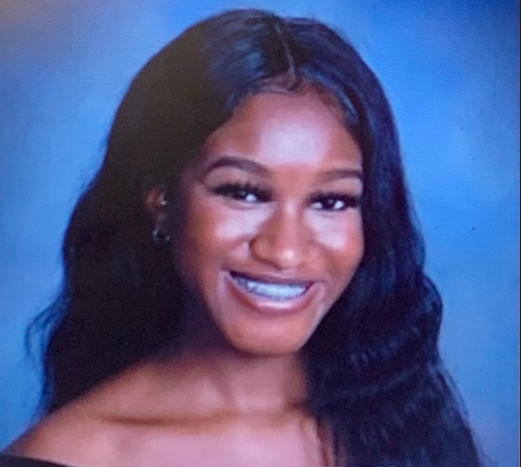 Name: Jade Njie
School: Science Leadership Academy (SLA)
Nominated By: Nicole Gasser – Teacher
When you meet Jade you realize right away that she is not only clearly comfortable and quietly confident, she's even better at making you feel welcome and comfortable. That translates into everything that makes her this month's SOM.
She's the second oldest (although, the shortest, she laments) in a 'loud & boisterous' sibling crew of 4, plus one on the way! Jade notes that it'll be different to be an older sibling to someone so much younger than her other siblings but she's excited for what she'll be able to show and teach him. She's a proud Philadelphia native who has lived in several different neighborhoods across the city, and attended a variety of public schools. She was slated to attend a Catholic high school when her mom suggested she check out Science Leadership Academy.
"When I met Jade freshman year, that was my first year having a group of freshmen I'd work with over the following four years and I was nervous." Ms. Gasser said enthusiastically. "But I remember immediately knowing Jade was going to be great – she was so positive and made everything so easy – always willing to go along with anything I tossed at her."
But it was actually junior year, during the pandemic, where Ms. Gasser noticed how remarkable Jade was. "She really excelled in the virtual space. We did weekly one-on-one phone calls with each of our students, and she was always thriving, applying herself and being very successful and engaged – even when it would've been easy not to be.
Junior year, I saw her put in the work knowing it was a big year and then during senior year, she just exceeded all expectations in terms of what you can accomplish in a year. I nominated her for College-Access Leader (more on this below) because I knew she was responsible, and had a great way of relaying information and being relatable. Ms. Hirschfield, our college counselor, asked if I'd be interested in recommending Jade for Senior of the Month and I jumped. I am so proud and happy for her but sad to see her go! We got to know each other pretty well over the last few years!"
SLA Principal Chris Lehmann, also expressed his pride in Jade saying "There are many students across our District who are wonderful academic students, but Jade is so much more. She shows such commitment to our community, and to making our school better. She's the first to volunteer for school activities, and she leads by helping. What she did, teaching the mini course, was an impressive example."
He's referring to her senior Capstone project. Her topic was climate change, inspired by an article she read, which truly scared her. Thinking that people needed to know more about this, to effect change, she decided not only to research climate change, but to teach the freshman a mini-course (like an elective). She thought art would be an engaging way to bring it to life so she had her students create a piece of artwork out of all recyclable materials,inspired by their school mascot, a rocket. One group created a rocket shaped like a sea turtle made entirely out of recyclables while another group, focused on pollution, made a rocket complete with a smoke machine! Ms. Gasser says, "The freshmen that she is working with absolutely love the project. It is engaging and meaningful and has been a huge success! It's hard to have a group of 9th graders, after school, for mini courses – but Jade's way of interacting is like a student, so relatable and so engaging. It's very impressive – they're very receptive to Jade, now they know she's someone they can rely on even outside of the course."
As a reward, Jade organized a tour of Philadelphia's Magic Garden, a prime example of turning "trash" into art, and they were so intrigued, they're coming back to SLA to run their own mini-course, creating a sculpture for the school.
In addition to her schoolwork, Jade is known for making a consistent effort to keep herself active and always adding to her skills to better prepare her for whatever is next. During her sophomore and junior year (the latter during the pandemic) she took multiple business and creative courses at Temple and CCP, to help her stay busy and to ensure she was ready for college.
As a College-Access Leader (CAL), Jade works closely with SLA's college counselor to learn the ins-and-outs of how to successfully transition students to post-secondary life, then she brings that information back to her Advisory Group, which at SLA is a cohort of the same 20-25 people you navigate all four years with. "There's only one counselor for over 100 students so there's not enough time to help each one individually. I learn the information, then I help my classmates figure it all out. I see so many seniors struggle with how overwhelming applying to college is – the application, the forms, the finances – and almost lose hope. I'd get messages from people in my advisory late at night! And I'm willing to help. I love helping people, so it was a great experience. I also started a google document with scholarship information, and I keep adding to that, because paying for college is most people's biggest stress."
Ms. Gasser says appreciatively, "Because of Jade's hard work, the processes of applying to college, applying for FAFSA, requesting letters of recommendation, etc… have felt easy. We probably couldn't have done it without her. Jade came in almost every advisory twice a week and she presented so many different aspects of this process. Jade got to learn more deeply than she might've and she became a resource we turned to. The other students appreciated hearing from another student who's going through this process with me. So everyone's comfortable after 4 years, also very thankful to have her."
Due to the phenomenal job that Jade has done, the college counselor has come to trust her with more responsibilities, including presenting to the junior class on the college process.
Jade applied early, and got into Howard University where she plans to pursue pre-medicine, with hopes of becoming  a dermatologist and ultimately creating her own line of skincare specifically formulated for Black consumers. One of the reasons she committed so quickly was her observation that the entire medical school was staffed by an all-black staff. "I hardly see black doctors so it was inspirational and that's where I want to be" she said with clear conviction. She's excited and nervous to be on her own but she says she knows lots of kids past and present go through the same thing, and Ms. Gasser chimes in to assure her just how fine she's going to be.
Here's more of what we learned from Jade:
1. What does being named Student of the Month mean to you?
It means that I have proven the importance of trying your best. That I have made everyone who I have looked up to proud of what I have become. It means that I have done something great and in some way made a great impression on someone else which I am truly proud of. Being in a position where I have been able to work hard and push myself to new limits surprises me because there was a time where I didn't believe that I could do it or wasn't confident in showing people who I was, so I think it is an honor to be named Student of the Month because it proves to my past self that I did it that I have accomplished something and plan on continuing to accomplish way more.
2. Why do you think you were nominated for Student of the Month?
I honestly didn't expect this at all! I wasn't expecting to be recognized specifically, despite wanting to make everyone proud. But if I were to choose why I was nominated I think it would have to be my dedication to overachieving. There is never a moment where I am not busy tackling extra credit courses or spending time to work on setting myself up for extra-curricular activities that would boost my chances of doing well in college.
3. You were nominated by Ms. Gasser. Explain your relationship to her? Why do you think she nominated you specifically?
Ms.Gasser is my wonderful advisor and the favorite teacher that I have ever had — even though I haven't personally been in any of her classes besides advisory! She's made a great impact on me and a great impression on the entire school. If you were to ask anyone about Ms. Gasser it would be how nice she is or how great of a teacher she is. Not only was she willing to help all of us these past four years, she has gained a relationship with each and every one of us, which I think we will remember for a lifetime.
I used to tell Ms. Gasser all the time about my dream of going to Howard and all the classes I was taking outside of school. And I guess she saw my dedication and how excited and engaged I was to be a part of all of these things, so I think that's why she nominated me.
Ms. Gasser adds, "I just feel so lucky to have gotten to know – I feel such mixed emotions at the thought of her graduating! I seriously could not be more proud of her. I know she's going to succeed and I'm excited to see her progress – I think we'll stay in touch."
4. What is one thing you'd like to share about yourself that most people don't know about you?
I make lists of everything. I have journals and notes apps on my phones full of random lists. I guess you could say it's about being organized but it helps me stay calm, and distracts me whenever I feel overconfident, or upset, or simply lost. I make a list of things I need or want to get done. I check off then I do things , and if I don't get to something I move it to my next to-do list. And it's not just school stuff – it could be totally random – nail polish colors I want to get, hairstyles, shoes – it's not just school. It's almost like an addiction – I haven't gone a day without making a to-do list.
5. What do you enjoy most when you are not at school?
I like having personal days or dates with myself, where I can treat myself – I'll get my nails done, or do some shopping. I normally am a pretty independent person so I find comfort when I am by myself and taking the time to cater to myself and recollect myself and my thoughts in a setting that isn't so noisy or distracting. I can easily become distracted so those days where I get to clear my mind and focus on myself for once is a win for me. I've been making a scrapbook that documents things I've done – it's a work in progress but I'll keep up with it through college.
6. In your opinion, what is the best thing about attending school at SLA?
I genuinely appreciate the community that Principal Lehmann has created for all of us. I love how inclusive and supportive our school's community is and I tell people this all the time. To me it seems like everyone is just one big family, and you could really get to know everyone. You never feel like the odd one out. I couldn't imagine myself anywhere else.
7. In your opinion, what is one thing that the School District could do to improve our service to students?
I feel like one-on-one counseling would be great. I'm not sure if this is up to the School District, but if there were one-on-one counseling sessions that were almost like electives but actual classes I think could be a step toward helping many students. I think one of the major issues teenagers have is that they feel as though they have no one to talk to. I mean that's how I felt for a while. But one-on-one counseling could make a tremendous impact on someone else's life before it is too late.
Ms. Gasser wrote the perfect send-off: "With that, we couldn't be more proud of Jade at SLA and we will miss her dearly. She is absolutely deserving of this award!"