April Student of the Month: Myon Butler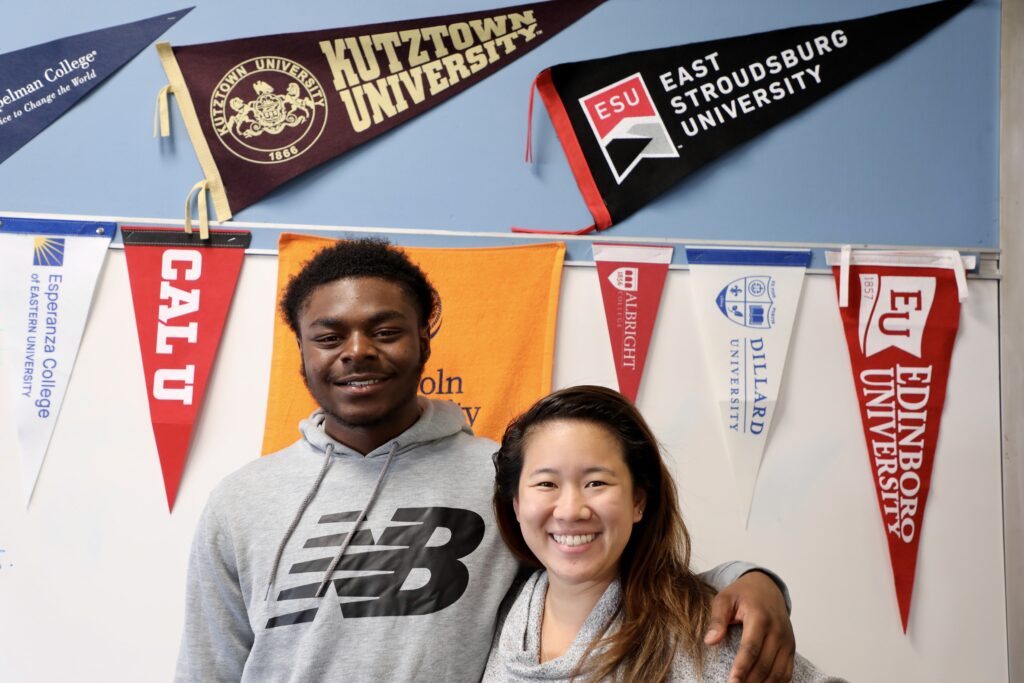 APRIL STUDENT OF THE MONTH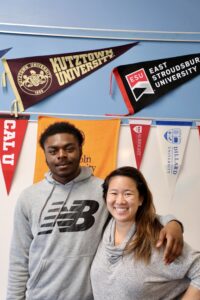 Name: Myon Butler
School: Vaux Big Picture High School
Nominated By: Leslie Flemming – Teacher at Philadelphia Juvenile Justice Service Center
It's easy to assume that "Seniors of the Month" fit into a nice tidy box, and check off a list of generic and universal criteria. We, of course, encourage our readers to avoid that assumption. Students have a diverse array of backgrounds, stories and experiences that have shaped them into individuals worthy of recognition. And that's where Myon Butler comes in. His message is just that – on paper he may not be a traditional Senior of the Month, but he is an outstanding and inspiring Senior of the Month all the same.
Myon's upbringing wasn't easy. You could say that he didn't have the same support system growing up as many other Seniors of the Month. There were significant chunks of his childhood when both of his parents were incarcerated (his father is still inside), leaving Myon and his brothers to learn and survive on their own. "That's where my maturity comes from," Myon explains. "I learned a lot from my older brother about  survival and how to take care of a family. We didn't have any other choice." He admits that luck may have had something to do with it too – he's had some incredible teachers and counselors like Ms. Vivian Shaw at Vaux, and his nominator Leslie Flemming, a teacher at Philadelphia Juvenile Justice Service Center (PJJSC).
Why PJJSC you might ask? Well as you might fairly expect from any young person, especially one whose life forced him to grow up extremely fast, not all of Myon's choices have been stellar (he would be the first to admit). Earlier this year he made a choice that landed him at PJJSC for a short time. Even in discussing his stint inside, Myon's maturity shone through. "I learned a lot from my time inside…mostly that I never want to go back," he smiled. "It'll drive you crazy – you have no privacy, no autonomy, you can barely go outside. I had a lot of time to think, and I realized that my decisions don't only affect me. My brothers need me, my mom needs me, my son needs me."
Yes, Myon also has a 4-month old son, Myon Jr., to care for – a reality that sunk in deeply while he was at PJJSC. He explained that the whole situation reshaped his outlook, humbled him into realizing that no matter how much he's overcome there's still room to grow, and remotivated him to continue on his path of success despite a slight setback. He realized he wanted to be an example, especially for his son, and help him not make the same mistakes.  "In a weird way, I feel fortunate to have gone through that," Myon asserted. "Ms. Flemming drilled into my head that the easy part of the whole thing is getting out. The hard part is staying out. I have an opportunity to be an example for others about how to stay out – how to persevere, overcome and make permanent, positive change."
Myon is the epitome of "strong, silent type." He's unassuming, not seeking the spotlight. He's very confident in what he believes and who he is, because of what his experiences have taught him. It would seem his peers are drawn to that confidence and trust him because of his experiences. It's clear they see him as a role model as well. He says it's because he works hard to connect with others, especially others who have similar experiences as him. In fact, he sees it as a duty to make that connection. "I believe we're all equal, regardless of what our experiences are. I don't believe that I'm better or worse than anyone, and I don't believe anyone is better or worse than me. So why wouldn't I try to make the connection, communicate, and share my experiences when I can."
And so, he does. He volunteers with younger students to read aloud and mentor. He transparently contributes to class discussions inspiring other students to hear his story and make better decisions in their school and personal lives. And he works with friends to help them apply to college.
Speaking of college, Myon will be the first in his family to attend, even though he never thought he would. He wasn't trying, he had counted it out. He says that he was required to take a FAFSA course at Vaux. Which meant he completed the applications and wrote some essays, but halfheartedly, figuring that schools wouldn't be interested. Almost by accident and much to Myon's surprise, he's been accepted to at least 6 of the schools he applied to. "God or the universe is looking out for me."
When asked what message he wants to share with other SDP students, he said: "Find your intrinsic motivation, and find the people who will remind you of it. We're all going to face obstacles, but that shouldn't steal your motivation. Surround yourself with supportive people and find that one thing or person that you cannot let down. For me it's my son. Focus on them, remember to be respectful, hold yourself accountable, aim for high standards. And remember, you can overcome!"
We sat with Myon after he was selected as Senior of the Month. Here's more of what he had to say:
1. What does being named Student of the Month mean to you? The more I think about it, the more it means. I've never gotten any type of student award other than honor roll (which I haven't gotten since freshman year). It's humbling to know that I was in competition with students who I know are smarter, have better relationships with others, or who have been in less trouble. It's extra special knowing that I won while I was at PJJSC.
2. Why do you think you were nominated for Student of the Month? I work hard to impact others in a good way. When I was inside, I tried to build relationships and connect with the other kids. I realized that I could help because I did have some skills that they didn't have. I'm decent at school and a good communicator so I thought I might as well be helpful.
3. You were nominated by Ms. Flemming. Explain your relationship to her? She was a good mentor for me while I was at PJJSC. She helped me through, and kept reminding me that the easy part is getting out, the hard part is staying out. She also helped me find resources that I need for life, including parenting resources and classes.
4. What do you enjoy most when you are not at school? I like to read a lot, I could do it all day. I had to go to PJJSC to realize that though…because there wasn't much else to do! I also like to work out – it's therapy for me. And I like to travel, learn new environments and try new foods.
5. In your opinion, what is the best thing about attending school at Vaux? The students, staff and teachers here make it easy. I like talking and they are easy to talk to. If the teachers and staff see that you're putting in the work, they will stop at nothing to support you. I just believe you get out of it what you put in, and I think they agree.
6. In your opinion, what is one thing that the School District could do to improve our service to students? I would love for the District to offer more extracurricular options – different activities for students with different interests.
At the end of her nomination, Ms. Flemming wrote: "As educators, it is easy for us to praise the students who have always made the right choices. However, recognizing Myon will have a positive impact on students who are faced with similar circumstances and serve as a beacon of hope for the students in the School District of Philadelphia."
We couldn't agree more. Congratulations Myon!