Book Trust Receives $150,000 from JPMorgan Chase and Kevin Hart to Increase Literacy Access for District Students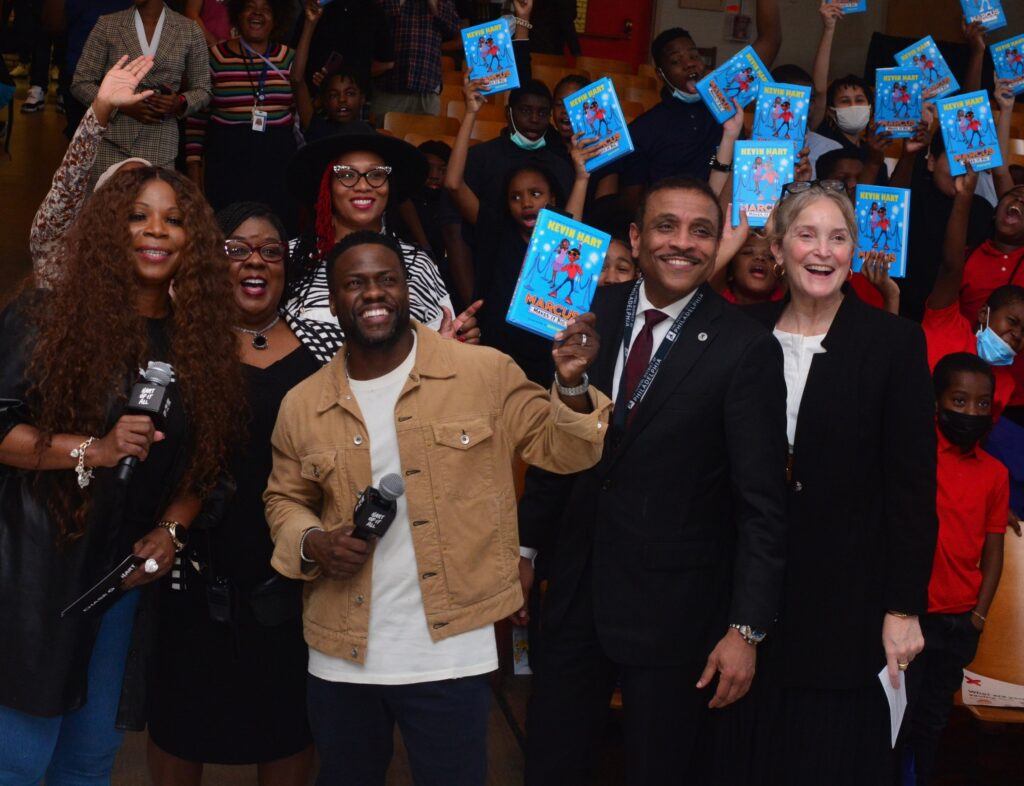 PHILADELPHIA – Book Trust, an early literacy nonprofit organization committed to engaging every child in book choice and ownership to cultivate literacy-rich communities, announced today it is the recipient of a $75,000 grant from JPMorgan Chase to support the organization's commitment to increase literacy access for students in the School District of Philadelphia (District). Acclaimed actor, comedian and children's book author Kevin Hart, who grew up in Philadelphia, joined Book Trust and JPMorgan Chase at Robert Morris School where he announced a matching donation of $75,000.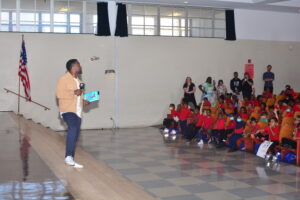 "Book access remains the single biggest barrier to literacy in this country, where in low-income areas, the ratio of books-to-children is 1 book to 300 kids. We are grateful to JPMorgan Chase and Kevin Hart for investing in the communities we work in to realize better long-term outcomes for students," said Kellie O'Keefe, President and CEO of Book Trust. "In addition, The School District of Philadelphia, William Penn Foundation, and Scholastic Books Clubs are crucial partners in Philadelphia to support the joy and power of reading."
"Book Trust's focus on early literacy sets a strong foundation for students to be successful in middle school, high school and beyond. The additional emphasis on book choice and ownership makes them a great community partner, aligning well with our firm's racial equity commitment to encourage financial literacy for young adults," said JPMorgan Chase Market Executive Lisa Bono.
Over the course of a single school year, Book Trust students choose books every month of the school year from the Scholastic Book Clubs flyer, helping them build home libraries with up to 25 new books each year. The work of the Book Trust program and its partnerships in Philadelphia supports the District in achieving its Goals and Guardrails, specifically its goal that every student will read on or above grade level.
Since 2019, the School District of Philadelphia has partnered with Book Trust to provide more than 543,000 books to 38,000 students in Kindergarten-Grade 3 and is currently operating in 72 District elementary schools this academic year. The partnership was made possible by a significant grant from the William Penn Foundation, as part of its focus on early literacy, with additional support provided by other local and national supporters.
"We are grateful to comedian, actor, author and Philadelphia native Kevin Hart for his generosity and to JPMorgan Chase for their donation to Book Trust, which is a proud partner of the School District of Philadelphia," said Superintendent Tony B. Watlington Sr., Ed.D. "This support goes a long way in increasing literacy efforts, ensuring students have access to books and helping students discover the power of reading."
Robert Morris School Students spent the morning with Kevin Hart learning about the importance of reading and financial literacy. Hart is the author of two children's books – Marcus Makes it Big and Marcus Makes a Movie – and each student received a copy of one of the books at the event. Book Trust is proud to partner with JPMorgan Chase and Kevin Hart as equity game changers in Philadelphia.
"It is inspiring that Kevin Hart, JPMorgan Chase & Co. and Book Trust have teamed up to bring our students knowledge on financial literacy," said Tameron Dancy, Principal of Robert Morris School. "I believe students are never too young to begin learning how to manage, save and invest money. I'm looking forward to seeing this experience nurture students' love of books and inspire them to become young entrepreneurs. Having Kevin Hart show his passion for reading books is just the motivation our young scholars need!"
About Book Trust
For more than 20 years, Book Trust has been committed to helping every child discover the joy and power of reading to create limitless possibilities. Book Trust aims to increase book choice and ownership, inspire a love of reading, and promote a culture of literacy in both the classroom and at home. In the 2021-2022 school year, the national early literacy program delivered 613,520 Scholastic Book Clubs books to 41,171 students in 17 states. Learn more at booktrust.org.
About JPMorgan Chase & Co
JPMorgan Chase & Co. (NYSE: JPM) is a leading financial services firm based in the United States of America ("U.S."), with operations worldwide. JPMorgan Chase had $3.8 trillion in assets and $286.1 billion in stockholders' equity as of June 30, 2022. The Firm is a leader in investment banking, financial services for consumers and small businesses, commercial banking, financial transaction processing and asset management. Under the J.P. Morgan and Chase brands, the Firm serves millions of customers in the U.S., and many of the world's most prominent corporate, institutional and government clients globally. Information about JPMorgan Chase & Co. is available at www.jpmorganchase.com.
###