Juniata Park Academy Teacher Receives Educator Award

A School District of Philadelphia teacher was recently recognized as an exemplary watershed hero.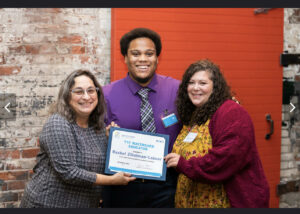 Rachel Zibelman-LeSuer, a teacher at Juniata Park Academy, received the Tookany/Tacony-Frankford (TTF) Watershed Partnership Educator Award at the 11th Annual Watershed Milestones Award Ceremony. Zibelman-LeSuer was one of ten honorees selected and the only educator.
"I was incredibly grateful to receive this award. As an educator, my goal is always to 'Do the Most Good,' and I, like many other educators, get so bogged down in the day-to-day workload that sometimes I lose sight of my ultimate why," says Zibelman-LeSuer. "Being involved with TTF has afforded me opportunities to 'do the most good' outside, at clean ups and park events, and to see my students who may sometimes struggle inside the school, flourish in the outdoors."
According to TTF Watershed Partnership, Zibelman-LeSuer has been an enthusiastic partner and sees the incredible opportunities local green space provides for her students and goes above and beyond to make those connections.
Exemplary watershed heroes were recognized in the following categories:
Friend: Frank and Betty Coyle
Friend: Devin Green, Bennett Compost
Educator: Rachel Zibelman-LeSuer of Juniata Park Academy
Corporate Steward: Pixel Parlor
Nonprofit Steward: Stroud Water Research Center
Nonprofit Steward: V.U.R.T. Creative
Public Leader: Roy Gordon, Philadelphia Water Department
Youth Champion: Ian Capacio
Legacy Award: MyKyah Vessels
TTF watershed is a 30-square mile area located in southeast Pennsylvania, both within and just outside the city of Philadelphia. One of Philadelphia's five main watersheds, all of which flow into the Delaware River, TTF offers opportunities for the community to engage and take ownership of their community, including weekend field trips to the Independence Seaport Museum, free fishing lessons, a "Love Your Park" clean-up event and weekly clean ups on Wednesdays.
In her role as a teacher at Juniata Park Academy, Zibelman-LeSuer informs her students and families about programs in Tacony Creek Park, encouraging them to attend and even meeting students at the park. One of the ways she helped to support TTF was in promoting their "Master Plan Survey" to her school community, which gave families an opportunity to engage in the future of TTF within their community.
Congratulations to Zibelman-LeSuer!