Teacher of the Month Nicole McGowan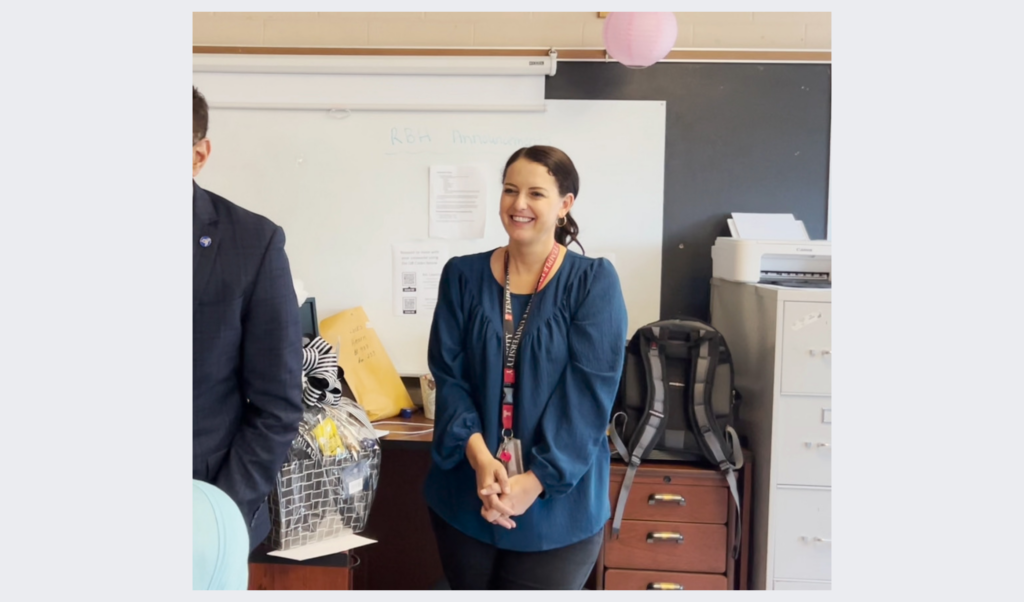 Teacher of the Month
Nicole McGowan
Roxborough High School
Congratulations to our first Teacher of the Month for the 2022-2023 school year, Nicole McGowan of Roxborough High School. Mrs. McGowan is a dedicated 9th-grade Algebra-1 teacher whose character speaks volumes amongst her students and colleagues. Her nominator, Assistant Vice Principal Saveedrah said, "Mrs. McGowan is constantly focused on the positive and is relentlessly optimistic. She is always looking to advocate for our students. Although McGowan has young children of her own, every day she makes it her priority to reach out to parents to provide positive and adjusting feedback for her students." Her diligent effort to remain in constant contact with families is quite an inspiration and example to other educators.
Last month, we surprised Mrs. McGowan with an in-person visit to her classroom. Surprised is an understatement as she had no idea that she was nominated for any recognition. She received well-deserved accolades and even a visit from our new superintendent, Dr. Watlington. Kind words filled the room as her students and colleagues spoke on her behalf. Patient was one of the words that her students used often to describe her teaching style. It's evident that Mrs. McGowan has made a positive impact on her students and her colleagues.
We are thankful that our students have such passionate and attentive teachers like Mrs. McGowan. The world needs more teachers like her to educate our future leaders of tomorrow. Thank you, Mrs. McGowan.