District Schools to Benefit from 1Philadelphia 2022 Grants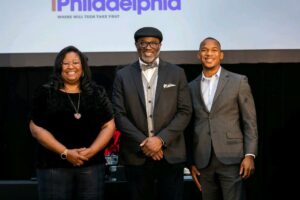 The U School and Building 21 are among the handful of School District of Philadelphia schools that have been selected as beneficiaries of the 1Philadelphia 2022 Grants. The U School and Building 21, a nonprofit organization that partners with Building 21 High School, are two of the eight recipients who will be earning a $10,000 grant from 1Philadelphia, a coalition of leaders working to make Philadelphia the capital of equitable tech and innovation.
The schools were recognized during the Innovation Awards, which took place November 19 at the Barnes Museum. Presented by Comcast NBCUniversal, 1Philadelphia's Innovation Awards recognizes organizations for their contributions to the Philadelphia tech community and work to build an equitable tech ecosystem for Philadelphia.
"The work our educators engage in to build the robust and meaningful learning experiences our youth deserve is awesome," said Neil Geyette, founding principal of The U School. "We are so excited to partner with Building21 through Launchpad to expand the post-secondary pathway offerings. It allows us to offer an increasingly diversified set of pathways for students of our school."
The U School was selected for its AFRN (Agriculture, Food, And Natural Resources) Sustainable Side Hustle program, which connects the school's Urban Agriculture initiative to an entrepreneurship program. Students utilize herbs and plants grown in the school's urban garden for products they launch in their side hustles. The cross-curricular program leverages design thinking and the entrepreneurial mindset to prepare students to be responsible workers across sustainable and green tech industries including self-employment.
"I am honored and grateful that 1Philadelphia is providing the U School with one of the first Innovation Award grants to support our work that intersects education, innovation, and entrepreneurship," said Samuel Reed, founding U School teacher and teacherpreneur of Sustainable Side Hustle Accelerator program.
The grants will support developing a Side Hustle Green Tech App, providing students with access to the necessary technology to pursue innovative passions and goals. Students will also have access to online platforms such as the Bus 101 / Side Hustle App or Startup Wars Learning games and look to incorporate some automation, AI or APP development into the program.
Building 21's grant will support the new initiative, Launchpad, a program which will serve as a pathway program for 12 schools. Launching the first cohort in January, forty-five eleventh graders attending Building 21, the U School, Martin Luther King High School, Lincoln High School, Kensington Creative & Performing Arts High School, South Philadelphia High School, Ben Franklin High School, Mastbaum Area Vocational Technical High School and the Workshop School will engage in a training and apprenticeship model that provides them with opportunities to move into coding and software development jobs in the tech industry. Beginning 18 months before high school graduation and continuing for 18 months after, students will receive training, college credits, skills and experience that move them into technology pathways.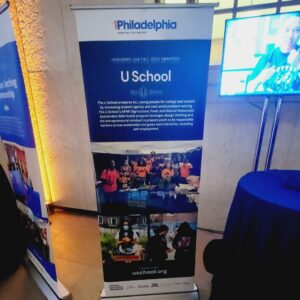 "This model is perfect for schools that have students interested in tech careers, but don't necessarily have the capacity or bandwidth to add CTE programs," said Laura Shubilla, Co-Founder of Building 21. "We want to blur the lines between high school, college and career into a more integrated model. It's exciting to create models that don't necessarily have to sit in one school and provide more meaningful opportunities for students."
The program hopes to expand into a certified pre-apprenticeship program for technology and support other pathways in technology beyond coding and software development.
The U School and Building 21 are part of the District's Innovation Network, which include nontraditional, special-admission school models that are part of the District's plan to explore and grow successful and innovative school models that serve a variety of students.
For more information about 1Philadelphia and their awards, please visit their website.