Andrew Hamilton School students were having a blast on Wednesday, programming their robots to maneuver through an obstacle course to earn points for their team. This was part of the school's first-ever FIRST® LEGO® League Competition, a hands-on, STEM competition. Offered through the Philadelphia Robotics Coalition, this competition is designed to inspire young children through fun challenges.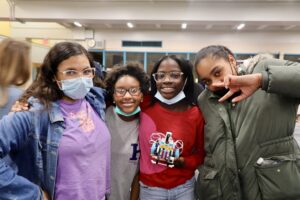 Hamilton School is the only K-8 school in the District to infuse robotics throughout its curriculum in every grade level as part of the school's digital literacy curriculum, which exposes students to robotics, coding, teamwork and digital citizenship.  This builds on the school's vision to provide every student with exposure and experience to robotics and computer science through cross-curricular, project-based learning. Central High School robotics students staffed the event and provided mentorship to students.
The Philadelphia Robotics Coalition supports robotics programs that serve Philadelphia public school students. This organization supplements STEM education in Philadelphia schools through various programming, including FIRST Tech Challenge, FIRST LEGO League Explore, FIRST LEGO League Challenge and the NSWCPD Naval Education Workplace Training (NEWT) Program.
The Philadelphia FIRST Robotics Tournament takes place Saturday 12/10 at Central High School. There will be 75 Philadelphia teams competing, spanning grades 2-12.
Thanks to our local media outlets who covered the event!