November Senior of the Month – Jewel Gadson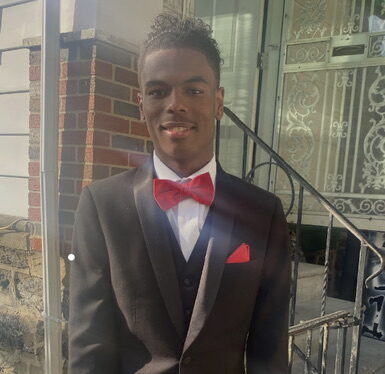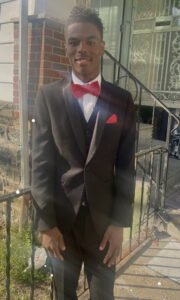 Jewels are rare and precious. That's precisely how one could describe 18-year-old Jewel Gadson, a senior at Martin Luther King High School. His determination to succeed is what stands out as one becomes familiar with his story. Since the age of two, Jewel has been in and out of foster care along with his 14 other siblings. Some time in middle school, Jewel's parents lost all parental rights to him and his siblings. Aside from that, Jewel has been displaced since February 2022. He has little to no parental guidance and he has not always had a place to call home. In spite of all of this, Jewel has managed to motivate himself and become one of the School District of Philadelphia's Senior of the month for the 22-23 school year.
Jewel has spent years protecting his younger siblings and trying to keep them together. They try to spend birthdays and holidays together. Although they are not all living with one another, he makes it a priority to ensure that they all communicate on a regular basis so they never lose touch with one another. As the third oldest sibling, Jewel does his best to encourage his younger siblings. "I try to tell them that no matter what, you can do anything that you want to do. Don't give up on your dreams. No matter what it takes to achieve that dream – just keep going." Jewel also does his best to support his younger siblings financially when he can. Since his first job as a bag boy at a local grocery store at just eleven years old, Jewel has always had a job. He's worked at a summer camp and stores throughout the city. He continues to work to keep money in his pocket and to keep himself busy. On many occasions, he's given his last dollar to his siblings despite of his own needs. "I will do for other people before I do for myself," said Gadson. Despite his own struggles, the heart of this young man is impeccable.
Jewel was nominated by Karlynne Slaten, Emotional Support Case Manager at MLK. She has a special relationship with Jewel as she's seen his many struggles and has helped him tremendously to overcome many of those struggles. For instance, she went out of her way to make sure that he celebrated his 18th birthday after learning that he hadn't planned on celebrating at all. "I've watched him from the beginning. I mean his resilience…I've seen him at the bottom and for him to still be able to find something that keeps him going. I've seen this child experience heartbreak after heartbreak. To still be so focused and determined. He has fought." Speaking of Ms. Slaten, Jewel stated, "Our relationship is like a mother-son relationship. I look up to her as my role model. She's someone that I can go to if I need help. I can go to her for anything at any time. She's very strict with me and I understand why. Some people don't have anyone in their life that's hard on them and to show them the right way."
Jewel is a determined young man focused on his goals. He's not overcome by the hardships that he's faced in life. When asked why he doesn't give in to self-pity and asks "why me" he said, "To be honest, I don't have that attitude because I just accept whatever comes my way. I try to figure it out the best way that I can. You're going to go through challenges in life, there are going to be plenty of struggles and trials & tribulations that are going to come your way. The only thing that you can do is push through and keep your head up."
Under circumstances beyond his control, Jewel transferred to MLK last year from Mastery Charter School. This was not an easy transition for him. Nevertheless, he has adjusted to his surroundings and managed to focus on his goals. Speaking of his experience at MLK, "I've met some new people, new teachers…great teachers who have given me good advice and have taught me life skills." Aside from his
nominator Ms. Slaten Jewel has an amazing support system. Apart of that support system is Men Who Care, a nonprofit organization based in Philadelphia. The men who volunteer within the organization come to the school to help young men with life skills and career readiness. Jewel remembers how they took all of the young men who participated in the program to Men's Warehouse and purchased them all suits. Each student wore their suits to school, strutted around the school, and helped build the young men's self-confidence. Speaking of this organization, Jewel said, "If it wasn't for Men Who Care, I wouldn't be in the position I'm in right now."
Jewel has recently been accepted to Shippensburg University, Chestnut Hill College, Delaware Valley University, Community College of Philadelphia, Alvernia University, and Widener University. He also just received a 4-year academic scholarship to Widener University. "I'm blessed with the offer from this school. I personally didn't believe that I would get this type of scholarship from any school so I'm very excited. The doors are open and now that I know the doors are open I can succeed and fulfill my dream." Jewel's dream is to graduate from college and become a registered nurse. When asked where do you see yourself in five years Jewel responded, "In the next five years I see myself finishing college, getting out of Philly, owning my house, owning my car, and possibly go back to college for master's degree in biology." There's no doubt that Jewel will accomplish all these things and more in the next five years.
When asked what advice he could offer to other students who may be having a hard time in life and want to quit, Jewel softly answered, "Be strong, pick your head up, there's always something positive that you can do to get your life back on the right track. There are people available that can help you get back on the right track. Seek help if you need help. That goes for everybody, whether you're forty or fifty years old. Seek help if you really need help. At one point in time, I need help, and thanks to these people and people that I'm surrounded with now has helped me and still continue to help me I'm on the right path. It's never too late to do anything. You can always change your life around at any point in time."
We asked Jewel our favorite list of questions:
1. What does being named Student of the Month mean to you? It is really shocking, and it feels really good. It means that teachers and staff are actually seeing the good in me. It means that a lot of people have seen what I've been through and am going through. They've seen me push myself to do great things.
2. Why do you think you were nominated for Student of the Month? I think I was nominated because I'm a fighter. My teachers know what I go through, and they see all the things that I achieve.
3. You were nominated by Ms. Karlynne Slaten. Explain your relationship with her. Why do you think she nominated you specifically? I was nominated by Ms. Staten. She's like a mentor, role model, and motherly figure to me. She always pushes me to do better. She doesn't let me quit or give up. She also keeps it real with me. Many grownups feel bad about my situation, and they don't want to hurt my feelings. Ms. Staten finds a way to be hard on me all while respecting my feelings and still pushing me. She holds me accountable for everything. She also pushes me to be ok with celebrating my accomplishments.
4. What is one thing you'd like to share about yourself that most people don't know about you? A lot of people don't know that I can sing. I love music and have always used singing as a coping mechanism. Also, I'm one of 15 siblings. I'm the 3rd oldest.
5. What do you enjoy most when you are not at school? I enjoy hanging out with my peers, and my family. We go to football games, skating, or go out to eat, like downtown or somewhere. I enjoy seeing the teachers, learning, and coming in to get an education to better myself for life and to prepare me for my future.
6. In your opinion, what is the best thing about attending school? I love that the staff, climate, counselors, and school police are relatable. They never mind talking to you about problems or just talking about things that are going on in general. The after-school activities to help me keep my mind distracted. They also have good programs like "Men Who Care." The Men Who Care organization has helped me out so much. We have had deep conversations that have really helped me view life in a positive way.
7. In your opinion, what is one thing that the School District could do to improve our service to Students? The school needs more relatable books, and classes. We don't learn about how to manage in the real world. The Special Education kids get to learn this stuff but we don't. A lot of people in this school don't have good parents so having classes like that would really help. We also need more trade programs and people to teach them.
After learning all that he has overcome and continues to accomplish, it is safe to say that this young man is indeed a Jewel.