Overbrook Athletic Director Becomes First PSADA President-Elect from Philadelphia

Overbrook High School Athletic Director Bob Miller has been named President-Elect of the Pennsylvania State Athletic Directors Association (PSADA), the first individual from Philadelphia to be elected to this position.
"I am very humbled to receive this honor," said Miller, a Health and Physical Education teacher at Overbrook. "For the state to recognize my passion for PSADA, my commitment to athletics and for helping to raise the visibility of Philadelphia within PSADA, that means a lot."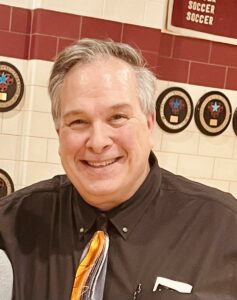 Miller will begin the transition now until the end of June and will begin his official duties as president of PSADA from July 1, 2023 until June 30, 2025. He will continue in an advisory role as Past-President until 2027.
A Swathmore native, Miller has been in Philadelphia since graduating from Marshall University in 1983, where he played football. He coached various sports and started athletic programs at a handful of District and charter schools in Philadelphia, including football, girls and boys basketball, baseball, girls volleyball and wrestling. He currently serves as Overbrook High School's wrestling coach since bringing it back as a sport nearly ten years ago.
According to Dr. Kahlila Johnson, principal of Overbrook High School, Miller has been a true asset to the Overbrook High School community as a teacher, a coach and an athletic director.
"If that was not enough, Mr. Miller sits on the Overbrook High School Leadership team and sometimes you may even see him outside cutting down hedges in front of the school or maintaining our school announcement board with an inspirational quote or two," Dr. Johnson said. "My point is, no ask is too big or too small for AD Miller, now the first PSADA President Elect from Philadelphia. It is well deserved, I am confident that Mr. Miller will make us all proud and I am happy to know that an Overbrook High School Panther has not just a seat at the table, but the head seat."
"I wear orange and black 365 days a year," Miller said. "I fell in love with the people here at Overbrook – the students, the coaching staff, the teaching staff, all of them. When you become part of this school, it's ingrained in you and all you want to do is give that energy back to the kids, that's the unique thing about Overbrook. The alumni know what it means to be a Panther and they want to make sure the students coming through the program have that same excitement."
Three of Overbrook's coaching staff are former alumni –  Cross Country, Indoor Track and Track & Field Coach Deworski Odom; Football, Girls Basketball and Softball Coach Rendell Ivory; Cheerleading and Badminton coach Shakeerah Barratt.
"Schools need athletic programs because each child has their niche," Miller said. "We try to offer every person the opportunity to participate in a sport and find something that aligns with their passions. If you get kids involved in athletics, doing something structured and organized, it helps deter them from what's going on in the streets."
In addition to coaching, Miller brings a wealth of experience to the position. He has been a longtime member of the PSADA and a member of the PSADA Executive Council, where he has represented Philadelphia and its athletic directors at the state-level. Since joining PSADA in 2001, Miller has also served as both its Awards Chair and Hospitality Coordinator.
"One of the things that I've always thought when I first got on the Executive Council was that Philadelphia wasn't represented well," Miller said. "I didn't want us to be on the coattails of every other region when we have just as much to offer as everyone else in the state. So, I did whatever I could to honor our athletic directors and help bring Philadelphia into PSADA."
He also is a member of the National Interscholastic Athletic Administrators Association (NIAAA) and has earned his Certified Athletic Administrator (CAA) designation in 2007 and the Certified Master Athletic Administrator (CMAA) designation in 2017 from the National Interscholastic Athletic Administrators Association.
A professional organization for secondary school athletic administrators, PSADA provides education and coaching for athletic directors across the state. Its current membership includes almost 500 athletic directors, with one fifth of those coming from Philadelphia.
"Having Bob Miller as the next President-Elect of PSADA represents the continuous commitment and investment we are making in our scholastic athletic programs here in the School District of Philadelphia," said Jimmy Lynch, Executive Director of Athletics for the School District of Philadelphia. "Bob's experience as an athletic administrator for over 35 years will further the advancement of PSADA as the association moves into its next chapter, as we continue to advocate for all our schools across the city. We are thrilled to have Bob take on this leadership role and bring a much deserved focus on high school athletics here in Philadelphia."
PSADA presidency rotates between East and West every other year. Each president serves for two years and leads the PSADA committee, which includes athletic directors from each of the state's 12 districts.
Miller's goal as president, he said, is to have 90% of its athletic directors in Philadelphia earn the Certified Athletic Administrators designation and increase membership among athletic directors in middle schools and private schools.
"Serving as president of PSADA is something I always wanted to accomplish as an athletic director," Miller said.  "I am the first, but I don't believe I will be the last. We have a lot to offer here in Philadelphia."