Today, a Philadelphia Military Academy (PMA) student received the JROTC Medal of Heroism, the highest United States Department of the Army medal awarded exclusively to Junior Army Reserve Officers' Training Corps cadets.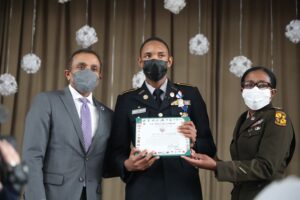 Philadelphia Military Academy students presented the colors and then honored Kaheem Bailey-Taylor through the presentation of the Medal of Heroism. This award is presented to cadets who perform acts of heroism. The act must result in an accomplishment so exceptional/outstanding as to set a cadet apart and involve acceptance of danger or extraordinary responsibilities.
Cadet 2LT Kaheem Bailey-Taylor received this award for performing an act of heroism and applying the first aid training he learned in JROTC while responding to a victim of gun violence on August 17, 2022. Cadet Bailey-Taylor was standing outside of a house when he heard shots ring out and screaming come from inside of the house. Disregarding his own safety, he ran back into the house, assessed the situation, and found three people shot. He treated the most seriously injured person and, with assistance, moved him to a police car for transport to the hospital. While enroute to the hospital, Cadet Bailey-Taylor utilized his LET-2 first aid training and applied pressure to the victim's wounds, likely saving his life.
"I was honored and excited to join the staff and students at Philadelphia Military Academy to celebrate Cadet 2LT Kaheem Bailey-Taylor, a true hero," said Superintendent Tony B. Watlington, Sr., Ed. "Kaheem's selflessness, personal courage and quick thinking in a life-changing situation to help and serve others deserves the utmost respect. His ability to perform first aid training while under pressure demonstrated his loyalty to his friends and families and having the personal courage to face danger in order to help others. We are proud to have students like Kaheem in the School District of Philadelphia."
Watlington joined Colonel Kandace Daffin, a 2nd Brigade Army ROTC Commander for the U.S. Army Cadet Command, PMA Principal Kristian Ali, PMA Commandant LTC (R) Russell Gallagher, Ed.D., District staff and PMA students in the celebration.
For the first time in at least ten years, Philadelphia Military Academy was recently recognized with the highest ranking by the Department of the Army as a Gold Star, which represents the Honor Unit with Distinction (HUD).
PMA is one of less than a dozen public military high schools in the county and serves approximately 350 students. As a military model school, all students enrolled in the school participate in the JROTC program.
Cadet 2LT Bailey-Taylor's heroic acts bring credit to himself, his school, the 2nd "Freedom!" Brigade, and the United States Army Junior ROTC.
Congratulations to Cadet 2LT Kaheem Bailey-Taylor!
Check out some of the local coverage: