Parkway West Students Gain Pathway to Early Childhood Education Through New Partnership with KenCrest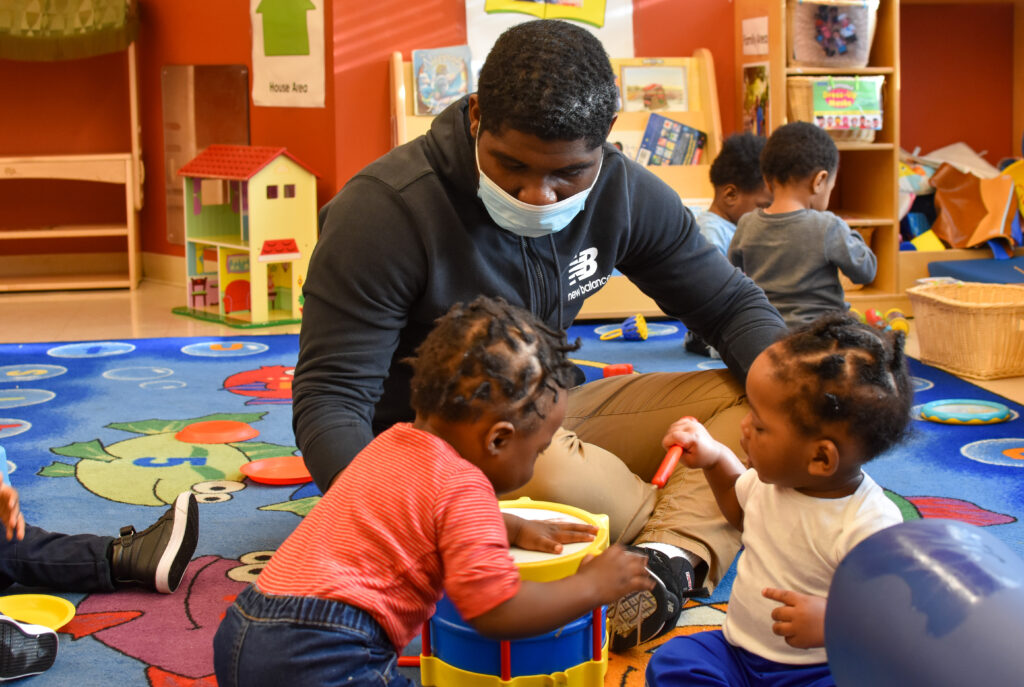 Recently, three-to-five year olds at KenCrest Early Learning Center were sorting, counting and identifying colored spots to paste on a dog cutout.
Parkway West senior Mohamed Allie was among the teachers who collaborated on one of the daily craft activities for students, which was inspired by a book they had just read to the students.
Senior Mikail Grant witnessed a one-year old whom he had been supporting through gross motor skills activities take his first steps and officially learn to walk.
Allie and Grant are two of the students involved in the school's new partnership with KenCrest Early Learning Center, a contracted early childhood provider for the District.
Through this partnership with KenCrest, which officially launched in November 2022, Parkway West students work three days a week at KenCrest Early Learning Center on Elmwood Avenue and receive both instruction and work experience from one building.
"This whole experience has been extremely rewarding because I feel like I'm really doing something that is having an impact on our youth," said Allie. "Early childhood education is a very important part of my life, and I hope other kids can experience the same thing. Whether they are learning now as a student or going into the education field, it's a rewarding experience to know you are helping other people in the long-run."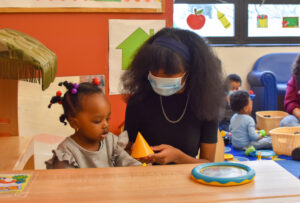 While Grant never wanted to become a teacher, this experience has opened his eyes to education.
"There are not a lot of black men in education, and not a lot of men in early childhood education. Being in the classroom allows me to show younger children that I'm there and doing the best I can to support that representation in the classroom," Grant said. "Being here, I am seeing a new side of teaching that is making me realize that it wouldn't be so bad if I were to dabble in the field of education. It's important to develop our youth because they are the future."
Parkway West is the only high school in Philadelphia with an Early Childhood Education Career and Technical Education (CTE) Program. Through this program, students are introduced to early childhood education beginning in the ninth grade. Students can participate in internships for real-life experience to support earning their Child Development Associate (CDA) and also earn nine college credits to jumpstart an early childhood career or a college pathway immediately after graduation.
"We are extremely appreciative to KenCrest for making this such a streamlined and simple process for our students. This is hands-on learning that provides our students  with the life skills that will stay with them," said Parkway West Early Childhood Education teacher Yenda Hall, who was selected as a KenCrest Community Champion in October. "No matter what they want in life, they can use these skills over and over again – you can't pay for that."
This program prepares students for a possible career in the field of Early Childhood. In addition to obtaining their CDA and college credits, because students already work in an educational setting, they also have completed all of their required state clearances for school employment by the time they graduate. Upon graduation, students may build on their education to become a certified educator or secure a full-time job with benefits, whether directly at KenCrest or by joining the approximately 150 assistant teachers that work for the District's Pre-K program.
"This vision is directly aligned to bringing in students from Philadelphia into the field of education. We are exposing students to college work, field work and internships opportunities that bring them one step closer to being an educator," said Will Brown, principal at Parkway West High School. "For a lot of students, once they go out there and are around young people, they fall in love with it. If I had this opportunity at the age of 14, I may have found my passion for education earlier."
Parkway West graduates may gain employment in the District as a classroom assistant or work for an early childhood setting. Individuals can earn tuition assistance for their preK-4 certification from the Pennsylvania Department of Education through the T.E.A.C.H. (Teacher Education And Compensation Helps) Early Childhood® Pennsylvania Scholarship Program.
"This is all about giving young people options, which is the goal for the District's Office Career and Technical Education," said CTE Executive Director Michelle Armstrong. "This serves as a pipeline for students to gain employment in various places and allows our students to learn something tangible and have options beyond graduation."
According to KenCrest Executive Director Melanie Brennan, beyond providing graduates with access to KenCrest's resources, it also benefits the Center.
"It's a work pathway to long-term professional employment so folks can increase their education and do it without student debt," Brennan said. "These are also students who will already be ahead of the game with good foundational knowledge that they gain from doing their practicum work with us, that's a huge bonus right there."
And, beyond the benefits for students and the Center, this partnership is also impacting its employees.
"This is bringing the textbook to life for students. But it's also having a significant impact on our educators who see themselves in these young students and are now looking at education in another way," said Brennan. "These kids bring us such good energy and ask really great questions. Talking about the work has reminded our teachers how valuable and important it is. They feel seen and respected – they are just really loving the mentorship."
While this year's program is open to twelfth graders, the program will expand to tenth and eleventh grade students in the upcoming school year.
For more information on Parkway West, please visit their website.