December Senior of the Month – Patricia Frimpong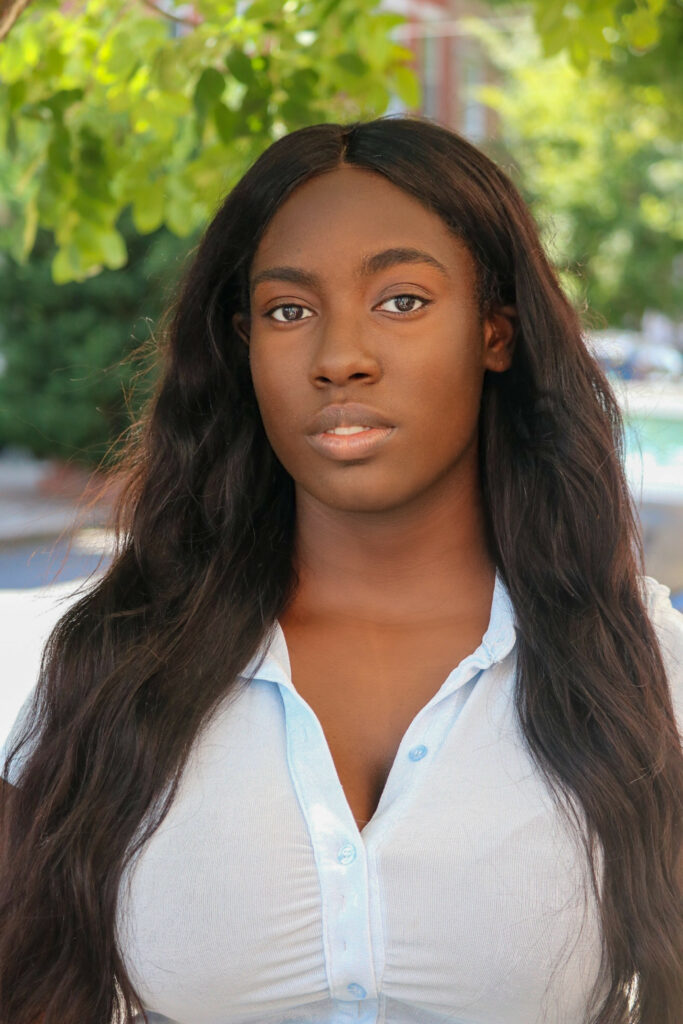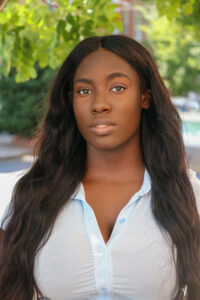 Philadelphia students each have unique stories and as you get to know Patricia, she will share hers with you in thoughtfully chosen words, with the care she clearly applies to everything from to her choice of high schools to the immense list of advanced classes, extracurriculars, and ultimately career path she has chosen.
She is the daughter of Ghanaian immigrants and feels the responsibilities and trials of a first-generation American (and Philadelphian!). "My parents came to Philadelphia in the late 90s and early 2000s respectively, and then I was born – but I do have two siblings who are much older, in their 30's with kids of their own (yep she's an aunt!) who are still in Ghana, along with lots of other family members I stay in touch with by phone but haven't met in person. My grandmother came to visit and actually got stuck here during COVID, and since my parents are both essential workers, I got to spend a lot of one-on-one time with her. So that was a unique chance to really get to know her, and learn more about my family and my family's culture/history. She's back in Ghana now but we are in close touch." Patricia hasn't made it to Ghana for a visit yet but plans to in the near future.
Her family lives in Mt. Airy where she attended John F. McCloskey and Hill Freeman. She chose to move to Girls' because, as she laughs, she was "honestly, kind of sick of middle school boys. I came to a tour in 2018 and met so many cool people. My tour coincided with their Big Sister/Little Sister event, which Girls' High holds to match up upperclassmen with younger students, and seeing the interactions between the students and seeing how the staff interacted with the students, it felt like a really good place for me. I still feel like it was the right choice. A lot of the opportunities I've had wouldn't have happened if it weren't for Girls' High; a lot of the experiences I've had helped me choose my career path. I'm on a course for premed and that just wouldn't have happened without my introductory freshman-year classes here. I jumped right into an Honors Biology course, and it was a bit of a shock at first but I loved it, and that drove me to start taking other high-level science courses like AP Biology my sophomore year and dual enrollment courses at LaSalle University (according to her resume there isn't a high-level class offered that she hasn't taken and conquered!)."
When asked if she's always loved school as much, she muses she probably always did. "Up till 5th grade, I just wasn't paying as close attention; I liked school but I wasn't concerned about my grades in any focused way or what my classes or extracurriculars could mean for me. So I started applying myself more and the topics I used to find boring turned into things I was really interested in. Like Sociology – I actually started studying late for that exam and as I was really reading along I learned so much about things I care a lot about, like the sociological reasons for poverty, stratification, and globalization, which informs the way I think about everything now."
Among her many accomplishments, she is the current president of the Girls' High Service Club, a service-based organization that plans activities like County Fair, food drives etc. and is part of the Girls' High SAFE initiative. She was hand-selected last year to be part of the Junior Council, which is a student organization dedicated to planning events like the junior prom. She's legendary for stepping in for Mr. Marchetti with County Fair, as he had to call out sick with COVID at the last moment, but coached Patricia by phone as she jumped right in, and successfully ran every aspect of the Fair with the help of Service Club Council and former club sponsors!
She acknowledges her independence and resourcefulness were borne from the combination of being a first-generation student and being home alone a lot. She'd go to the local library for homework help when she was younger but as she got older she found her own resources to teach or help herself online. She knows that by both her own volition and actively turning to her ('wonderful") teachers she found other opportunities, like her summer research internship last summer, where she learned to code and analyze her data and design and implement a research study, and is particularly proud of the survey she developed with her mentors that produced better results than the one researchers previously applied.
As far as school, she's interested in using public health interventions and research to promote better and healthier lives. "So I want to be in a city, and of course, I'll be happy with scholarship money. I'm doing well with acceptances (she has received 10 so far), most recently an accelerated BS/MPH program at Drexel which might be the current forerunner."
We asked Patricia our usual lineup of favorite questions!
1. What does being named Student of the Month mean to you? "It's an honor because it means I'm seen. And I really appreciate that."
2. Why do you think you were nominated for Student of the Month? "I think, because of the role I have here within my school community. I actively participate in a lot of extracurricular activities and I'm often seen as a mentor to the younger students, which I really appreciate because as a first-generation student I didn't have that point of reference for how to figure out college and career paths, for example. So I really like serving in that role for younger students."
3. You were nominated by not one but three nominators. Explain your relationships to him/her? Why do you think s/he nominated you specifically? "I only know of Mr. Marchetti, so I'll speak to him. He was my ceramics teacher last year and, to be honest, we sort of got off on the wrong foot," she laughs with affection. "Because the first day of his (half-year) class, I was at my dual enrollment class, and when he didn't see me, he called my dad to say I was skipping school! As an African dad, my dad got really mad! Since I don't get to see my parents much during the week because of our schedules, I knew this was going to brew until the weekend so we had to call him again, at his work, to clear it up. After that Mr. Marchetti was really nice – very flexible and patient, making sure I could make up the work I had to miss because of my dual enrollment class. He's been a great teacher; he's given me great advice, and we built a relationship. To the point where he saw something in me, and nominated me for Junior Counsel where I served as a student representative. I don't have a class with him anymore but we still interact through the Service Club, which I'm the president of and he's the sponsor.
Mr. Marchetti noted:
Patricia stands as an example of leadership. Her work ethic and drive is an example to her younger sisters at Girls' High. With all of the work Patricia does she currently holds a weighted GPA of 4.1752. In her junior year, she took three AP Classes and 2 dual enrollment classes. As a senior, she is taking 4 AP classes and dual enrollment again.
Her 2 additional nominators added:
She takes pride in being available to her younger peers as a resource–whether it be by sharing her experiences as a Dual Enrollment student, talking about her life as a first-generation immigrant, or giving them recommendations for what classes to take in the coming year. Patricia is an exemplary student with an over 4.0 GPA who has a strong passion for public health and advocating for more culturally informed medical practices.
4. What is one thing you'd like to share about yourself that most people don't know about you? I'm pretty crafty! I love arts and crafts. I can't draw to save my life, but when it comes to collages or crocheting? I nail it every time!
5. What do you enjoy most when you are not at school?  Honestly, just hanging out with my friends. I'm a big foodie so I love trying new foods and there are a lot of different kinds of restaurants around Philly. It's fun to do that with friends especially since we're all leaving for college next year and don't even know what part of the country we'll be in. (Her current fave is Terakawa, for those curious!)
6. In your opinion, what is the best thing about attending school at Girls' High? I'd say the best thing is the community. And that's both inside the school and outside. There's no place you will go where you won't see a Girls' High girl. And that's a great opportunity to network, of course, and it also serves as a way to just chat with people and see where they are now. We're everywhere. There's a network of powerful and talented girls everywhere willing to help you.
7. In your opinion, what is one thing that the School District could do to improve our service to students? I don't see any changes by the District, based on all the surveys they have us fill out. We answer their questions, every quarter – and the pandemic showed us clearly that things need to change. We're giving our feedback and it would be beneficial to see those changes actually get made. For example, mental health resources – they're hard to find, and why can't we get more of them?
Best of luck Patricia – we can't wait to see what you do next. To quote one of your nominators, "I have no doubt that she is going to change the world for the better once she graduates." We couldn't agree more!